Civil War Introduction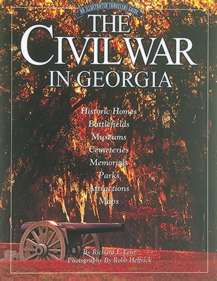 Buy the Book from Amazon.com or send us an email with your contact information if you'd like to purchase a signed copy of the book directly from the author.
Introduction
Interested in Georgia's Civil War history? This Web site features more than 220 Civil War sites, with hundreds of lesser-known Civil War places of interest. Written by award-winning author Richard J. Lenz, this Web site is also available as an acclaimed book from Lenz Design & Communications, featuring more than 200 original color photos by Robb Helfrick, and 20 historic prints in a 8-1/2 x 11 softcover book.
This Web site is organized geographically by Georgia's travel regions. Chattanooga is included in the Northwest Georgia Mountain region because of its proximity to Georgia and its role in Georgia's Civil War history. Below is an outline of the book. Visitors can find information three ways: 1. Use the search engine. 2. Click on the outline. 3. Click on the map.
A Brief Review of Georgia's Civil War History
Georgia's Civil War history is remarkable for its richness and variety. Not only is Georgia the site of the second-bloodiest battle of the Civil War — Chickamauga — but it is also the site of many significant and varied historic events and developments in the Civil War. In Georgia, the Civil War buff can visit the bloody grounds of the Atlanta Campaign, where huge armies of the North and South fought in what many call the final turning point of the war. One can reexperience the horror of the most notorious prison camp in the War at Andersonville, or retrace the "Great Locomotive Chase," the most famous and daring raid of the war. One can follow the path Sherman took on his famous "March to the Sea" or study improvements in the art of war at Fort Pulaski near Savannah, where the rifled cannon made the brick fort obsolete. One can examine Confederate ironclads at the Columbus Confederate Naval Museum or improvements in military communication at the Signal Corps Museum near Augusta. Georgia is where the defiant Confederate president Jefferson Davis fled and was captured by Union pursuers. A museum is located at the spot in Irwinville. The largest memorial to the Confederacy (and world's largest carving) is in Georgia at Stone Mountain. Find a memorial to Nathan Bedford Forrest in Rome, in tribute to that Confederate genius' rout and capture of an invading Union force of cavalry riding mules. Black troops invaded Georgia, and the famous Massachusetts 54th, featured in the movie Glory, helped burn the coastal town of Darien. Wilson's Raiders, a massive, 14,000-man cavalry force which swept across Alabama and Georgia near the end of the war, may have been the forerunner to the blitzkrieg tactics used by the Germans in World War II, and was called the most successful use of Union cavalry in the war. Wilson's Raiders fought what some call the last battle of the war in Columbus. At LaGrange, a brigade of Wilson's Raiders was met by an armed contingent of Georgia women called the Nancy Harts, named for the Revolutionary War heroine. LaGrange was spared a burning and is today one of Georgia's prettiest towns to tour.
Clickable Map of the State of Georgia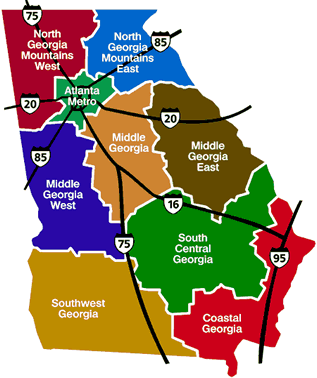 Many beautiful Civil War Cemeteries are found throughout Georgia, giving silent testimony to the brave soldiers, both Confederate and Union, who made the ultimate sacrifice in support of their cause. Georgia provided the second-highest per capita number of soldiers, 112,000, considered to be among the Con-federacy's most able, along with many leading statesmen of the day, and you can tour some of these leaders' antebellum homes. At least 3,466 black Georgians ably served the Union side.
Frequently, history comes alive in the details. You can visit a Macon home which received a calling card from Union cavalry in the form of a cannon ball. Lying on the floor of the front hallway is a cannon ball. There's a couch Sherman slept on in Sandersville during his "March to the Sea," there are bloodstains on the floor of a church used as a hospital in Ringgold, there are bulletholes in the siding of an antebellum home at Barnsley Gardens, there's a tunnel at Kennesaw National Park where trapped Union forces tried to dig under Confederate fortifications to blow them up. You may notice the medicine bottles of sickly vice president of the Confederacy, Alexander H. Stephens at his home in Crawfordville or while gazing at a photo at the Savannah History Museum, wonder what was said when retired Confederate generals Robert E. Lee and Joseph E. Johnston met for the final time after the war in Savannah, where Johnston made his home after the war. Enjoy your journey into Georgia's Civil War history!
Types of Historic Sites
Frequently, historic events cross over several travel regions, requiring travelers to jump to different sections of this site if they are following a particular campaign or raid. Georgia's Civil War sites fall into the following categories: historic parks, battlefields, forts, homes, museums, buildings and ruins, and Cemeteries and memorials. Some sites are a combination of categories. Some general advice on each:
Historic Parks
Georgia has four of the 22 national historic parks dedicated to the Civil War: Chickamauga and Chattanooga National Battlefield Park; Kennesaw Mountain National Battlefield Park; Andersonville National Historic Site; and Fort Pulaski National Monument. For the busy traveler with a casual interest in the Civil War, these parks offer the most to see and are well-prepared for the tourist. The state of Georgia and some towns have Civil War battlefield parks, many which are excellent and worth your time: Pickett's Mill State Historic Site; Stone Mountain Park; and Fort McAllister State Historic Site. Another state park with a Civil War aspect is Sweetwater Creek State Conservation Park. Good local parks include Dug Gap Battle Park; Tanyard Creek Park; Fort Tyler; Gilgal Church Battle Site; and Fort Jackson.
Historic Forts & Battlefields
Historic forts in Georgia vary widely from huge brick forts such as Fort Pulaski to small earthen fortifications barely perceptible to the eye (Riverside Cemetery in Macon). Battlefields in Georgia also run the gamut from a preserved national site cultivated to look like it did at the time of the battle, such as Chickamauga, to busy urban pavement noted by historical markers, such as the Battle of Atlanta (or Leggett's Hill or Bald Hill, depending on your nomenclature). Your interest in each will depend on how much of a buff you are or to what degree you are interested in that particular event.
Historic Homes
Most historic homes are in private hands but may be marked by a Georgia historical marker. Respect the owners' privacy and do not walk up and knock on the door for a private tour. A few homes are available for tours and are noted in this guide. Some Civil War historic homes are state parks and worth touring such as the A.H. Stephens Historic Park and Confederate Museum; Robert Toombs' House Historic Site, and, with much less Civil War history, the Jarrell Plantation Historic Site. Some non-state park historic homes worth touring are Barnsley Gardens, Bellevue, Bulloch Hall, Hay House, Old Cannonball House, Old Governor's Mansion, and the Green-Meldrim House. Some homes are available for tours during tour of homes held in many communities. Contact local Chambers of Commerce for details.
Museums
The museum with the best collection of Civil War artifacts is the Atlanta History Center, with approximately 1,200 objects on display in a new exhibit debuting in June 1996. The national and state parks have interesting collections, and some larger museums are definitely worth visiting: Kennesaw Civil War Museum; Army Corps of EngineersVisitors Center; Cyclorama; State Capitol; Stone Mountain; National Infantry Museum; and Confederate Naval Museum. Some of the smaller museums, despite smaller collections and irregular hours, may have more charm than the larger ones. Instead of employees you meet volunteers who have an intense interest in the subject matter and will tell you family stories you won't hear anywhere else. Good ones are the Washington/Wilkes Historical Museum, Jefferson Davis Memorial Park; Blue & Gray Museum; Museum of Washington County; Midway Museum; Male Academy Museum; and DeKalb Historical Society Museum.
Buildings & Ruins
There are many Civil War era buildings around the state which played a role in the war. Some are open to the public but most are not. There are ruins, generally of old mills, located around the state. The most impressive are at Sweetwater Creek State Conservation Park, and Sope Creek Mills in the Chattahoochee National Recreation Area. Barnsley Gardens, a ruined mansion, has much to offer: gardens, plant shop, and restaurant.
Cemeteries, Memorials, Monuments, and Markers
There are so many fascinating Civil War Cemeteries in the state that they are listed separately in the appendix of this book. Almost all are open to the public. While Civil War veterans can be found in graveyards all across Georgia, the mass plots or "Confederate Sections" of unknown soldiers are less plentiful. Georgia has the World's largest Civil War memorial (or memorial from any war) with Stone Mountain. Many other kinds of memorials are found including more than 100 county memorials erected after the war. One can find memorials to various brigades, women, and others. More than 2,000 historic markers are found around the state with text covering historic events that range from the American Revolution to the Civil Rights movement.
Do's and Don'ts When Visiting Civil War Sites:
Do respect private property. Much of Georgia's Civil War history — battlefields, historic homes, forts, and memorials — is on private property. Don't trespass.
Do call ahead. Many of Georgia's smaller history museums and historic homes available for tour operate with irregular hours. Many times, published hours are incorrect or changed. Don't drive several hours only to be disappointed.
Do get a good supply of maps and travel with a companion. It is easy to get lost even in Georgia's smaller towns, and a general road atlas is sometimes insufficient for finding a special site. Most towns have welcome centers or Chambers of Commerce that have maps or advice on how to find a particular site and are eager to help. One can secure county maps from the Georgia Department Of Transportation at Att: Map Sales, 2 Capital Square, Atlanta, Georgia 30334, (404) 656-5336 for $1.50 each. Traveling with a friend helps you navigate safely on many of Georgia's busy streets and highways. Don't get lost.
Do be careful. Some history occurred on land which later became urbanized and may be more unsafe today than during the original Civil War event. Travel with a companion and during the day. Be alert and park and lock your car in a safe place. Some historic land is located on busy streets, so be careful if you plan to swerve over to the shoulder to read a historical marker. Don't get hurt.
Do respect historic ground and artifacts. In museums across Georgia there are many fragile items. At battlefield parks, stay on the marked trails, and don't climb on statues, fences, or battlements. Don't destroy history — leave it for others to enjoy hundreds of years from today.
Do support historic preservation. There are many organizations, museums, and associations committed to preserving history, and they can use your support. Some are listed in the appendix of this book. Don't let this important chapter of history be lost.
Additional Information
For those seeking more information on a particular park or event, there are more detailed historical books and guides which focus on a single event or campaign in Civil War history. We've compiled a list of recommended books with Civil War information.
---
Contents
---
---
Read and add comments about this page
---
Reader-Contributed Links to the Civil War in Georgia Book: