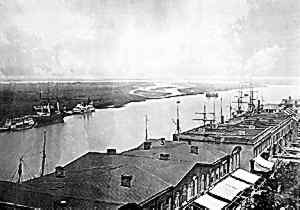 Savannah
Savannah is one of America's great cities and is rich with history from the colonial days to the present. During the Civil War, it was one of the most important cities for the Confederacy, and the goal of Gen. W.T. Sherman's army as he marched to the sea to resupply his men in late 1864. Today it boasts more than 1,200 historic structures, 20 beautiful squares, and much, much more. You can begin your tour by going to the Savannah Visitors Center. Several days are needed to see all the area has to offer. There are some general Civil War sites not to be missed. Factors Walk, located along the river bluff on Bay St., was a 19th century meeting place and center of commerce for cotton merchants. It looks much like it did when Sherman's men occupied the town. The Andrew Low House, 329 Abercorn St., was built in 1848 by a wealthy cotton merchant whose son married Juliette Magill Gordon, founder of the Girl Scouts. The home hosted Robert E. Lee, Union generals, and many other famous people. For tour information, call 912-233-6854. The Juliette Gordon Low birthplace home, 142 Bull St. is also available to tour. Low, as a young girl, is said to have told U.S. Gen. O.O. Howard, who was missing an arm, "I shouldn't wonder if my papa did it! He's shot lots of Yankees!" Sherman visited many times. 912-233-4501. The Olde Pink House, 23 Abercorn St., 912-232-4286, was built in 1771 and used as a headquarters for Union General York. Today it is a restaurant and tavern. The Sorrel-Weed House, 1840, at Harris St. in Madison Square, was the home of G. Moxley Sorrel, who won fame as one of Lee's lieutenants. Sorrel became brigadier general at age 26 and was called the "best staff officer in the Confederate Service." At Bull and Taylor Streets in Monterey Square is the Comer House, where Jefferson Davis was a guest in 1886 for the celebration of the centennial of the Chatham Artillery, during which many parties and celebrations were held. Union Army headquarters for Howard were at Bull St. at Gaston St., named the Jackson House for Henry Jackson, a brigadier general for the Confederacy.
After the war, Gen. Joe Johnston worked and lived in Savannah at 105 E. Oglethorpe Ave., and was visited by many luminaries of the Civil War, including Robert E. Lee, shortly before Lee's death. A marker on the home commemorates this fact. Forsyth Park (Bull St. between Gaston St. and Park Ave.), a 20-acre park laid out in 1851, was a campground for Union soldiers during the occupation of Savannah. A huge Civil War memorial, one of the largest in the South and the most expensive in the state, is located in the park, honoring Chatham's war dead. With thousands of citizens present, the monument was unveiled in 1875, with a statue called "Judgment" on the top and a statue called "Silence" in a cupola. The reaction to the memorial was negative, so a philanthropist stepped forward and the memorial was "fixed" and unveiled a second time in 1879, at a total cost of $35,000. A soldier was on top, the cupola was bricked up, "Silence" was sent to Laurel Grove Cemetery in Savannah, and "Judgment" was sent to Thomasville.
Fort Jackson
1 Fort Jackson Rd., Savannah 912-232-3945
Fort Jackson, one of the interior brick forts guarding Savannah's river approach during the Civil War, was never taken by naval vessels. Today, the nation's oldest standing brick fort houses a museum featuring the naval history of the area and artifacts from the C.S.S. Georgia, scuttled 300 yards away in the Savannah River by evacuating Confederates on Dec. 20, 1864. A red buoy in the river marks the location of Georgia's first ironclad. When Union troops under Sherman first seized Savannah, they occupied Fort Jackson and raised Old Glory over the fort. The iron-ram C.S.S. Savannah, displeased with this display, fired on the Federal troops from the river. The fort has 20-foot high walls, a nine-foot deep moat, and it held nine cannon, including a 32-pounder, the largest blackpowder cannon still fired in the U.S. Fort construction began in 1808 under President Thomas Jefferson's administration, and the fort was inspected by Gen. Robert E. Lee and C.S. President Jefferson Davis during the Civil War.
From Savannah, go east on Bay St. to President St. Ext. towards Tybee Island apx. 2.5 miles from town. Turn left at sign for Fort Jackson.
Green-Meldrim House
St. John's Church, 14 West Macon St., Savannah 912-233-3845
This Gothic Revival style home, built in 1853 at the princely sum of $93,000, served as the headquarters of Gen. W.T. Sherman from Dec. 22, 1864 to Feb. 1, 1865. Charles Green, an English immigrant and cotton trader who made his fortune with Andrew Low & Company in Savannah, was in Europe in 1861 when the War began. Making his way back to the U.S. through Canada, he was arrested in Detroit, charged with spying, and sent to Fort Warren prison in Boston Harbor for three months. When released, he returned to Savannah.
In December of 1864, when Sherman occupied the town, Green offered his home, considered to be the town's finest, to the General, thinking this would spare it the treatment others had received at the hands of Sherman's army. Sherman accepted, and his men did not disturb Green's possessions. From here, Sherman sent his famous message to President Lincoln, reprinted in many newspapers of the day: "I beg to present to you as a Christmas gift, the City of Savannah with 140 heavy guns and plenty of ammunition and also about 25,000 bales of cotton." While Sherman stayed here, he learned of the death of his son Charles, whom he'd never seen, and planned his march through South Carolina. After the War, Sherman returned to Savannah and stayed again at Green's home. This National Historic Landmark has many fascinating features and is open for tours.
Downtown Savannah at Madison Square.
Savannah Visitors Center & History Museum
301 Martin Luther King, Jr. Blvd. Savannah 912-944-0460
This is the place to start your visit to Savannah. The Visitors Center and Museum are housed in the former building of the Central of Georgia Railroad Station, Georgia's first railroad and the first chartered railroad in the U.S. It is located on the ground of an important Revolutionary War battle. Inside are trained personnel, tour guides, brochures and other information, along with a local history museum with displays on the Civil War, a film, and a bookstore. Outside are a variety of tour companies, using transportation ranging from horse-drawn carriages to air-conditioned buses.
I-16 East until it ends in Savannah at Montgomery and Liberty Streets. Turn left onto Liberty St.
---
Read and add comments about this page
---
Reader-Contributed Links to the Civil War in Georgia Book: