| | | |
| --- | --- | --- |
| | Richard Lenz Bio | |
---
Richard J. Lenz
"Everybody's Working for the Weekend" ...Loverboy, 1981
It may sound corny, but what motivates me to get up in the morning and come to work are projects that I think make a positive contribution to the world. On my deathbed, I hope I can feel like my short time here on earth made a difference in some small way.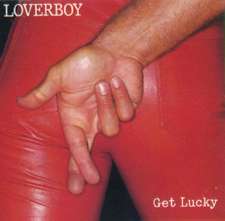 I also like variety, challenges, and learning, which is why I don't work on a single issue or for a single nonprofit agency. I discovered that I enjoy producing a tangible product. I enjoy the creative arts, including writing, design, photography, and music. I especially enjoy solving business problems.
Building a Company
One way to try to control your work life is to go into business for yourself. For those of you considering this career move, it isn't everything it appears. Frequently the work controls you even more than it did when you were working 9-to-5 at Big Company, Inc.
I never wanted to be one of those people that watches the clock and whose life begins on Friday. Also, I always had a hard time getting excited working for people I didn't respect.
As a customer, we've all had terrible experiences with companies that rip you off, produce shoddy work, or at least are indifferent to quality and service. Especially frustrating is working for companies like this. As a customer, you can complain and walk away. As an employee, it's much harder to abandon ship.
My goal was to build a company that I would hire. One that had the clients' aims at heart, that practiced honesty and friendliness, produced quality communications regardless of budget, and came through on time. So I started a company, Lenz, that has these as core values.
What About Employees?
I believe the secret to happiness in life is sharing. Let's say you hike to the top of a mountain before sunrise. There you are, the sun comes up, the birds are chirping, the wind is rustling through the trees, and it's the most glorious morning you've ever seen. The first thing you want to do is turn to a companion and go, "Man, isn't this great!?" But if you are alone, the experience just isn't quite as good. (That's not to say that solitude isn't important as well, but it isn't as enriching as sharing.)
So I thought building and sharing a company with a group of like-minded individuals might be exciting, fun, and possibly lucrative for everyone concerned.
I've worked at some terrible companies. I decided to use these experiences to build a company that (it's worth repeating) had the clients' aims at heart, that practiced honesty and friendliness, produced quality communications regardless of budget, and came through on time.
Maybe I'm naive, but I also believe that the company should treat its employees fairly, cut them in on the profits, and give them a variety of challenges without ruining their lives. I would expect a lot of them, and they could expect a lot from me. I think I given as good as I've gotten.
And maybe in some ways, we are achieving our goals. Every year we've increased our revenues, our profits, and our payroll, while maintaining and growing our client base. We've had some fun, too.
From the beginning, we have worked for several dozen non-profits and companies that we believed were making a positive impact on society. Our clients range from environmental organizations to a medical practice of oncologists that really cares about their patients. We've helped publish at least 30 books that carry an environmental message.
Portrait of the Artist as a Confused Young Man
People ask me where I'm from, and I don't have a pat answer for them. My parents, who are from Iowa, moved us around a lot when I was growing up. By the time I landed at Chamblee High School near Atlanta, I wasn't exactly one of the "in crowd". I could not wait to leave the cliques and immaturity of high school. Socially, I thought high school was a big popularity contest over three things I didn't have: money, expensive clothes, and cars. Scholastically, I felt like I was wasting my time.
I went to Cornell College, which offered me a scholastic scholarship. I knew about the school because my father and sister went there. (No, it's not Cornell University in Ithaca, New York. It's Cornell College in Mt. Vernon, Iowa.) I excelled at Cornell but it was a small school out in the middle of an Iowa cornfield and I thought I'd do better at a large university where a wide variety of degrees were offered.
At one point at Cornell, I wanted to be a poet. I published some poems and considered myself to be a young Dylan Thomas. I was certainly good at the drinking part of his career. When I realized that eating was also important, I left that career track to earn a degree in journalism at the University of Georgia. My goal was to become a young Ernest Hemingway/foreign correspondent. I had the young part cinched.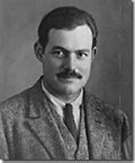 At the University of Georgia, I worked all the time to put myself through school. Classes from 8 to 11, work from 11:30 to midnight, with a few short breaks, five days a week, with weekends off. I somehow managed during this period to write news stories for the university newspaper and the Athens Daily News, and host a college radio news show and a college radio request show on Saturday nights. This was during the heyday of the Athens music scene (and Herschel Walker, incidentally) in the early '80s. I played a weird rotation that mixed a lot of 50s musical numbers from Rogders and Hammerstein with local favorites Love Tractor, REM, Little Tigers, Pylon, Art in the Dark, Method Actors, etc. Some people loved it.
It was funny to walk the campus years later and hear REM being blasted from frat houses, the same frat houses whose residents made fun of the whole music scene and its participants in the early 80s. I also had my own band and we actually practiced in a garage. Yep, I was cool.
Mexico City Blues
Anyway, if you stay in college long enough, you eventually graduate. So that's what happened to me. Looking for adventure in the Ernest Hemingway/foreign correspondent mode, I spent some time in Central and South America, traveling and writing about the Contras and Sandinistas in Nicaragua, the FMLN in El Salvador, the Sendero Luminoso (Shining Path) in Peru, and which country had the best looking women and coldest beer.
There's a book about this trip but I haven't finished it.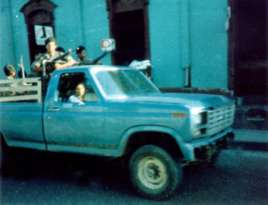 When I returned to the U.S., I lucked into a newspaper management internship at a weekly newspaper chain in South Georgia. I thought I could gain some great experience and see how things really worked. I could be the Atticus Finch of South Georgia, I immodestly thought. Some of my Latin American adventures came in handy, as you will read later. In a sense, I was still in the Ernest Hemingway/foreign correspondent mode.
To Kill a Mockingbird
In the 80s, I worked for various small town newspapers as publisher/editor/photographer/ad sales/etc. I learned a lot from that experience. Friends who were working in the big city of Atlanta thought my experiences in these small towns would be boring and uneventful. They were seriously misinformed. In some of these towns, the main law enforcement officials were making money on the side running cocaine through the county. These same law enforcement officials would raid the poorer communities for drugs and make big displays that they were "winning the war on drugs." We had one law enforcement official who was suspected of child molestation. County commissioners thought tax funds were to be used to get their driveways paved. Another interesting controversy was how certain city fathers cooked the legal system to keep blacks from gaining power in the community, despite the fact blacks comprised the majority.
Some of my feeble attempts at journalism during those years got my windows shot out and my life threatened, not unlike Latin America. One officer of the peace offered to show me how to swim the Flint River, at night, with a chain around my neck. One decided the best approach was to sue me for libel. Nonetheless, several of these town officials eventually ended up in prison for a variety of felonies and the lawsuit went away because it was nonsense. We reported the news, and on the two days the newspaper was published, people would wait in their cars and trucks parked outside to buy a fresh copy as soon as we put it into the box.
There's a book about this experience but I haven't finished it.
During that period, my newspapers won some awards and I won three personal Georgia Press Association awards: best humorous column, ad design, and photography. My photography award--a nice wooden plaque--has my name misspelled as Ricard, which today amuses my staff and photography friends to no end. Given some of the typos I've put in print, I guess I had it coming.
That my boss supported me during these rocky years is a testament to his guts and journalistic integrity, which can be rare in community journalism where you are so dependent (and vulnerable) on local advertising support. His name is Dink NeSmith, and I am eternally grateful. I learned a lot from him. I watched him get criticized for both printing stories in the paper and not printing stories in the paper.
I decided small town south Georgia had little future for a single guy and I returned to the University of Georgia for an MBA. I didn't finish. I enjoyed the scholastic part, but I was going deep into debt in a two-year program and at some point I decided I had enough business experience anyway. I started reading and getting excited about "Desktop Publishing," whatever that was, so I decided to quit school and become an entreprenuer, whatever that was. I wanted to either 1. become a partner in a small desktop publishing business and make it a big one or 2. start my own desktop publishing business.
Gravy Train With Biscuit Wheels
After getting married, I eventually joined a small "desktop publishing" business and helped it grow into a larger one. After the "become a partner" part didn't pan out, I quit and started my own business in my basement on April 8, 1992.
The Basement Tapes
My company grew and eventually we had four people jammed into one big room in the basement. We discouraged people from coming to our offices. We decided to move out, and we found some worn-out office space on the Decatur square. While the offices were pretty dingy, they had big windows and a weird charm. We fixed them up and about that time Decatur started becoming a trendy place to be. We have two restaurants located below us and the Brick Store Pub next to us. Now we have clients that come out to see us and we can't get rid of them.
Call Me Ishmael
Since 1992, my company has done so many different projects that I sometimes feel like a jackalope. First the book projects:
In the writing department, I've authored two books: The Civil War in Georgia: An Illustrated Traveler's Guide and The Longstreet Highroad Guide to the Georgia Coast and Okefenokee. (To view the contents or buy the book, go to SherpaGuides.com home.)
I've written hundreds of magazine and newspaper articles, the most recent a piece on the Okefenokee Swamp for National Geographic Traveler.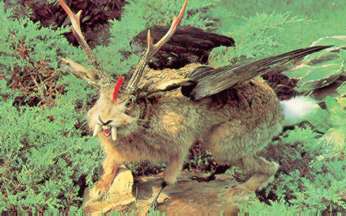 I'm editor/creator/designer of the Longstreet Highroad guides, which is a national series of 19 natural history guides, published by Longstreet Press in Atlanta, Georgia, that explore special mountain and coastal areas of the United States. Here's a list:
Longstreet Highroad Mountain Guides: The Georgia Mountains, The North Carolina Mountains, The Virginia Mountains, The Tennessee Mountains, The Pennsylvania Mountains, The New York Adirondacks, The Vermont Mountains, The New Hampshire Mountains, The Colorado Mountains, The Washington Cascades, The Oregon Cascades, The Arizona Mountains and Grand Canyon, and The California Sierra Nevada. Longstreet Highroad Coastal Guides: The Georgia Coast and Okefenokee, The Florida Keys and Everglades, The Maine Coast, The Chesapeake Bay, The Pacific Northwest Coast of Washington and Oregon, and The California Coast.
Another publication I'm proud of is Aquatic Fauna In Peril: The Southeastern Perspective. This book consists of a collection of papers given at a symposium at the Tennessee Aquarium about the state of each fauna group in the Southeastern United States. This was a three-year project and the final results are excellent. The 570-page book was edited by George Benz and Dave Collins of the Southeast Aquatic Research Institute. You may have seen George on National Geographic Explorer special about parasites. Before the book was published, I suggested to George that he send it to E.O. Wilson at Harvard to review it. Wilson wrote "This excellent volume is testimony of a paramount fact of American natural history: the aquatic fauna of the southeastern United States is one of the richest in the world, and it is also among the most threatened. Aquatic Fauna In Peril is definitive: a professional but very readable guide to both the fauna and its current status, analyzed down to the species level." His words made the three years we worked on the book worth it.
I'm also proud that we helped the Alabama Wildlife Federation and Sweetwater Press publish the 600-page, 4-color Managing Wildlife, created by Dan Dumont, and the Georgia Appalachian Trail Club publish Friendships of the Trail, a 430-page book that was mainly the excellent work of Harold Arnovitz.
I've helped the Georgia Wildlife Federation produce books including the Georgia Wildlife Viewing Guide, the Hungry Hunter Venison Cookbook, and the Georgia Environmental Directory.
In 1991, I was asked by the Georgia Wildlife Federation to launch their 4-color, 64-page quarterly magazine, Georgia Wildlife. I was the managing editor and designer of the publication and wrote 47 stories that appeared in 15 issues over four years, about a wide range of topics from endangered sea turtles to industrial forestry.
In 1995, the publication improved in concept and execution and became Southern Wildlife, a 4-color, 64-page quarterly magazine that covered conservation issues in the South. Here I was managing editor and designer. This magazine broke the Asiatic eel exotics invasion of southeastern watersheds. A memory I'll always treasure is interviewing Jane Hurt Yarn, the last she gave, for a profile I wrote.
This magazine evolved into a better publication called the Natural Georgia Series, which focuses on specific habitats/ecosystems around the state. I conceived the approach and format of these publications. These are 80-page, 4-color publications that have helped conservation and environmental groups raise the profile of issues surrounding Georgia resources. The first one, The Okefenokee Swamp, helped stop DuPont's plan to mine titanium from the swamp. Others in the series, The Blue Ridge, Urban Wildlife, Barrier Islands, and The Chattahoochee River, have had positive effects on a variety of issues across the state. In these publications I've been editor/designer, and written a few stories as well.
Other Writing
To solve particular business problems, I've written scripts for videos and voice mail systems, and written annual reports, marketing brochures, and press releases.
Graphic Design Projects
I've produced a lot of award-winning graphic design that I won't go into here. In the graphic design field, I've produced award-winning annual reports, magazines, directories, newsletters, souvenir guides, corporate brochures, government reports, press kits, enticement brochures, fundraising mailers, corporate identity and logos, advertisements, etc. Merchandise I designed and produced includes T-shirts, coffee mugs, posters, notecards, and postcards. If you're interested in this stuff or looking for some help in this area, you need to visit www.lenzmarketing.com
Other Projects
When you have your own business, you start to lose your identity in your work. So it is important to have fun outside work, or incorporate fun into your work.
I love skiing, hiking, camping, fishing, triathalons, swimming, snorkeling, playing guitar, baseball, eating, traveling, Prague, Paris, Berlin, San Francisco, and the New Orleans Jazz and Heritage Festival. All that said, this is what I'm most proud of and love the most.
---
Go back to last page.