Resaca

The first serious fighting of the Atlanta Campaign occurred in the Dalton area on May 8, 1864, with fighting at Rocky Face Ridge, Buzzard's Roost, and Dug Gap. Union Gen. W.T. Sherman's plan was to attack and hold Confederate Gen. Joseph Johnston's men at these positions, while sending Gen. James B. McPherson's troops on a wide, flanking move to Snake Creek Gap, where he could cut Johnston's supply line at Resaca, ten miles south of Dalton, and isolate and destroy the Army of Tennessee. McPherson easily seized Snake Creek Gap, discovering that Johnston had failed to guard it, but on the next day he encountered 4,000 entrenched troops outside of Resaca. Imagining what could go wrong, McPherson cautiously retired his superior forces back into Snake Creek Gap, missing an opportunity, as Sherman said, that doesn't come twice in a lifetime. An upset Sherman ordered his armies to Snake Creek Gap, and Johnston abandoned Dalton, retreating to Resaca. The first major battle of the Atlanta Campaign happened in Resaca, a small town located where the Western and Atlantic Railroad meets the Oostanaula River. Although casualty estimates vary, the Battle of Resaca on May 14-15, 1864 may have been one of the bloodier battles of the Atlanta Campaign, with approximately 6,100 casualties: 3,500 Union and 2,600 Confederate. Looking down from entrenched high ground east of Camp Creek, C.S. Gen. Joseph Johnston put his Confederate left flank on the Oostanaula River and right flank on the Conasauga River, with the railroad and town to his back and a marshy creek in his front. From this position Johnston withstood attacks from Union Gen. W.T. Sherman's Union men, who had to come down from their high ground and cross Camp Creek Valley. From the Lafayette Road Route 136 looking north, you can view the natural amphitheater the Resaca battlefield creates. Federal forces were able to threaten the Confederate rear by crossing at Lay's Ferry, and Johnston had to retreat south to Calhoun. Entrenchments remain, but they are on private property. A popular living history reenactment occurs in Resaca in May.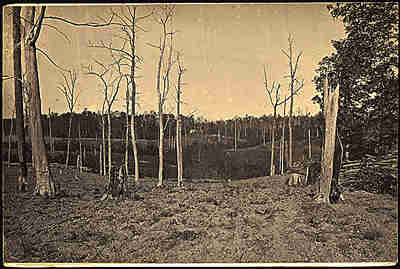 Confederate Cemetery
County Rd. 297, Resaca
This haunting cemetery is located close to the site of the fiercest fighting at Resaca, where Confederate Lt. General John Bell Hood almost broke Sherman's left flank when he attacked Major Gen. Joseph Hooker's men. Shortly after the battles, a local resident, Miss Mary J. Green, organized Resaca's women to give the dead a decent burial. More than 400 Confederates are buried in the cemetery. On the wall of the stone gate is a marker placed by the Atlanta Chapter of the United Daughters of the Confederacy to the memory of Mary Green "who established this Resaca cemetery — the first in this state — for our Confederate soldiers."
North on U.S. 41 from Resaca apx. 2 miles, right on County Road 297.
Atlanta Campaign Pavilion #3
U.S. 41, Resaca
The third in a series of Atlanta Campaign pavilions and relief maps is located where the rear of the Confederate line was during the Battle of Resaca. The map explains the events at the Battle of Resaca and the Federal flanking movement at Lay's Ferry, which resulted in Johnston's withdrawal south over the Oostanaula River along the Western and Atlantic Railroad to Calhoun and then Cassville.
North on U.S. 41 from Resaca apx. 2 miles.
---
Read and add comments about this page
---
Reader-Contributed Links to the Civil War in Georgia Book: