Newnan - Fayetteville - Lagrange
Newnan, during the Civil War, was known as the "hospital city of the Confederacy," having seven field hospitals. It was located on the Atlanta and West Point Railroad during the War. A cavalry battle, the Battle of Brown's Mill, was fought near here on July 30, 1864, between Union Brig. Gen. E.M. McCook's 3,600 men and Confederate Maj. Gen. "Fighting" Joe Wheeler's 1,400 men. Wheeler routed the Union forces, capturing 2,000 (a full battery) and releasing 500 Confederate prisoners who had been captured days earlier by Gen. Edward McCook in Fayetteville. Wheeler's message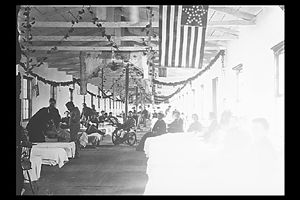 to Gen. John Bell Hood in Atlanta about the battle was, "We have just completed the killing, capturing and breaking up the entire raiding party under General McCook." McCook was participating in the Great Cavalry Raid or Stoneman-McCook Raid, Sher-man's plan to destroy the railroads south of Atlanta. In a great pincer movement, McCook was to swing around the west side of Atlanta and Stoneman around the east, where they would meet in Lovejoy south of Atlanta and proceed to tear up track to Macon.
McCook got to Lovejoy, but Stoneman was not there. When Wheeler's men drew near, McCook turned back west to toward Newnan. Wheeler's success meant the town was spared capture and possible destruction. So today, Newnan is known as the City of Homes because of its outstanding examples of period and contemporary architecture. More than 22 antebellum homes are found here in five National Register Historic Districts. A driving tour is available at the Male Academy Museum. A Battle of Brown's Mill Reenactment is held at Catalpa Plantation. Call the Museum for details.
Male Academy Museum
30 Temple Ave., Newnan 770-251-0207
This converted 1840 male seminary building, run by the Newnan-Coweta Historical Society, serves as a local history museum with an excellent collection of Civil War memorabilia, including a war-scarred battle flag, gun collection, period photographs, surgical tools, amputation instructions, and a Civil War artificial leg.
I-85 South from Atlanta to Newnan exit (exit 47). Turn right off the exit ramp onto Bullsboro Dr. Bullsboro becomes Jackson St. Turn right onto Temple Ave.
Oak Hill Cemetery
Jackson St., Newnan
A large Confederate cemetery with 268 soldiers, many of whom died in the hospitals located here and some whom died at the Battle of Brown's Mill. All but two are identified, a testament to the efficiency of local hospitals.
I-85 south to exit 47. Turn right off of the exit ramp onto Bullsboro Dr. Bullsboro becomes Jackson St. Cemetery on both sides of Jackson.
Lagrange
LaGrange is a beautiful railroad town located on the Atlanta and West Point Railroad, which was the location of Confederate hospitals during the Civil War. It is most famous, however, for being the only place in the Confederacy to organize its own female military company, the Nancy Harts. Most of LaGrange's men had gone to fight for the Confederacy, but thanks to the Nancy Harts, it was spared some of the ravages of the War that befell other towns in Sherman's path. Three historic districts are featured in LaGrange's driving tour, with 13 homes on the National Register.
Bellevue
204 Ben Hill St., LaGrange 706-884-1832
The home of U.S. Senator Benjamin Harvey Hill is an excellent example of Greek Revival architecture popular in the Old South. Built around 1854, it is open to tours. Hill was one of the more amazing figures of the Civil War. He graduated first in his class at the University of Georgia and moved to LaGrange to practice law. His practice was quickly successful, and soon he was serving in the Georgia legislature. He opposed secession but became one of the foremost champions of the Confederacy's cause and was regarded as the ablest supporter of the policies of Jefferson Davis, who was a frequent visitor at Bellevue. Arrested but paroled at the end of the War, Hill resumed his activities in politics and as Georgia's foremost orator and champion of the South, vigorously opposing the Reconstruction Acts of Congress. At the urging of Senator Hill during Reconstruction, President Hayes removed Federal troops occupying the South. Hill is buried in Oakland Cemetery in Atlanta. Bellevue was purchased in 1942 by the Fuller E. Callaway Foundation and presented to the LaGrange Woman's Club, which maintains it today. A grant in 1975 by the Callaway Foundation helped restore the magnificent mansion.
From I-85 North take exit 18 and travel west on Hwy. 109. Turn right on Hwy. 27 and travel north. Turn left on Broad St. and right onto Ben Hill St.
Nancy Harts Marker
Ridley Ave., County Courthouse, LaGrange
This historical marker commemorates the Nancy Harts, a company of women soldiers who saved LaGrange from destruction in April of 1865. Legend states that all the men in town had enlisted in the War, leaving LaGrange undefended. In 1863, Mrs. J. Brown Morgan organized the Nancy Harts, named in honor of Georgia's Revolutionary War heroine, and soon they were holding drill and target practice and "became proficient at each," according to a Georgia historian. On April 17, 1865, a column of Union Cavalry under Col. O.H. LaGrange, had crossed the Chattahoochee from Alabama 18 miles down the rail line, captured Fort Tyler after a tough battle, and destroyed the bridges, rail facilities, 19 locomotives, and 340 cars loaded with Confederate army supplies. As they destroyed the track en route to LaGrange, they were met by the Nancy Harts on the edge of town. The historical marker finishes the story: "Seeing the charmingly militant array formed to meet him, Colonel LaGrange complimented them upon their fearless spirit and fine martial air and, after a brief delay, marched on toward Macon leaving no scar other than the broken railroad to deface this gracious Georgia town whose name he chanced to bear."
Confederate Cemetery
Miller St., LaGrange
This cemetery holds the remains of 300 Confederate soldiers, most serving in the Army of Tennessee, who died at one of the four hospitals in LaGrange. The Nancy Harts assisted in nursing the sick and wounded in these hospitals.
Travel west on Broad St., turn left and go south on South Greenwood St. Turn right onto Miller St., cross the railroad tracks and find the cemetery on the left.
Fayetteville
Fayette County Historical Society
195 Lee St., Fayetteville
This facility houses extensive research material on Georgia and Fayette County, including complete sets of The War of the Rebellion and The Confederate Veterans. Resources include material on those who served in the Georgia Infantry, and many other books, publications and articles on the War as it pertained to Fayette County and Georgia. Fayetteville was the scene of a Union cavalry raid on July 27, when Gen. Edward McCook's 3,600 men captured a long Confederate supply train with 300 guards and wagoners and 500 wagons. The wagons were burned, more than 500 mules and horses slaughtered on the spot, and the Confederates taken prisoner. They were freed three days later by Confederate cavalryman Joe Wheeler at the Battle of Brown's Mill near Newnan.
One block south of the courthouse.
---
Read and add comments about this page
---
Reader-Contributed Links to the Civil War in Georgia Book: