The Mystery Of The Confederate Treasure
One might say Georgia is a state rich in Civil War history — literally rich that is, considering that private Virginia bank funds worth an estimated $250,000 in 1865 were stolen in Lincoln County and never fully recovered. These bank funds had traveled by train and wagons with the official Confederate treasure and President Davis on his flight from Richmond, Virginia at the end of the Civil War.
Along the way, the official Confederate treasure, valued at approximately $500,000 when it left Richmond, was spent supplying fighting Confederate troops and paying off Confederate troops returning home from the war. Under an elm tree near Washington, James A. Semple, "a trusted naval officer," was given gold coin and bullion worth $86,000 and ordered to conceal it in the false bottom of a carriage and take it to Charleston or Savannah. Semple never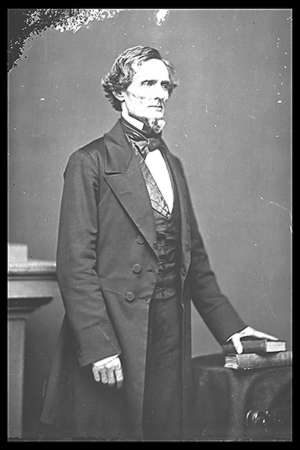 reached his destination — he and the money disappeared into private hands. Davis himself carried $35,000, until in the woods near Sandersville, he abandoned everything in hopes of escaping capture. He gave the money to C.S. Capt. Micajah Clark, whose party distributed $10,000 and made it south to Florida with $25,000. Realizing the War was over, Clark's party decided to divide the money among themselves, leaving a portion of it for Mrs. Davis.
Back in Washington, Georgia, the funds of the Virginia banks were placed temporarily in a local bank, but the bank tellers were eager to move the funds to a safer place. They obtained permission from U.S. Army Captain Lot Abraham to secretly ship the funds back to Richmond, and on May 24, 1865, they loaded five wagons with the money to begin their journey. Word of the shipment spread quickly among Confederate veterans who believed the money belonged to the Confederate treasure.
When the wagon train stopped for the night in the horse lot of a Methodist minister, Dionysius Chenault, in Lincoln County near the Savannah River, a band of Confederate riders, which included Tennessee and Kentucky cavalrymen and probably citizens of Wilkes County, Georgia as well, hijacked the wagons. Coins spilled "ankle deep" on the ground, and Confederates rode away with bags, pockets, and saddle bags full of gold.
When C.S. Brig. Gen. Alexander heard news of the raid, he rounded up former members of a Washington Confederate battery and seized approximately $110,000 from the culprits who remained in the Washington and Lincoln County area. Federal soldiers stationed nearby embarked on a spree of pillaging and vandalism aimed at reclaiming the gold. However, most of the Virginia bank funds were never recovered, leading treasure hunters to search the locality even today. Chenault's daughter, Mary Anne had her own story about the fate of the gold: "The Yankees got a good deal of it, but there were oceans more of it scattered all over Wilkes and Lincoln counties, besides what was carried off. Some of it was hid about in swamps and woods, some was buried in the ground, and there is no telling how much has been forgotten and not found again."
---
Read and add comments about this page
---
Reader-Contributed Links to the Civil War in Georgia Book: