| | | |
| --- | --- | --- |
| | Wildlife Viewing Guide | |
---
Banks Lake National Wildlife Refuge
Description: Banks Lake National Wildlife Refuge is 3,500 acres and part of the second largest freshwater ecosystem in the Coastal Plain. It is approximately 12 miles from Grand Bay Wildlife Management Area. The refuge offers 1,000 acres of open water dotted with huge cypress trees. The open water is ecologically distinct from the remainder of the 13,000-acre wetland system of which it is a part. It forms the base of a very popular freshwater public fishery including largemouth bass, chain pickerel, bream, and crappie. This open water is maintained by an earthen sill that was constructed in 1825.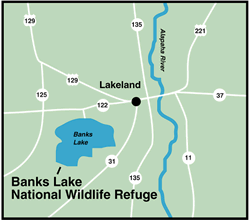 Viewing Information: Banks Lake provides an excellent opportunity to see winter waterfowl such as widgeon, blue- and green-winged teal, wood ducks, and occasionally, American golden-eyes. The numbers are not vast, but the viewing conditions are good. However, the most spectacular opportunity here is to see osprey and bald eagles, both of which currently nest on the site. The possibility of seeing young fishing over the open water is worth the trip. Good binoculars are a must for this treat. In spring and summer, expect to encounter the full wildlife diversity of the Coastal Plain, as well as some human traffic attracted to the good fishing in Banks Lake.
Directions: From Lakeland, travel west on GA Hwy. 122 for 2-3 miles. Entrance is on the left.
Management: U.S. Fish and Wildlife Service, 912-496-7836 (managed as a satellite refuge of Okefenokee NWR)
Closest Town: Lakeland, GA
Site Notes: accessible fishing pier, concession building







---
Read and add comments about this page
---
Reader-Contributed Links to the Georgia Wildlife Viewing Guide Book: