| | | |
| --- | --- | --- |
| | Wildlife Viewing Guide | |
---
Paradise Public Fishing Area
Description: Paradise PFA is a unique combination of 71 lakes and ponds totaling 550 acres of water, 568 acres of forested land, and 123 acres of open fields and roads. Habitat types include wetlands, upland pine, planted pine, pine savannas, longleaf pine/wiregrass, and mixed hardwood. The area is intertwined with roads and trails providing visitors passage to much of the area. Slightly rolling hills covered with pines slope down to lake banks and distinct wetland habitats. Lake shorelines, cypress-gum ponds, and branch swamps provide habitats for a variety of wading birds and waterfowl. Clusters of pond cypress and black gum surrounded by water provide an ideal resting spot for wood storks and herons. In contrast, a large longleaf pine/wiregrass community located on the south side of the area provides a perfect habitat for gopher tortoises and a variety of snakes.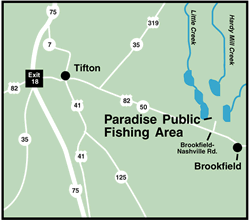 Viewing Information: Paradise PFA, managed primarily for public fishing, is also a paradise for those looking for an unforgettable wildlife viewing experience. Numerous species of birds, mammals, and reptiles are found within the boundary. Bald eagles visit the area beginning in October and stay until mid-March. It is common to see them catching shad from Lake Patrick and finishing the freshly-caught meal atop a large longleaf pine. Sometimes pairs can be observed clasping talons and squealing loudly while falling away toward earth, waiting until the last instant to release their clasp. Osprey are frequently seen throughout the year over the lakes hunting for fish or resting while perched atop standing timber in Lake Paradise. Marsh hawks, red-tailed hawks, and red-shouldered hawks can be seen perched on power poles or flying low hunting for food. Wood storks, Canada geese, wood ducks, white ibis, tufted titmice, pied-billed grebes, common loons, pintails, hooded mergansers, green-winged teal, blue-winged teal, and common gallinules are just a few of the birds that can be observed in the area. Migrating birds can be viewed mainly in the fall and winter months.
Mammals include white-tailed deer, bobcats, coyotes, river otters, striped skunks, beavers, gray foxes, gray squirrels, nine-banded armadillos, and an abundance of cottontail rabbits. Gopher tortoises are common in and around the longleaf pine/wiregrass plant communities. Tortoises can be found feeding and digging burrows throughout the summer months. Their activity decreases in November, and they are not frequently observed until late Feb. and March. Eastern diamondback rattlesnakes are common throughout the upland areas. Timber rattlesnakes, although present, are far less numerous. Many interesting non-venomous snakes such as the eastern kingsnake, eastern hognose snake, and the gray rat snake are found in abundance along the roadways and in brush piles near open fields. A rare find would be the indigo snake, which has been seen during the summer months on the south side of the area.
Directions: Paradise Public Fishing Area is located 8 miles east of Tifton on the Brookfield-Nashville Road, off US Hwy. 82 near Brookfield, GA. Directions are well-marked on US Hwy 82.
Management: Georgia DNR, Wildlife Resources Division, 912-533-4792
Closest Town: Tifton, GA
Additional Information: Most of the area can be viewed from a vehicle or small boat except for the longleaf pine/wiregrass, and gopher tortoise communities. These areas are accessible only by foot. If you are planning to venture off any of the roads or trails, snake leggings are recommended. Some areas are very delicate and visitors should take care during viewing to minimize disturbance.







---
Read and add comments about this page
---
Reader-Contributed Links to the Georgia Wildlife Viewing Guide Book: