| | | |
| --- | --- | --- |
| | Wildlife Viewing Guide | |
---
Grand Bay Wildlife Management Area
Description: Grand Bay WMA is located in the lower Coastal Plain physiographic province in what is typically known as "flatwoods." It is situated within a 13,000-acre wetlands system, which is the second largest natural blackwater wetland in the Coastal Plain of Georgia. In many ways, the large, shallow, peat-filled wetlands of Grand Bay mimic their big brother, the Okefenokee Swamp. Grand Bay is one of the land features known as "Carolina bays" which, according to one theory, were created by showers of meteors. Plant communities within these bays are a mosaic of wet savannas, shrub bogs, cypress-gum ponds, prairie and black gum-cypress swamps, practically indistinguishable from habitats found in the Okefenokee. The diversity of wildlife also compares favorably with that found in the Okefenokee. Uplands surrounding the wetlands provide good examples of mature longleaf-slash pine flatwoods. A small percentage of the area is in mixed live oak-pine and is home to gopher tortoises and indigo snakes. Dudley's Hammock, a rare example of a mature broadleaf-evergreen hammock community, is found in the area.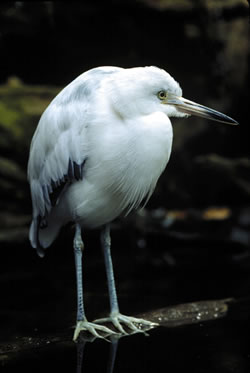 Viewing Information: Carolina bays by nature tend to be inaccessible because of their large size (Old Field Bay at Grand Bay WMA is 6,000 acres) and the impenetrable nature of shrub communities surrounding them. A .5-mile boardwalk provides access through a cross section of communities on Grand Bay (a 1,400-acre Carolina bay on the WMA). At the end of the boardwalk is a 54-foot-high observation tower overlooking open prairie and a heron rookery in the bay's center.
In spring, prothonotary warblers arrive and add to the swamp's color with fleeting flashes of gold. The "sweet, sweet, sweet" calls of advertising males echo through black gum and cypress trees. Frequently observed wading birds include cattle and great egrets; great blue, little blue, green and tri-color herons; and white ibis. Anhingas are also common on the marsh. Common moorhens and purple gallinules nest here also. Rarely seen but present are American bitterns, black-crowned and yellow-crowned night herons. A small population of Florida sandhill cranes has been introduced to the area, and individuals can be seen or heard throughout the year. Migratory greater sandhill cranes usually arrive on the marsh in mid-November and remain until mid-January. Several hundred cranes typically feed on the floating mat community in Grand Bay during winter.
Throughout summer, the surface of the prairie is covered by the blooms of fragrant water lilies. A cacophony of sounds can be heard coming from the heron rookery. American alligators of all sizes patrol the surface hunting for prey. Pig frogs and cricket frogs provide a continuous backdrop of sound for the scene. The floating mat community is home to the Florida water rat, a species discovered to inhabit Grand Bay in 1987. Late March and April are the best months to see the turban-shaped grass houses of this aquatic rodent. River otters are commonly observed on the WMA, particularly in late winter. White-tailed deer, raccoons, bobcats, gray foxes, opossums and armadillo are also common. Moon-lit summer nights are an excellent time to enjoy the boardwalk. Pig frogs and cricket frogs continue their rhythm and are joined by barred owls and chuck-will's widows.
Directions: From Valdosta take US Hwy. 221 north apx. 10 miles and turn left on Knight's Academy Road. Go 1.5 miles to the entrance sign on the right. The entrance road leads 1 mile north to a "T". The boardwalk is to your left, the interpretive center and canoe trail entrance to your right.
Management: Georgia DNR, Wildlife Resources Division.
Closest Town: Valdosta, GA
Site Notes: observation tower, boardwalk, canoe trail
Additional Information: A canoe trail brochure with directions and information on the area's wetlands can be obtained by contacting the Valdosta-Lowndes County Convention and Visitor's Bureau at 1-800-569-8687. Moody Air Force Base is adjacent to Grand Bay.









---
Read and add comments about this page
---
Reader-Contributed Links to the Georgia Wildlife Viewing Guide Book: