| | | |
| --- | --- | --- |
| | Wildlife Viewing Guide | |
---
Earth Day Nature Trail
Description: The Earth Day Nature Trail provides an opportunity for a "bird's eye view" of Georgia's outstanding coastal marshes. Georgia's coastal marshlands encompass approximately 378,000 acres in a 4- to 6-mile band behind the barrier islands. These marshes have been identified as one of the most extensive and productive marshland systems in the United States. Developed from lagoons that filled with sediments and deposits from rivers and streams flowing to the ocean, the marshlands of Georgia are a vital part of one of the world's greatest estuaries. Salt marshes are responsible for the continuation and survival of the intricate balance of nature within such estuaries. Producing biomass measuring nearly 20 tons to the acre, a salt marsh like this is four times more productive than the most carefully cultivated corn. Georgia's salt marshes produce more food energy than any estuarine zone on the eastern seaboard. A variety of marsh grasses flourish in this habitat and are fed from the onrushing tides. The marsh serves as a nursery ground for the growing juveniles of fish and shellfish, and these fish in turn support larger fish.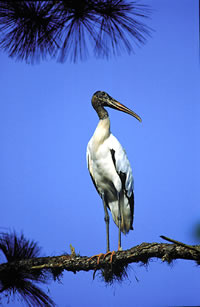 Viewing Information: Best viewing is early morning or late afternoon, when great numbers of birds are very active and easily seen. Wood storks periodically rest and sun their wings at the edge of a bird viewing pond. You may also see wood storks flying the thermal air currents in the vicinity of the nature trail. The salt marshes are flooded twice daily by the rise and fall of the tide. They are the home or feeding ground of many kinds of marine life, including laughing gulls, great egrets, wood storks, brown pelicans, ospreys, diamondback terrapins, clapper rails, raccoons, willets, red-winged blackbirds, kingfishers, great blue herons, snowy egrets, and marsh rabbits. Plants found along the trail include sea ox-eye, periwinkle, pricklypear cactus, wax myrtle, red cedar, and smooth cordgrass.
Directions: Travel south on US Hwy. 17 through the Brunswick City limits. Just north of the Sydney Lanier Bridge, turn left on Conservation Way. There is a sign to the DNR Coastal Regional Headquarters, Brunswick. At northeast end of the parking lot is a sign and entrance to the Earth Day Nature Trail.
Management: Georgia DNR, Coastal Resources Division, 912-264-7218
Closest Town: Brunswick, GA
Site Notes: observation platforms, interpretive programs (self-guided), binoculars available for checkout.
Additional Information: Orientation shelter available for group educational activities. Main building has an aquarium display, wildlife check lists, and blueprints for bird houses.



---
Read and add comments about this page
---
Reader-Contributed Links to the Georgia Wildlife Viewing Guide Book: