| | | |
| --- | --- | --- |
| | Wildlife Viewing Guide | |
---
Fort Frederica National Monument
Description: Located on the inland side of St. Simons Island — a coastal barrier island — this colonial town and fort remnants also preserve some beautiful salt marsh and maritime forest habitats. The salt marsh habitat includes discrete zones of "grassland" plants of varying salt tolerance. Bands of cordgrass, salt grass, and needle rush border the Frederica River. Upland of this grassland vegetation is the coastal maritime forest. Here are gnarled live oak and laurel oak draped in Spanish moss, southern magnolia, slash pine, cabbage palm, and saw palmetto.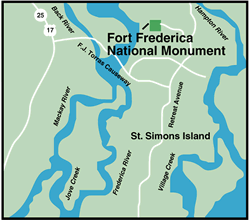 Viewing Information: While Fort Frederica is better known for its cultural history, the site offers a great opportunity to appreciate the natural history of one of Georgia's most accessible barrier islands. The borders of the marsh, with concentrations of shrubby understory, provide excellent protected nesting areas for birds and sheltered foraging areas for small animals. River banks and lower salt marshes provide feeding opportunities for shore and wading birds. In addition, the edge of the transition zone between the live oak forest and the partially-cleared town site is utilized by many different species. A variety of birds make Frederica their permanent home, including herons, egrets, and turkey vultures. The occasional kingfisher will skim by, next to the Frederica River, and shrubs are typically full of blue jays, chickadees, and wrens, especially in the winter months. Pileated, downy, and red-bellied woodpeckers abound in the mature forest where insects are easy pickings. White-tailed deer, raccoons, and occasionally an armadillo can be spotted on the forest edge. Early mornings are a good time to catch a glimpse of dolphins cavorting in the river, just off the remains of the old fort's magazine. Pocket gophers, armadillos, broadhead skinks, black racers and flying squirrels might be seen by the lucky visitor. Both scenic and abundant in wildlife, this excellent example of barrier island habitats is worth a visit any time of the year.
Directions: From St. Simons Island causeway, turn left on Sea Island Drive, turn left on Frederica Road and follow the signs.
Management: National Park Service, 912-638-3639 (Monument Office)
Closest Town: St. Simons Island, GA
Site Notes: parking, rest rooms, tours, interpretive programs, entrance fee, tour fee
Additional Information: High temperatures and humidity in the summer months can be challenging; bring a hat, sunscreen, and plenty to drink. Early morning visits can be more pleasant.




---
Read and add comments about this page
---
Reader-Contributed Links to the Georgia Wildlife Viewing Guide Book: