| | | |
| --- | --- | --- |
| | Wildlife Viewing Guide | |
---
South End Beach, Jekyll Island
Description: This is a typical Georgia beach, with wide, hard-packed sand at low tide and narrow, soft sand at high tide. The beach is characterized by low dunes and a long sloping beach from the high tide line through an intertidal zone to the water's edge. In this intertidal zone from the waterline to the wrack (debris) line will be seen numerous shorebirds and marine animals that wash ashore. This beach is a favorite for wildlife viewing and for beachcombers. Walk south and then west on the beach until you begin to see the transition of the beach to marsh mud and marsh grass. Wildlife activity is at its peak in this transition area.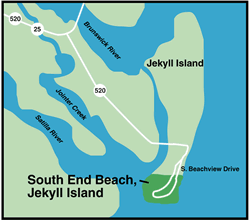 Viewing Information: An amazing array of wildlife will be visible at this site in the course of a day. Many gulls and terns will add to the "wild" noise of the beach. The makeup of the watchable wildlife also changes significantly with the seasons. Any time of the year watch for brown pelicans gliding just above the water until they see a meal, causing them to gain altitude dramatically and plummet into the water. You can often see them come up with a catch which they swallow whole on the spot. Binoculars or a spotting scope will help you see more detail in this beach environment. The Atlantic bottle-nosed dolphin is often seen surfacing for air just off shore. Both Wilson's plovers and the American oystercatchers may nest on this beach, but both are very wary so watch from a respectful distance. In winter, migratory waterfowl, including the lesser scaup, bufflehead, ring-necked duck, and migratory birds of prey like the peregrine falcon, the merlin, and the kestrel, are commonly seen near the beach.
Directions: From Brunswick, go south on US Hwy. 17 to the Jekyll Island Causeway (GA Hwy. 50). Enter Jekyll Island through toll booth ($2 fee) and turn right on South Riverview Drive. Follow signs to St. Andrew Picnic Area. Park your vehicle and walk through forest to back beach area. Follow shoreline south to south tip of Jekyll Island.
Management: Georgia DNR, Wildlife Resources Division, 912-264-7218
Closest Town: Brunswick, GA
Additional Information: Lodging (hotels) is available on the island.





---
Read and add comments about this page
---
Reader-Contributed Links to the Georgia Wildlife Viewing Guide Book: