| | | |
| --- | --- | --- |
| | Wildlife Viewing Guide | |
---
Fort Pulaski National Monument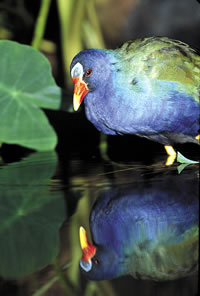 Description: Named for a celebrated soldier in the American Revolution, this old fort provides an imposing view of 5,200 acres of coastal salt marsh and 300 acres of upland habitat located in the mouth of the giant Savannah River. Moving from the river's edge upland you encounter bands of cordgrass, salt grass, and needle rush, the dominant plant species of this area. Virtually all of theplants are subjected to twice-daily tidal flooding. The small upland area is associated with the grounds of the old fort and consists of maintained lawns and maritime forest. Live oaks, laurel oaks, yaupon holly, and saw palmetto dominate these maritime forests.
Viewing Information: The broad expanses of easily accessible salt marsh make this an excellent site for viewing shorebirds, wading birds, and soaring birds. Herons, egrets, gulls, sandpipers, and plovers are numerous throughout the National Monument area. Wood storks are occasionally seen feeding in small drying ponds in the area. The small isolated patches of maritime forest offer refuge to many migratory songbirds in spring and fall. Numerous species of warblers, swallows, and large flocks of cedar waxwings are common in the spring. Forest mammals are surprisingly numerous and include white-tailed deer, bobcats, gray foxes, raccoons, opossums and marsh rabbits.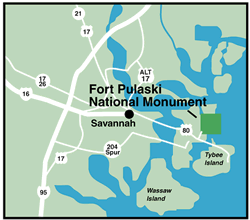 Although a wide variety of reptiles make their homes on monument grounds, they are rarely observed. The secretive eastern diamondback rattlesnake is seen on occasion. The American alligator is sometimes observed in the warmer months, particularly during dry periods, when it may seek the freshwater of the fort's moat. The Atlantic bottle-nosed dolphin is commonly sighted in the Savannah River nearby. An old railroad, nature trail, and constructed dikes make foot travel easy around this area and create opportunities for wildlife watching in solitude. Interpretive programs are available.
Directions: From Savannah, travel 15 miles east on US Hwy. 80 and follow the signs.
Management: National Park Service, 912-786-5787 (Visitors Center)
Closest Town: Tybee Island, GA









---
Read and add comments about this page
---
Reader-Contributed Links to the Georgia Wildlife Viewing Guide Book: