| | | |
| --- | --- | --- |
| | Wildlife Viewing Guide | |
---
Harris Neck National Wildlife Refuge
Description: The refuge consists of 2,765 acres of saltwater marsh, grassland, freshwater ponds and mixed deciduous woodlands. The great variety of habitat results in an equally great variety of wildlife. From the Spanish moss-festooned live oak stands to the grasslands, the quiet, observant visitor can be rewarded with ample viewing opportunities. All refuge roads and concrete runways are remnants from the Harris Neck Army Airfield, deactivated in 1944. A 4-mile public access route guides visitors through the refuge. Freshwater ponds and dikes support wading bird rookeries and represent an excellent example of wetland management. Vistas along the wildlife drive offer excellent views of the salt marsh, meandering waterways and upland hammocks. On the east side of the refuge from a high oyster shell bluff overlooking Barbour River, miles of pristine saltmarsh and a few of the island gems that make up Georgia's unique coastal shoreline can be seen.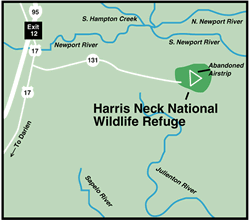 Viewing Information: The ponds and flooded timber lands located south of the airfield have for many years supported active rookeries for tricolored, green-backed and little blue herons; anhingas; wood storks; and white ibis. (Observe the "closed area" signs posted seasonally when these wading birds are nesting.) Smaller rookeries are located next to the pools between the runways. In spring and summer, wood ducks, purple gallinules, and common moorhens use these ponds. Throughout the colder months many species of dabbling ducks can be found in the refuge ponds. Various species of songbirds are attracted to the woodlands during all seasons. During migration, warblers, vireos, thrushes, and sparrows are abundant. Pileated woodpeckers are seen and heard regularly in the woods, while the wary watcher may observe flocks of wild turkeys feasting on fallen acorns or dusting themselves on sandy roads. Shorebirds can often be seen in the open areas and tidal flats bordering the South Newport and Barbour Rivers. A variety of raptors, including northern harriers, American kestrels, and, occasionally, a bald eagle or peregrine falcon can be seen in open areas hunting over the refuge grasslands, while ospreys' cries are heard along the marsh edges and over the ponds. Other wildlife sightings include armadillos, opossums, rabbits, feral hogs, raccoons, and white-tailed deer.
Directions: Take exit 12 off I-95 and travel south on US Hwy. 17 for apx. 1 mile. Turn east on GA Hwy. 131 and travel 7 miles to the main entrance gate. To reach the Barbour River Landing,continue on GA Hwy. 131 and follow signs to the landing.
Management: U.S. Fish and Wildlife Service, Savannah Coastal Refuges, 912-652-4415 (Visitors Center)
Closest Town: Darien, GA
Additional Information: Harris Neck National Wildlife Refuge is open to the public daily during daylight hours. Refuge maps, general information brochures, and bird checklists can be obtained from the Savannah Coastal Refuges office: Parkway Business Center, Suite 10, 1000 Business Center Drive, Savannah, GA 31405.






---
Read and add comments about this page
---
Reader-Contributed Links to the Georgia Wildlife Viewing Guide Book: