| | | |
| --- | --- | --- |
| | Wildlife Viewing Guide | |
---
Wassaw National Wildlife Refuge
Description: The 10,070 acres that comprise Wassaw National Wildlife Refuge include a single barrier island (Wassaw) and two smaller interior islands. Over three quarters of the refuge is comprised of salt marshes, and nearly one quarter can be categorized as beach, dune, and forest communities. Roads and administrative land account for approximately one percent of the total acreage. Wassaw Island, the largest land mass on the refuge, is one of a chain of barrier islands along the Georgia coast known collectively as the "Golden Isles." Wassaw Island is 5.5 miles long, from .5 to 1-mile wide, with 7 miles of ocean beach. It has a prominent central dune ridge running the length of its north to east axis and reaching elevations of nearly 45 feet above sea level. A series of lower dune ridges parallels the main ridge. Numerous depressions and ponds lie between these ridges. Of all the Golden Isles, Wassaw has suffered the least disturbance by man. From the bare sand beach to the old-growth stands of live oak and mixed pine/hardwood climax forest of the central and back dunes, a succession of vegetative habitats provide for an abundance of wildlife species.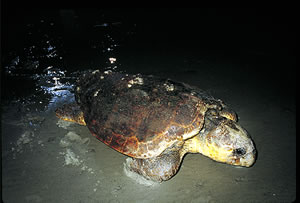 Viewing Information: Wassaw is a primary rest stop for neotropical migratory birds such as warblers, vireos, and thrushes during spring and autumn migrations. During these migration periods, thousands of shorebirds, such as red knots and several sandpiper species, also utilize the beach habitat for feeding and resting. In fact, the beach is productive for bird watching at virtually any time of the year, and notable sightings have been made during every month. Most exciting are observations of endangered piping plovers, peregrine falcons, and bald eagles (usually in winter), and an occasional reddish egret, roseate spoonbill, or parasitic jaeger (primarily in summer). In summer, tell-tale tracks on the seven-mile-long beach attest to nocturnal visits by the federally threatened loggerhead sea turtles which come ashore for egg-laying then return secretively to the sea. The U.S. Fish and Wildlife Service, in cooperation with the Savannah Science Museum, monitors the nesting activities of the giant loggerheads. Under the supervision of qualified museum personnel, the public is permitted to assist in this ongoing research project. Selected participants must pay a fee covering transportation and lodging expenses. The refuge is open to the public daily during daylight hours. A network of roads and trails throughout the maritime forest appeals to hikers.
Directions: The refuge is accessible only by boat. Several local marinas in the Savannah area (at Skidaway Island and Isle of Hope), and the public boat ramp adjacent to the Skidaway Island bridge can serve as launching sites for trips to Wassaw.
Management: U.S. Fish and Wildlife Service, Savannah Coastal Refuges, 912-652-4415
Closest Town: Savannah, GA
Additional Information: Visitors planning trips to the island in October and November should contact the refuge office in Savannah and obtain the dates for hunts during which the refuge is closed. Refuge maps, bird checklists, and general informational brochures can also be obtained from the Savannah Coastal Refuges office: Parkway Business Center, Suite 10, 1000 Business Center Drive, Savannah, GA 31405. Boat dock may be used for loading and unloading purposes only.

---
Read and add comments about this page
---
Reader-Contributed Links to the Georgia Wildlife Viewing Guide Book: