| | | |
| --- | --- | --- |
| | Wildlife Viewing Guide | |
---
Chattahoochee River National Recreation Area
Description: The Chattahoochee River National Recreation Area consists of 48 miles of Upper Piedmont river and 14 separate land units along the river. The 4,200 acres in the land units provide a rich mosaic of river corridor habitats: steep ravines, hardwood forests, river flood plains, and meadows, each with its own array of wildlife. The river corridor is a linear extension of a more northern mountain-type environment. A surprisingly wild and scenic refuge for humans and wildlife alike in an otherwise urban area, this river park is a place rich in natural and human history.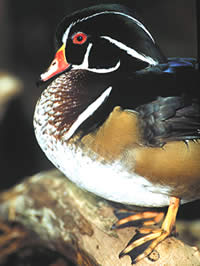 Viewing Information: Despite being surrounded by urban and suburban development, Chattahoochee River NRA is a wildlife viewing opportunity not to be missed. It is the southernmost habitat for many animal and plant species that are normally found in the mountains. Many of the ravines along the river contain attractive tributary streams and support unique vegetation almost undisturbed by man. Beaver ponds dot the Recreation Area and provide a year-round haven for wood ducks, muskrats, minks, and beavers. Winter visitors include mallards, black ducks, Canada geese, and the occasional pintail. The undisturbed riverbank forests are home to large populations of white-tailed deer, wild turkeys, and red and gray foxes. River otters, cottontail and swamp rabbits, chipmunks, and squirrels can also be seen here. Great blue herons are extremely common, and in the fall great numbers of vultures soar over the river corridor. Late spring and early fall are the best times to see the many reptiles and amphibians in the park. Black rat snakes, eastern kingsnakes, midland water snakes, and copperheads are frequently seen. An early morning or early evening stroll along the river can be most rewarding. Even if you don't see an animal, tracks, scat, and other signs of wildlife are abundant along the trails.
Directions: Paces Mill Unit - From I-285, take exit 14 (US Hwy. 41). Travel south 1.5 miles to Unit entrance on the right. Island Ford Unit - From I-285, take exit 19 (GA Hwy. 400). Travel north 5 miles to exit 6 (Northridge Rd.) and turn right. Cross over GA 400 and continue right onto Dunwoody Place. Travel .5 miles, turn right on Roberts Drive, and travel .7 miles to Island Ford Parkway on the right. Entrance is marked.
Management: National Park Service,770-399-8070
Closest Town: Atlanta, GA
Site Notes: observation platforms, interpretive programs
Additional Information: Trail maps and river maps can be obtained at no cost at the visitor contact stations at Paces Mill and Island Ford. A bird checklist is also available at these sites.








---
Read and add comments about this page
---
Reader-Contributed Links to the Georgia Wildlife Viewing Guide Book: