| | | |
| --- | --- | --- |
| | Wildlife Viewing Guide | |
---
McDuffie Public Fishing Area
Description: Thirteen fishing lakes and numerous fish rearing ponds are scattered over 560 acres. Located in the Fall Line sand hills region of the State, this site is predominantly dry uplands of deep, sandy soil supporting remnant stands of longleaf pine and turkey oak. This habitat was once common in Middle and South Georgia, but today much of it has been converted to industrial pine plantations. Numerous wetland areas are found adjacent to the fishing lakes and provide an interesting contrast to the dry uplands.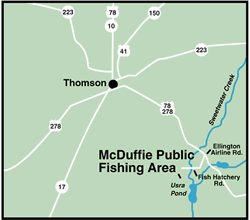 Viewing Information: McDuffie PFA is a wonderful site for easy viewing of the wildlife once common to these dry longleaf pine habitats. A large population of big black-masked fox squirrels is found here and can be seen feeding on pine seeds they pick from longleaf pine cones. This is an excellent birding area. Look for yellow-breasted chats, prairie warblers, and orchard orioles. The ponds and wetland areas are home to great blue herons, great egrets, ducks, Canada geese, river otters, beavers, and wild turkeys. Osprey nest in the area and can be seen soaring overhead with red-tailed hawks, red-shouldered hawks, and black and turkey vultures. Listen for quail, owls, and the whippoorwill. Winter brings grebes, coots, mallards, hooded mergansers, and green-winged teal to feed in the ponds and wetlands. The PFA is open year-round, from sunrise to sunset, seven days a week.
Directions: From Thomson, travel south on GA Hwy. 17. Turn east (left) on US Hwy. 78/278 and travel 5.6 miles. Go right on Ellington Airline Road for 2.8 miles. Turn right on Fish Hatchery Road and go 1 mile.
Management: Georgia DNR, Wildlife Resources Division, 706-595-1684
Closest Town: Thomson, GA
Site Notes: fishing piers, archery range, fishing skills range, interpretive trail, dove field, kids' fishing events







---
Read and add comments about this page
---
Reader-Contributed Links to the Georgia Wildlife Viewing Guide Book: