| | | |
| --- | --- | --- |
| | The Natural Georgia Series: The Flint River | |
---
The Flint River at the Fall Line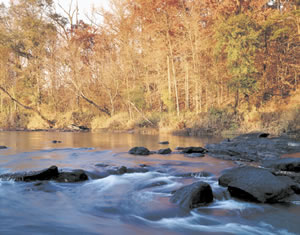 Some states are famous for dramatic mountain ranges. Others are distinguished for glittering lakes. And still others are known for sublime coastlines. While Georgia's mountains, lakes, and coastline are worth celebrating, I would argue that Georgia should be acclaimed for its beautiful rivers.
In rivers, Georgia has great diversity. The primary reason is that our streams must flow over a diverse landscape as they make their way to the Atlantic Ocean or Gulf of Mexico. In the highlands, piedmont, coastal plain, and marshlands, our state's terrain shapes and influences a river's character in ways obvious (are there rapids? is the water cold or warm?) and less obvious (does the stream carry a high nutrient load? can I catch trout?). Georgia's most interesting rivers make the longest trips through the greatest variety of terrain. The Flint River is one of these.
To really experience the Flint-or any river-I prefer to use a canoe or kayak. But traveling down a river in a canoe comes with certain inconveniences: How do you get back to your vehicle? Are you and your boat mate forced to drive two cars?
These issues are best solved by a shuttle service. That leads me to Jim McDaniel at the Flint River Center, located approximately 5 miles southwest of Thomaston on the downstream side of the GA 36 bridge on the southern bank of the Flint. Start your exploration of the river with him. He makes it easy.
Good thing Jim is worth recommending because he is the only outfitter that I've found on the 350-mile length of the river. More good news is that he is located in the right place for interesting paddling: In the fall line zone, where the river leaves the piedmont for the coastal plain. Here you find a diversity of plant and animal life and canoe-eating rapids.
Flint River Destinations
Jim and Marge McDaniel
4429 Woodland Road, GA 36
Thomaston, Georgia, 30286
ph. 706-647-2633
Facilities:Canoe, kayak, raft, tube rentals; shuttles; convenience store, lodge, camping and RV sites, pool,
fishing supplies.
Open daily sunrise to sunset year round.
www.flintriveroutdoorcenter.com
Sprewell Bluff State Park
740 Sprewell Bluff Road
Thomaston, GA 30286
ph. 706-646-6026
Directions: Located 8 miles west of Thomaston off GA 74. Go to Old Alabama Road, turn left. Go south 5 miles from GA 74 to reach Sprewell Bluff.
Facilities: 3 miles of hiking trails, boat ramp, picnic tables, grills, playground, restrooms.
My brother John and I picked a sunny July morning for our adventure. When we arrived at McDaniel's sprawling settlement, we had to decide where we were going and for how long. The most challenging rapids on the entire river-Yellow Jacket Shoals-were a mile downstream. Famous for eating canoes, the shoals are Class III during low water and Class IV during high water. Neither of us felt like destroying one of Jim's canoes that day, so we chose to take a shuttle upstream to Sprewell Bluff State Park and paddle the 5.1 miles downstream to the Flint River Center.
Bill Fennell loaded a canoe into the back of a well-used pickup truck and we climbed into the cab for an 8-mile ride to the park. In the dictionary under "river rat," there should be a photo of Bill. He wears cut-off jean shorts and a deep tan. He lives near Macon but when he gets free time, he keeps "coming back to the river." Today, he was helping Jim out. "The river's at 7 feet at the bridge, so it'll be a good day. Shallow in spots, but not too bad," he said. "When it's higher, 8 and 9 feet, it's a better run." At the park, he backed the truck down the boat ramp. We lifted the canoe off the bed and slid it into the shallow, rocky water. We shook hands with Bill, and John climbed into the front, and I pushed off and jumped in.
Looking across the river from the boat ramp, I beheld Sprewell Bluff, a vegetated, rocky slope of gneiss, schist, and quartzite reaching 900 feet in elevation. It was near here that a 211-foot dam was proposed that would have flooded 28 miles of river and 24,500 acres of scenery that gave the Flint its ranking as "Georgia's Number One Scenic River" by the Georgia Natural Areas Council in the 1970s. I thought about the dam controversy most of the time I was on the river and wondered what we had lost-and for what gains-with other impoundment lakes named Lanier, Hartwell, Allatoona, Oconee, Seminole, Russell, Jackson, Clarks Hill, West Point, Carter, Burton, Rabun, Seed, Blue Ridge, etc. We will never know.
Paddling downstream, I heard the rush of approaching rapids. While I imagined us to be Lewis and Clark, our skills were more like Abbott and Costello as I steered us into a shallow area where we ground to a halt on some rocks. "Well, at least we can get out and scout the rapids," I said, stepping into the current that licked the top of my socks. To our left, the water went through a small chute with a few curlers. "Let's try bouncing through there."
As the day went on, we worked the kinks out of our strokes and got better at reading the shoals and navigating into the deeper channels. Struck dumb by beautiful surroundings, we would stop paddling almost on cue and drift quietly in the current. Occasionally, a hungry shoal bass broke the silence as it struck at the surface. Our presence disturbed the sun-soaked happiness of a clan of turtles, who splashed into the river like stones toppling off a log.
We rode the river through a forest buffer comprised of trees and plants found in Georgia's mountains, piedmont, and coastal plain. Beech, black gum, sweet bay, hickory, white oak, and tulip poplar grew on the bluffs and slopes. Tupelo gum, black willow, and palmetto thrived closer to the river. Spanish moss hung from rhododendron and holly.
At the former site of the DuBignon Ferry, we took a break to explore the floodplain forest on foot. I threaded through the brush with spider webs breaking across my face. My shoes slipped on the muddy bottomland. I noticed droppings and tracks from raccoons and deer, and a rock-solid beaver dam across a small stream. Behind it, frogs used the murky pond to breed, raise young, and hide.
It was obvious that we were not the first people to visit the area. It looked as if a garbage truck had lost part of its load. Scattered randomly on the forest floor were beer cans and bottles, cigarette butts, toilet paper, defunct coolers, and rusty chairs.
From our canoe, we contemplated the river communities that we saw. In the more remote areas, we surveyed makeshift assemblages of warped plywood and shingles teetering out over the river like they were drunk. As we approached the GA 36 bridge, we observed more expensive homes that sat cautiously back from the riverbank, fronted with smartly trimmed green lawns, quarry stone river embankments, and odious "Keep Out!" signs. Part of me was jealous; another part of me wished they weren't there.
However, the homesteaders and their detritus did not destroy our happiness with our day. Too soon, we ran a final small rapid and passed under the bridge and approached the take out ramp. Jim McDaniel stood there, waving, almost as if he had been waiting for the last four hours.
Sore and sunburned, we were still in the canoe when John started talking about how we'd come back, but next time go even farther, maybe canoe for a whole day or maybe two whole days. And camp out. And see more of the Flint River.
---
Go back to previous page. Go to The Flint River contents page. Go to Sherpa Guides home.
---
[ Previous Topic | Next Topic ]