Kent County
On the Chesapeake Bay, between the Sassafras and Chester rivers on the part of the Eastern Shore known as the Upper Shore, is Kent County. The small and large boats resting in many back yards, tied to piers, and being pulled down the highway are testament to the fact that this county is embraced by water on three sides. Despite being Maryland's smallest county, Kent has 31 public boat landings.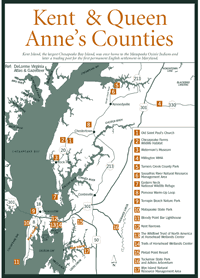 The county's coastline varies from historic waterfront towns dotted with marinas to stretches of low, rolling farmland broken only by the tidal Chesapeake Bay rivers. Several cruising, sailing, and kayak operations take advantage of the scenery along the rivers and bay. Fishing charters and boat-rental Facilities provide other options. Marinas are located in Chestertown, Georgetown, Galena, Great Oak, Tolchester, Worton, and Rock Hall. Rock Hall is a major port of call on the Eastern Shore. A brochure on cruising the waters of Kent County is available from the county's tourism office.
Automobile travelers seek out parks, wildlife preserves, small museums, and historic sites. Bicyclists pedal down country roads between expanses of fields and farms broken only by the occasional house, barn, and silo. Sporting clay ranges entice marksmen who wish to test their skills. A campground outside of Rock Hall offers a place to pitch a tent or park the family camper.
In addition to fantastic saltwater fishing opportunities, freshwater fishing is available at Urieville Lake off MD 213 about 5 miles north of Chestertown. This lake, which covers approximately 35 acres, has recently been undergoing restoration, but is scheduled to reopen in 2001. Largemouth bass, pickerel, crappie, yellow perch, white perch, and bluegill challenge the skills of anglers here. Facilities include car-top boat access, a fishing pier, and restrooms.
A comprehensive brochure describing a 110-mile self-guided driving tour is available from the Kent County Office of Tourism. The two-part historic tour includes 19 sites from Chestertown to Rock Hall and 17 sites in the upper county.
For more information: Kent County Office of Tourism, 100 North Cross Street, Chestertown, MD 21620. Phone (410) 778-0416. Kent County Public Works, information and permits to use public landings, phone (410) 778-7439.
Chestertown Area
Chestertown, the county seat for Kent County, is located on the Chester River and MD 213 just north of the Queen Anne's County line. Court records date back to the 1640s. The town became a busy port of entry in the 1700s, with a tremendous influx of colonists. It also became known for its shipbuilding industry.
On a quiet corner at 346 Cannon Street, tucked between colonial houses with their brick sidewalks, is the Schooner Sultana Shipyard (410-778-6461). Today, in the tradition of craftsmen from the past when great shipyards lined the banks of the Chester River and ships from around the world anchored at local harbors, shipbuilders and their students may be found creating authentic reproductions of the 1767 schooner Sultana. This eighteenth century schooner is one of the few American-built vessels from the Colonial period for which extensive documentation has survived. Year-round, the public is invited to witness the work of hewing frames, steaming planks, forging iron, and sewing sails.
Another fine way to get the flavor and historic value of Chestertown is to sail up the Chester River. Along the banks are the grand multistoried homes of eighteenth and nineteenth century merchants who built along the waterfront. Chestertown is also an attractive sight to motorists crossing the Chester River on the MD 213 bridge, where black lampposts stand out against the stately homes on the far side.
Attractions include the Hynson-Ringgold House with its antler staircase, and Widehall, noted for its magnificent gardens and Georgian architecture dating from 1769. Both are on Water Street. Beside the public dock at the bottom of High Street is the old Customs House, built in the 1740s, with its exquisite Flemish Bond brickwork.
Visitors who come in September can take the Candlelight Walking Tour, sponsored by the Kent County Historical Society, to gain entrance into many historic homes. Tours are also offered in October and December. The elegant walled gardens of some of these homes are opened to visitors in spring and summer when flowering dogwoods, azaleas, tulips, and daffodils stand out against evergreen trees and well-groomed hedges.
Those looking for live entertainment in Chestertown can find it every Thursday through Saturday night, beginning at 9:30, at Andy's (410-778-6779) at 337-1/2 High Street. Evening concerts are held on summer evenings beside the antique fountain in the town square.
The Visitor Center at the county tourism office at 100 North Cross Street can provide information on self-guided walking, biking, and driving tours of the county, and a walking guide to the shady, brick streets of the Chestertown historic district.
For more information: Kent County Office of Tourism, 100 North Cross Street, Chestertown, MD 21620. Phone (410) 778-0416.
Old Saint Paul's Church
[Fig. 18(1)] On Sandy Bottom Road between Chestertown and Rock Hall, beneath the shade of ancient oaks, is an Episcopal church that is the oldest continuously used church in the state. Some of the huge, gnarled trees are more than 300 years old, including the massive Maryland Bicentennial Tree at the edge of the parking lot. Actress Tallulah Bankhead is buried in the cemetery, where gravestones date to the 1600s. The church is open 9 to 5 daily, year-round. Friendly parishioners enjoy chatting about the restored Vestry House, which was built in 1766. A millpond down the hill from the church is full of chattering ducks and geese in winter.
Directions: From Chestertown, take US 20 about 7 miles west. Go left on Sandy Bottom Road to the junction with Ricauds Branch-Langford Road. The church is on the left.
For more information: Old Saint Paul's Church, phone (410) 778-3180 or (410) 778-1540.
Chesapeake Farms Wildlife Habitat
[Fig. 18(2)] Drive through this 3,000-acre wildlife and agricultural demonstration area set aside by the Du Pont Company to protect soil, water, wildlife, and waterfowl. The area is located on both sides of MD 20, about 8 miles west of Chestertown. On the 5-mile Wildlife Drive that leads off from the north side of MD 20, a visitor might see a kestrel hovering above its prey in a cutover field or a young bald eagle making ungainly attempts at flight. Early mornings and evenings in spring are good times to hear the sound of bobwhite quail. Osprey construct huge nests of sticks in tall trees, while kingfishers build in holes on the side of dirt banks.Sanctuary Pond Drive is a short road on the south side of MD 20 that goes by a pond and comes back to the highway. It's the place to catch quacking ducks and honking geese as they land and take off from the pond.
Directions: Chesapeake Farms is located on the north side of MD 20, about 8 miles west of Chestertown. Look for signs indicating Wildlife Drive on the north side of the highway and Sanctuary Pond Drive on the south side.
Activities: Wildlife observation.
Facilities: Two scenic drives.
Dates: Wildlife Drive is open sunrise to sunset daily, from Feb. 1 to Oct. 10. Sanctuary Pond Drive is open sunrise to sunset daily, year-round.
Fees: None.
Closest town: Chestertown is 8 miles east.
For more information: Chesapeake Farms Wildlife Habitat, 7319 Remington Drive, Chestertown, MD 21620. Phone (410) 778-8400.
Rock Hall
[Fig. 18] Rock Hall is located on a harbor on Kent County's Chesapeake Bay frontage where MD 20 meets MD 445 north of Eastern Neck Island. With its 15 marinas, excellent seafood restaurants, June rockfish tournament, and Party on the Bay in August, Rock Hall attracts pleasure boaters from all over the Chesapeake.The community has several sailing and powerboat charters, fishing boat charters, and a kayak outfitter. Options include half-day, sunrise, and sunset trips, as well as overnight charters to Chestertown, Great Oak, or Georgetown. Weekend and weeklong destinations include the ports of Annapolis, St. Michaels, and Baltimore's Inner Harbor. (charter operators)
This historic town, where George Washington, Thomas Jefferson, and James Madison used to disembark on their journeys to Philadelphia, is also a popular destination for motorists. Its comfortable bed and breakfast inns, its gift shops and restaurants at Oyster Court, and its festivals draw people back year after year for relaxation, shopping, dining, and fun.
Among the colorful shops and restaurants on Main Street is Durding's Store, a restoration of an ice cream parlor that opened in 1872. Also, at the intersection of MD 20 and MD 445 is the Rock Hall Snack Bar, a small, plain building on the outside. However, the restaurant opens at 4 a.m., providing customers time to get breakfast and make it to the Eastern Neck Wildlife Refuge for an early morning bird walk. The short-order cook is excellent, and the pancakes are so large they overflow the platter. A visitor who comes a second time is likely to have a cup of coffee waiting on the counter when he or she opens the door. An outdoor store with hunting and fishing supplies is located on MD 20, just east of town.
Waterman's Museum
[Fig. 18(3)] Exhibits on oystering, crabbing, and fishing depict the hard life of the Chesapeake Bay waterman at this museum. Historical photographs, local carvings, and a reproduction of a shanty house help bring to life a fascinating existence. Visitors can also investigate authentic workboats.
Directions: The museum is located on MD 20 in Rock Hall, next to Haven Harbor Marina.
Dates: Open 10 to 5 daily, year-round, except major holidays. If the museum is locked, obtain a key from the marina next door.
Fees: None.
For more information: Waterman's Museum, 20880 Rock Hall Avenue, Rock Hall, MD 21661. Phone (410) 778-6697.
Millington Wildlife Management Area
[Fig. 18(4)] Four miles north of Millington on Kent County's eastern border is the state's 3,800-acre Millington Wildlife Management Area. Here, anglers can try their luck at four farm ponds stocked with bass, bluegill, and crappie. Hunters—and people who enjoy watching wildlife—come for the white-tailed deer, gray squirrels, red foxes, raccoons, rabbits, ducks, geese, bobwhite quail, wild turkeys, mourning doves, and woodcocks.Trails take hikers, mountain bikers, horseback riders, and hunters into woods where Lenni Lenape Indians once stalked their prey. Bird watchers who look in mature oak trees may spot the black-and-white pileated woodpecker (Dryocopus pileatus) with its brilliant red crest. Nesting warblers are well hidden in brushy undergrowth or distant treetops, but their distinctive territorial and courtship songs aid in identification. Bluebirds check out nesting cavities in spring. Baltimore orioles and bald eagles may also be sighted.Trails are somewhat rough—what managers call "underdeveloped." An excellent map of the area, showing the location of trails, roads, and ponds, is available at the main parking area. During hunting seasons, any nonhunters should wear blaze orange for safety.
Directions: From Massey, in eastern Kent County, go east on MD 330 (Massey-Delaware Line Road) approximately 1.5 miles. The main parking area and an information box with map and permits are on the left.
Activities: Fishing, hunting, hiking, mountain biking, horseback riding.
Facilities: Hiking trails, fish ponds.
Dates: Open sunrise to sunset, year-round. Hunting seasons run dawn to dusk, Monday through Saturday, from Sept. through Jan. and from mid-Apr. to mid-May. Call for Dates for specific game.
Fees: None.
Closest town: Massey is 1.5 miles from the western edge of the area.
For more information: Millington Wildlife Management Area, Route 1, Box 552, Massey MD 21650. Phone (410) 928-3650 or (410) 778-1948.
Turners Creek County Park
[Fig. 18(5)] Hikers and wildlife observers enjoy this park for the 147 acres of nature trails, the open fields, and the waterfront bluff overlooking the Sassafras River at the scenic mouth of Turners Creek. The area is located at the north end of Turners Creek Road off MD 298 about 4 miles north of Kennedyville and 11 miles north of Chestertown.
A public boat ramp gives anglers access to the river's good fishing. Canoeists and kayakers enjoy the unspoiled scenery of the high cliffs on the western side of the creek. Picnickers can use a pavilion surrounded by water. The park has a volleyball area, a play area for children, and horseshoe pits. The Kent County Farm Museum is located on Turners Creek Road just south of the park. The museum houses artifacts that demonstrate farming practices from past to present. In August, a Threshing Day Dinner is held at Turners Creek Landing to raise funds for the museum's operation.
Directions: From Chestertown, go north on MD 213 about 7 miles to Kennedyville. Turn left on Turners Creek Road and drive about 4 miles to the boat landing at the end of road. The museum is located just south of the boat landing.
Activities: Hiking, fishing, boating, picnicking, volleyball, horseshoes.
Facilities: Hiking trails, boat ramp, picnic pavilion, volleyball area, children's play area, horseshoe pit, restrooms in basement of historic Latham House, nearby farm museum.
Dates: The boat landing is open daily, year-round. The Latham House and restrooms are open seasonally. The museum is open on the first and third Saturday of each month, from Apr. through Oct.
Fees: There is a pavilion rental fee for groups and an admission fee for the farm museum.
Closest town: Kennedyville is 4 miles south and Chestertown is 11 miles south.
For more information: Turners Creek County Park, phone (410) 778-1948. Kent County Farm Museum, phone (410) 348-5721.
Sassafras River Natural Resource Management Area
[Fig. 18(6)] The 1,000-acre Sassafras River Natural Resource Management Area is one of the most recent acquisitions of the state Forest and Park Service. This former cattle farm borders the west side of Turners Creek and the Sassafras River in northern Kent County, about 3.5 miles north of Kennedyville.
Old roads and trails lace the area, and work is beginning on a new trail system for hikers, mountain bikers, and horseback riders that will lead into the 1,000 acres of rolling farmland, sandy beaches, marshes, a tidal pond, and hardwood forests. The different habitats provide a great variety of wildlife and plants. White-tailed deer, gray squirrels, and chipmunks live in the relatively mature forests of oak, sycamore, tulip poplar, sweetgum, and hickory. Muskrats and beaver roam the marshes, while groundhogs, rabbits, and red foxes prefer the field habitat.
Geese and ducks are abundant, as are songbirds and shorebirds, including the elegant great blue heron. Bald eagles nest in the area, but observers are asked to give them a wide berth. Eagles often abandon nest sites when disturbed.
A killdeer (Charadrius vociferus) may suddenly run ahead of a hiker, dragging an apparent broken wing. The big act is a necessity for this plover that builds its nest on open ground, its eggs an easy target for any fox, raccoon, skunk, or domestic cat that happens upon them. Once the predator is lured away by the seemingly wounded bird, the killdeer flies off, screaming its own name.
Visitors to the management area should not go near the high cliffs on the western side of the area. The unstable cliffs could give way under a person's weight. The manager also asks that visitors stay away from any old structures. Vehicles are restricted to the parking area. Access is limited to hikers, bikers, horseback riders, anglers, and hunters. Blaze-orange clothing is recommended for all nonhunters using the area during hunting season.
Directions: From Chestertown, drive north on MD 213 about 7 miles. Turn left on MD 292 (Turners Creek Road) and drive about 3.5 miles to parking area, on left.
Turners Creek County Park is less than a mile farther, at the end of the road.
Activities: Hiking, biking, horseback riding, picnicking, fishing, limited camping for organized youth groups, seasonal deer hunting by lottery.
Facilities: There are trails for hiking, biking, and horseback riding, and a youth camping area.
Dates: Open 8 a.m. to sunset, year-round.
Fees: None.
Closest town: Kennedyville is about 3.5 miles south and Chestertown is about 10 miles south.
For more information: Sassafras River Natural Resource Management Area, c/o Tuckahoe State Park, 13070 Crouse Mill Road, Queen Anne, MD 21657. Phone (410) 820-1668.
Eastern Neck National Wildlife Refuge
[Fig. 18(7)] Like the dot on an exclamation point, Eastern Neck Island is located south of the long finger of land called Eastern Neck in the southwestern corner of Kent County. The tidal Chester River and the Chesapeake Bay surround it. Most of the traveling public passes through Rock Hall and arrives on Eastern Neck Island by way of the MD 445 bridge on the northern end. There are no bridges to connect the island to Kent Island, just 3 miles south. Three miles—not much in distance, but a long way in attitude.
Kent Island, connected to the mainland of Maryland by the Bay Bridge and US 50/301, has become a bedroom community for commuters and an enticement for multitudes of people from the western shore who want a great seafood meal, a sunset cruise, a weekend in a plush hotel, or a fishing adventure.
The only residence on Eastern Neck Island, on the other hand, is occupied by staff of the Eastern Neck National Wildlife Refuge. That, plus a few birdhouses.
Over the millennia, on its way to becoming a wildlife refuge, 2,285-acre Eastern Neck Island has worn quite a few hats. Some 4,000 years ago, it served the needs of Woodland Period Indians. Ozinie Indians of the Nanticoke-speaking Algonquin tribe were collecting shells from the area to craft their exquisite beads about the time of Capt. John Smith's arrival in 1608. In the mid-to-late 1600s, a grand mansion called Wickliffe was the hub of a tobacco plantation here. The island may have even served as the county seat for a time.
Smaller farms ruled in the 1800s and a fishing village sprang up at Bogles Wharf on the eastern side. In the early 1900s, the tremendous concentration of wintering waterfowl in the inlets, ponds, and marshes brought hunters to the island. When a developer subdivided Eastern Neck Island into small lots for a housing development, concerned citizens prompted the U. S. Fish and Wildlife Service to acquire the valuable land in the 1960s to protect its wildlife and wildfowl.
Beneficiaries of the acquisition that was to become the wildlife refuge include the endangered Delmarva fox squirrel (Sciurus niger cinereus), the threatened southern bald eagle (Haliaeetus leucocephalus), and the threatened peregrine falcon (Falco peregrinus). Also, some 40,000 waterfowl find protection on the island at peak times, including an estimated 20,000 Canada geese (Branta canadensis), 7,000 tundra swans (Olor columbianus), and 15,000 canvasbacks (Aythya valisineria). Mallards, wigeons, black ducks, lesser scaups, buffleheads, green-winged teal, blue-winged teal, pintails, and redheads swim in the coves and fill the skies with sight and sound.
Marsh and shorebirds including long-legged herons and tiny sandpipers thrive in the refuge. The woods, cornfields, and undergrowth attract woodpeckers, flycatchers, swallows, wrens, finches, warblers, bluebirds, hawks, and owls.
Around marshy areas during the day are muskrats and several varieties of turtles and frogs. White-tailed deer materialize in the fields at dusk. The nocturnal red fox, beaver, raccoon, and opossum may sometimes be spotted in the early or late part of the day.
And finally, the people who visit the refuge are beneficiaries. Nearly 6 miles of trails, including three wildlife trails and a handicapped-accessible boardwalk, lead into some of the 500 acres of forest, the 1,000 acres of brackish tidal marshes, and the 700 acres of croplands and grasslands where these birds and animals live. Binoculars are a huge help, especially on the boardwalk trail. Dogs are permitted on leash.
Any time of year will provide rewards. Waterfowl are especially abundant from late September until the last of March. Unusual sightings such as a cinnamon teal may bring birders from 100 miles away for a chance to add something to a life list.
Bald eagles and great horned owls establish territories in late fall and early winter, build their nests in January, lay eggs in February, and usually begin feeding nestlings in April. Woodcocks perform their mating ritual over fields in late winter and early spring. Many species of songbirds pass through the refuge on their migration routes in both spring and fall.
White-tailed fawns, young foxes, and other baby animals can be seen from spring through summer. The plantings of the new butterfly garden near the refuge office attract a variety of butterflies in spring, summer, and fall. The handicapped-accessible stone-dust trail to the garden and the garden itself were completely built by volunteers.
Ingleside Landing Recreation Area on the northwest side of the island is available seasonally for crabbing, car-top boat launching, and picnicking. Bogles's Wharf is on the east side of the island. Those who have a county permit (not available at the refuge) may launch trailered boats here. Anglers may fish from the bridge across Eastern Neck Narrows at the refuge entrance. A john-boat rental, open from June 1 to September 30, is located just north of Eastern Neck Narrows.
Directions: From Rock Hall, go south on MD 445 about 6 miles across the bridge at Eastern Neck Narrows onto Eastern Neck Island, where the refuge begins.
Activities: Wildlife and wildfowl observation, hiking, boating, fishing, crabbing, seasonal hunting by permit.
Facilities: Hiking trails, car-top boat ramp, picnic tables, observation towers, visitor center/office, restrooms.
Dates: The refuge is open from a half-hour before sunrise to a half-hour after sunset daily, year-round. There are about five Mondays, five Fridays, and one Saturday in fall that the refuge is closed for managed hunts. The bookstore and office are open from 7:30 to 3:30 on weekdays. The boat launch and picnic area are open May 1 through Sept. 30. The boat rental store outside the refuge is open from 6 to 6 daily, June 1 through Sept. 30.
Fees: None.
Closest town: Rock Hall is about 6 miles north.
For more information: Eastern Neck National Wildlife Refuge, 1730 Eastern Neck Road, Rock Hall, MD 21661. Phone (410) 639-7056. Eastern Neck Boat Rental, phone (410) 639-7100 or (410) 639-7017.
Hiking at Eastern Neck National Wildlife Refuge
The easy, level hiking trails provide access into each of the refuge's habitats. Insect repellent and/or protective clothing are a must during warm months.
The Boxes Point Trail is a 1.2-mile round trip to open ponds and a marsh at Boxes Point on Eastern Neck Narrows on the island's northeastern corner. The trailhead is on the left, 0.7 mile from the refuge entrance.
The Tubby Cove Boardwalk Trail, observation platform, and restrooms are 0.8 mile from the entrance. The beautifully constructed boardwalk is handicapped-accessible. The trail is a 0.25-mile round trip.
Signs emerging from the marsh on either side of the boardwalk describe the values of a marsh in controlling sedimentation, filtering water, sheltering birds and animals, and providing vegetation that small organisms feed on in an important first step in the aquatic food chain.
Vegetation growing from the marsh includes Olney three-square (Scirpus olneyi), which has three-sided stems, narrow-leaved cattail (Typhus augustifolia), and saltmarsh cordgrass (Spartina alterniflora). Saltmarsh cordgrass, which dominates the marsh, is the most important species of marsh plant in the Chesapeake Bay estuary. As the tides flood the marsh and recede, the waters flush out enormous amounts of decaying plant detritus from the cordgrass, along with accompanying algae and bacteria that are important to the complex life cycle of the bay.
At the far end of the boardwalk is a short, pine-strewn path to two observation towers. A grove of scrub pines allows an observer to walk the ramp to the tower without being seen by marsh birds and animals.
For the Duck Inn Trail, go left on Bogles Wharf Road about 1.25 miles from the refuge entrance and park at the trailhead on the left. This 1-mile trail (round-trip) leads through a marsh to the Chester River. Bogles Wharf Landing is at the end of Bogles Wharf Road.
The Wildlife Trail parking area is on the left, about 1.7 miles from the entrance. This 0.5-mile path loops through a mature forest of white oak, blackjack oak, red oak, tulip poplar, and loblolly pine. White-tailed deer browse the understory, helping to keep the undergrowth down. The open woods with nearby cornfields and grassy areas provide perfect habitat for the Delmarva fox squirrel. An annual deer hunt helps keep the population in check so a burgeoning deer herd doesn't completely consume the same mast that the squirrels need for survival.
Bicycling Kent County
Like much of the Eastern Shore, the flat, lightly traveled roads of Kent County are a cyclist's dream. As a bonus, the scenery includes expansive farmland, pine and hardwood forests, wetland ponds and marshes, historic villages, and sunlit sails out on the Chesapeake Bay.
The Baltimore Bicycle Club has developed route descriptions for several bicycle trails, all beginning and ending at Washington College on MD 213 in Chestertown. Parking is available on MD 213 at Washington Square, north of the college. The rides range from the 11-mile Pomona Warm-Up that winds through the countryside around Chestertown to the 81.5-mile Pump House Primer, which extends north to the Chesapeake & Delaware Canal in Cecil County. The route descriptions give the accumulated mileage at each turn. Tips on where to find food and lodging are included. The route descriptions and a detailed bicycling map are available from the county office of tourism.
The 36-mile Kent and Queen Anne's Loop crosses the Chester River at Millington and returns to Chestertown via Queen Anne's County, passing an excellent lunch spot at Unicorn Community Lake. The 50-mile Rock Hall ramble takes in historic Rock Hall and the Eastern Neck Wildlife Refuge.
Pomona Warm-up Loop
[Fig. 18(8)] This 11-mile loop leads through countryside west of Chestertown, passing fields where red foxes hunt for voles and mice. On Brices Mill Road, elegant homes sit at the end of driveways lined with old cedars, and horses graze in large paddocks. Mock-orange trees drop their nubby green fruits beside the road. Along Langford-Pomona Road are wide-open fields backed by dark pine forests, and the closest thing to a ringing phone is the meadowlark singing its country song atop a telephone pole.
Trail: 11-mile easy bicycle loop on paved county roads on the western side of Chestertown.
Directions: Go north from Washington College on MD 291 for 0.4 mile. On the north side of Chestertown, turn left on MD 291. Go 0.6 mile and turn right on MD 20. Go 1.2 miles and turn left on Brices Mill Road. Go 1.9 miles and turn left on Lankford-Pomona Road. Go 0.4 mile and turn right, still on Lankford-Pomona Road, at the Airy Hill sign. Go 1.5 miles and turn left on MD 289 (Quaker Neck Road). Go 4.2 miles and turn left on High Street. Go 0.1 mile and turn right on Cross Street. Go 0.1 mile and turn left on MD 213. Go 0.6 mile to Washington College.
For more information: Kent County Bicycle Tour, Kent County Office of Tourism, 100 North Cross Street, Chestertown, MD 21620. Phone (410) 778-0416. Bike repairs are available at Bikework, 208 South Cross Street, Chestertown. Phone (410) 778-6940.
Beaches in Kent County
There are two public beaches in Kent County, one at Betterton, and one at Rock Hall.
Betteron Beach. This sandy beach is at a 3.2-acre park at the northern end of MD 292 at Betterton. Betterton is located on the Chesapeake Bay at the mouth of the Sassafras River. There are picnic areas and a pavilion, volleyball courts, a bathhouse, a stone fishing jetty, and a boat ramp. Lifeguards on weekends. Nettle-free swimming in summer. Free parking. Phone (410) 778-1948.
Rock Hall Town Beach. This small swimming beach and gazebo, known locally as Ferry Park, is located on Beach Road at Rock Hall. Picnic tables, barbecue stands, pavilions. Outstanding view across Chesapeake Bay to western shore.
Restaurants in Kent County
Most of Kent County's restaurants are in the towns of Chestertown and Rock Hall.
The Kennedyville Inn. 11986 Augustine Herman Highway (MD 213), Kennedyville. This restaurant features pit barbecue and micro-brewed beers, house-made pasta and desserts, daily seafood specials, and light fare items. Excellent wine list. Open for dinner Wednesday through Sunday. Moderate. Phone (410) 348-2400.
Imperial Hotel and Restaurant. 208 High Street, Chestertown. Chesapeake foods such as duck, crab, and oysters are exquisitely prepared at this Victorian inn. Moderate. Phone (410) 778-5000.
The Old Wharf. Cannon Street, Chestertown. Make reservations for this popular waterfront restaurant. Steaks and Chesapeake Bay seafood are on the menu. Moderate. Phone (410) 778-3566.
America's Cup Cafe. 745 Main Street, Rock Hall. This coffee house and sidewalk cafe features Miss America's Crab Cakes on its light-fare menu. Inexpensive. Phone (410) 639-7361.
The Bay Wolf. 21270 Rock Hall Avenue, Rock Hall. Local favorite known for its varied cuisine and excellent service. The menu includes fresh catch of the day, crab cakes, surf and turf, Austrian pork roast, and Wiener Schnitzel. Inexpensive to moderate. Phone (410) 639-2000
Old Oars Inn. Main Street, Rock Hall. This old inn was converted into a restaurant. Located in the colorful historic district. Try the grilled catfish sandwich or spicy perch sandwich. Inexpensive. Phone (410) 639-2541.
Waterman's Crabhouse. Sharp Street Wharf, Rock Hall. This seafood restaurant overlooks Rock Hall Harbor. Shuttle service is available to local marinas. Fresh seafood includes crab cakes, soft-shell crab, crab imperial, oysters, flounder, and more. Inexpensive to moderate. Phone (410) 639-2261.
Lodging in Kent County
Here is a sampling of the excellent historic bed and breakfasts, country inns, and motels in Kent County.
Chesapeake Inns. PO Box 609, Chestertown, MD 21620. This is an association of inns in the Chestertown area that have historic and/or architectural significance. Included are Great Oak Manor, The Inn at Rolphs's Wharf, Hill's Inn, and The Harbor Inn at Rock Hall. Expensive. Phone (in-state) (301) 778-INNS, or (out-of-state) (800) 662-INNS.
The Parker House B&B. 108 Spring Avenue, Chestertown. Located in Chestertown's Historic District, this three-room inn has a relaxing atmosphere, and is filled with bright and airy furnishings. Moderate to expensive. Phone (410) 778-9041.
Brampton Bed and Breakfast Inn. 25227 Chestertown Road, Chestertown. This former plantation house, listed on the National Register of Historic Places, Dates back to the mid-1800s. Note the 3.5-story walnut-and-ash staircase. On the 35-acre grounds between the Chester River and the Chesapeake Bay are 100-year-old trees and boxwoods. Expensive. Phone (410) 778-1860.
The Mariner's Motel. 5657 South Hawthorne Avenue, Rock Hall. This landmark motel combines proximity to the town center with tranquility. It has a pool, picnic gazebo, dog walk area, horseshoes, bike rentals, and a playground. Moderate. Phone (410) 639-2224.
North Point Motel and Marina. 5639 Walnut Street, Rock Hall. Sunsets on the Chesapeake Bay are a highlight of this motel with bay-front rooms, a swimming pool, and a covered picnic area. Moderate. Phone (410) 639-2907.
Bay Breeze Inn. 5758 Main Street, Rock Hall. Dates from the 1920s, when goose hunters would stay at what was then called the Old Crosby Property. Read by the fire in the library and have breakfast on the patio. Located on restored Main Street. Expensive. Phone (410) 639-2061.
The Inn at Osprey Point. 20786 Rock Hall Avenue, Rock Hall. This luxurious inn is located on 30 acres of tranquil waterfront in the village of Rock Hall. A gourmet restaurant and marina Facilities are next to the inn. Expensive. Phone (410) 639-2194.
Swan Haven Bed and Breakfast. 20950 Rock Hall Avenue, Rock Hall. This waterfront inn, complete with a dock, is a short walk from Rock Hall's restaurants and shops. Explore protected inlet waters by canoe, kayak, or motorized john boat or dinghy. Moderate to expensive. Phone (410) 639-2527.
---
Read and add comments about this page
---

Reader-Contributed Links to the Chesapeake Bay Book: