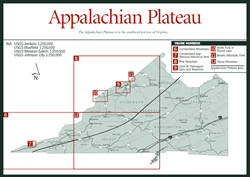 The Appalachian Plateau
The Appalachian Plateau is the westernmost physiographic region of the great Appalachians. Various forces have eroded sections of the once flat-topped Plateau. Glaciers rounded off the ridges of the Plateau in Pennsylvania and New Jersey. Wind, rain, and rivers scoured deep ravines in a southern portion of the Plateau sometimes called the Cumberland Mountains.
The Cumberlands include the Plateau from northwest of Knoxville, Tennessee, up into Kentucky, Virginia, and West Virginia. The Plateau consists of gray sandstone, underlain by softer Greenbrier limestone and shales. Highest elevations in the Virginia portion of the Plateau are around 4,200 feet. Unlike the tilted upthrusts of rock in the Valley and Ridge province to the east, the Plateau sandstone is layered horizontally, as is evident in road cuts and rocky cliffs in river gorges. Virginia claims only a bit of the Appalachian Plateau where it swipes the southwestern corner of the state in Wise, Dickenson, Buchanan, northern Scott, and western Lee counties. But that little bit has made a world of difference in the state's history. For it is in the sandstone of the Plateau that seams of coal were discovered as early settlers explored the unmapped, rugged sections of southwest Virginia. The coal turned out to be high quality, and mining began in the late 1800s. Coal-generated power is one of the least expensive sources of electricity, and coal still generates nearly 60 percent of the country's electricity.
The tenacious nature of those whose lifework is tied to coal is evident in a ride through coal country, where houses perch on any scrap of flat land—land so steep and rocky from erosion that the two ends of a ranch home seem to hang over the edge. Family gardens curve around hillsides. V-shaped gorges formed by gradual erosion of the extremely hard sandstone cause backroads to wind and twist like spaghetti.
A complex, eastern deciduous forest, dominated by northern hardwoods and interspersed with pines and other conifers, covers most of the Plateau province. In fact, more plant species can be found in the southern Appalachians as a whole than anywhere else in North America. The mountains served as refuges when glaciers covered the north. Big game was extirpated until modern game management brought back the black bear, white-tailed deer, and wild turkey. In Wise and Dickenson counties, bear and deer hunting are still limited while the species continue to recover. Early timber industries and mining companies stripped whole mountains of their trees, causing massive erosion and flooding in the Tennessee Valley drainage to the west. The U.S. Forest Service bought the Clinch Ranger District land in 1936, largely to protect the headwaters of the Tennessee River from the disastrous effects of deforestation.
The Appalachian Plateau Outline
---
Read and add comments about this page
---
Reader-Contributed Links to the Virginia Mountains Book: