Breaks Interstate Park
[Fig. 11, Fig. 5(11)] Breaks Interstate Park is often called "The Grand Canyon of the South." Perhaps the scale of the 5-mile-long, .25-mile-deep gorge that forms the park's centerpiece cannot rival that of the Grand Canyon, but the canyon is among the longest and deepest east of the Mississippi River. A better title might be "The Grand Canyon with Clothes On." Where the raging Russell Fork of the Big Sandy River has carved the solid sandstone over millions of years to break through Pine Mountain, nature has dressed the canyon walls in some of Virginia's most spectacular scenery.
Remote and formerly inaccessible, the area now known as Breaks Interstate Park was virtually undiscovered by the traveling public until after World War II, when two-lane roads were built into the coal-rich mountains. Black seams of coal are visible still in the roadside cliffs throughout the area. John Fox Jr., author of The Trail of the Lonesome Pine, traveled three days in 1900 in a horse-drawn buckboard to reach The Breaks from Big Stone Gap, 70 miles distant. His subsequent article in Scribner's magazine caused a flurry of interest in what he called "the most isolated spot this side of the Rockies." Daniel Boone is credited with discovering The Breaks in 1767 as he attempted to find ever-improved trails into Kentucky and the Ohio River Valley beyond. Passes through these rugged mountains were called "breaks" by early settlers. The Breaks was one of only a handful of narrow passageways through 125-mile-long Pine Mountain. Even today, no more than half a dozen roads cross Pine Mountain. Dickenson County, where The Breaks is located, is one of the few counties in Virginia that does not have a U.S. highway within its borders.
The Breaks was too much for Boone and his two companions. When they tried to navigate this awesome gorge by foot, they encountered copperheads and rattlesnakes, as well as the Russell Fork of the Big Sandy River as it crashed through a constricted canyon with 1,000-foot sheer walls. They were overwhelmed by impenetrable tangles of rhododendron and mountain laurel and a forest of towering trees, some of which were 7 feet thick. The three men pitched camp nearby, sat out the winter of 1768, then turned back to their homes on North Carolina's more peaceful Yadkin River.
Today, 4,600-acre Breaks Interstate Park—so called because it sits astride the state line shared by both Kentucky and Virginia and offers a view into Tennessee on clear days—attracts more than a third of a million visitors annually.
They come to fish the still pools, to raft the Class IV—Class VI rapids of the Russell Fork River, to stand at panoramic overlooks, to camp in the park's wooded campsites, to walk the miles of meandering hiking trails, and to see the beauty of Catawba rhododendron in lavender bloom in early May.
The modern, glass-walled Rhododendron Restaurant and Breaks Motor Lodge [Fig. 11(16)] seem to hang over the gorge rim. Visitors savor memorable meals and sunsets while listening to the roar of the river far below. Though the park is open year-round, the lodge and restaurant season is April 1 through December 21. Several cottages with split-level floor plans are available year-round, but they must be rented by the week. Motels are also located nearby. The Breaks' visitor center [Fig. 11(15)] is a combined information center and comfort station. It houses mountain photographs, wildlife specimens, maps and books, an explanation of the park's unusual geological features, and an excellent coal exhibit. The coal exhibit shows how "black gold" was formed through natural processes some 200 million years ago and how miners risk their lives even today to bring the precious fuel to the surface.
The woods ring with old-time gospel sings each Memorial Day, Father's Day, and Labor Day weekend as up to 20,000 people pour into the park to hear professional and amateur groups give free concerts. A freewill offering is taken and divided among the singers.
No mountain park would be complete without a display regarding the mountaineer's most important crop (corn) which he both ate and drank. A working mill grinds corn into meal at the visitor center, and there's a moonshine still (not operational) that shows how the early settlers mixed work and recreation.
More than 60 species of trees can be found here, including northern hardwoods such as walnut (Juglans sp.), chestnut oak (Quercus prinus), black oak (Quercus velutina), red oak (Quercus borealis), white oak (Quercus alba), locust (Robinia pseudoacacia), and beech (Fagus grandifolia). In spring, blossoms of white flowering dogwood, redbud (Cercis canadensis), cherry (Prunus serotina), and two varieties of magnolia sprinkle the woods with color and fragrance.
A wildflower field guide is helpful for identifying the herb robert (Geranium robertianium), showy orchis (Orchis spectabilis), bird's-foot violet (Viola pedata), Virginia bluebell (Mertensia virginica), cardinal flower (Lobelia cardinalis), and wood lily (Lilium philadelphicum). For variety, visitors might search the edges of rock outcrops, deep woods, stream edges, and river habitats.
Directions: The park is located in northern Dickenson County, where Dickenson/Buchanan County, VA, and Pike County, KY, converge. From Haysi in northern Dickenson County, take VA 80 8 miles north to the park entrance, on the left.
Activities: Swimming, hiking, boating, whitewater rafting (seasonal), whitewater canoeing and kayaking (with your own craft), and horseback riding. Pond fishing for bass and bluegill, and river fishing for bass, trout, and walleye.
Facilities: Visitor center, campground (electric, water, and sewer available; alcohol not allowed), restaurant, gift shop, housekeeping cottages, motor lodge, pool and snack bar, hiking trails, bike trail and rental bikes, boat dock and rental boats, stable and rental horses, fishing lake (license may be purchased at visitor center), picnic shelters. Primitive camping allowed in backcountry by permit.
Dates: Gates: open year-round. Visitor center: open Apr. 1—Dec. 21. Campground: open Apr. 1—Oct. 31. Restaurant and gift shop: open Apr. 1—Dec. 21. Cottages: open year-round. Motor lodge: open Apr. 1—Dec. 21. Pool and snack bar: open Memorial Day weekend—Labor Day. Boat dock: open seasonally. Riding stable: open seasonally.
Fees: A fee is charged for admission, and for campsites, cottages, motor lodge, picnic shelters, pool, pedal boats.
Closest town: Elkhorn City, KY, is on KY 80 in Pike County, 5 miles west of the park entrance. Haysi, VA, is on VA 80 in Dickenson County, 8 miles south of the entrance.
For more information: Breaks Interstate Park, PO Box 100, Breaks, VA 24607-0100. Phone (540) 865-4413 or 4414. Call (800) 982-5122 for motor lodge reservations.
Trails at Breaks Interstate Park
More than 13 miles of hiking trails lace the park, varying from easy to difficult. Most are less than 1 mile long, but interconnected trails provide longer hikes over varying terrain. Maps with descriptions of each trail are available at the park office. Trail names describe the outstanding physical features of each: Cold Spring, Geological, Grassy Creek, Grassy Overlook, Lake, Loop, Overlook, Prospectors', Ridge, River, Towers, and Tower Tunnel trails. The Ridge and Geological trails are self-guided, with booklets available.
Elevations vary from 870 feet at Russell Fork in the canyon bottom to 1,978 feet at Clinchfield Overlook where the Overlook Trail begins. Surfaces are hard-packed dirt and rock, and are well maintained, with steps, handrails, and benches along the way. All are marked with colored blazes, with no intersecting trails having the same color. Pets must be leashed. Register at the visitor center for backcountry overnight camping. Stay away from exposed overlooks during thunderstorms. Bicycles are permitted only on the Mountain Bike Trail.
Geological Trail. [Fig. 11(4)] This half-hour, self-guided nature trail takes its name from the interesting rock formations and faults along its way. The path varies from smooth to rocky, and it changes grade frequently. On hot days hikers enjoy the cool air along the rock face. This trail can be combined with the Ridge Trail for a loop back to the Stateline Overlook.
Trail: .35 mile, self-guided.
Degree of difficulty: Moderate.
Blaze: White.
Lake Trail. [Fig. 11(14)] This easy walking trail, popular with wildlife watchers, takes visitors along the undeveloped side of Laurel Lake past marshes and inlets. This trail joins the Laurel Branch Trail and also connects with the pool and dock areas. Entry points are at Potter's Knoll, the visitor center, and the dam.
Trail: .5 mile.
Degree of difficulty: Easy.
Blaze: Orange.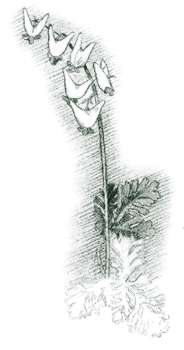 Laurel Branch Trail. [Fig. 11(8)] Named for the stream it follows its entire length, this trail extends from the lower end of Laurel Lake to Grassy Creek. From the lake to a rock formation called The Notches, the terrain is flat and easy. The last .5 mile through a mixed forest of hemlock and hardwoods, the climb becomes steep, rocky, and uneven. Rhododendron thickets reward the hiker with their showy pink booms in June and July.
Trail: 1.25 miles.
Degree of difficulty: Easy at first, becoming difficult the last .5 mile.
Blaze: Red.
Overlook Trail. [Fig. 11(7)] Frequent grade changes characterize this scenic path that leads along the edge of cliffs to provide an almost continuous canyon view. The hike is spectacular in spring and fall. Protect children from edges where there are no railings.
Trail: .75 mile.
Degree of difficulty: Difficult.
Blaze: Green.
Prospectors' Trail. [Fig. 11(11)] This hike follows the base of the cliffs about 350 feet beneath the major overlooks, following the contours of the land until it becomes rocky the last .5 mile. It offers a different perspective on the rock cliffs, overlooks above, and canyon below.
Trail: 1.5 miles.
Degree of difficulty: Moderate.
Blaze: Orange.
Ridge Trail. [Fig. 11(5)] Bird watchers favor this self-guided nature hike across the top of a ridge covered with hardwoods and mountain laurel. After an easy, level beginning, the trail becomes steep near The Notches.
Trail: .5 mile, self-guided.
Degree of difficulty: Easy at first, then difficult.
Blaze: Blue.
River Trail. [Fig. 11(3)] Hikers are advised to wear sturdy shoes, take water, and travel with a companion on this extremely steep and rugged trail with many switchbacks, descending to a gentler grade along the river. Outstanding views.
Trail: 1 mile.
Degree of difficulty: Difficult.
Blaze: Blue.
Cumberland Mountain View Drive
[Fig. 8(9)] Half a day is needed to explore this winding stretch of rural Appalachia and national forest. The Cumberland Mountain View Trail is a 19-mile drive into America's past as mountainous Dickenson County unfolds alongside VA 611 between Clintwood, VA and Breaks Interstate Park.
The unpretentious yet scenic back road even retains an unpaved 3-mile stretch as a memento to the roads of yesteryear. This is authentic Appalachia with all its sweeping natural beauty on display—the beauty that caused early Scots-Irish settlers to come, to see, to stay. Along the Cumberland Mountain View Drive are sharp turns and sheer drop-offs, quiet fishing coves and weathered log barns, swinging bridges and roadside overlooks where wild geraniums and trillium provide a colorful foreground for Pine Mountain. This is ruffed grouse and wild turkey country.
Visitors shouldn't be surprised to see either bird walking across the road. Deer aren't numerous in Dickenson County, but after years of restocking by state officials, it is possible that visitors might catch the bright eyes of a doe and fawn peering from the hardwood groves and rhododendron thickets of the Jefferson National Forest. Though rural and remote, the road is safe and well maintained. At the Old Ranger's Cabin near Clintwood, visitors can examine the foundation of one of the area's earliest settlement homes. And at Splash Dam Bridge near Flannagan Dam, they can inspect the ingenious, turn-of-the-century locks built on the Russell Fork River to aid in floating logs downstream during spring floods.
Directions: About 5 miles south of Breaks Interstate Park on VA 80 in northern Dickenson County, go west on VA 611. Or from Clintwood, go 2.5 miles north on VA 631 to join VA 611 at Isom.
For more information: Breaks Interstate Park, phone (540) 865-4413.
---
Read and add comments about this page
---
Reader-Contributed Links to the Virginia Mountains Book: