Auto Tours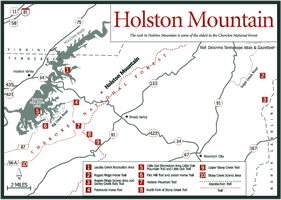 Majestic vistas, spring flowers, wildlife, fall colors, rivers, lakes, and heritage resources that can be seen without leaving the automobile make pleasure driving through the northern CNF the most popular recreational activity. The following are premier drives.
Northwest of Elizabethton on US 19E at Keenburg, Flatwoods Road (Forest Road 87) runs northeastward along southern South Holston Lake. Turn left (west) on FR 87G to get a better view of the lake from the Little Oak Recreation Area. From the recreation area continue northeast on FR 87 to US 421. Turn left (west) to go to Bristol or turn right to go to Shady Valley and Elizabethton.
Unaka Mountain offers one of the best views in the state from Unaka Overlook and Beauty Spot. Take TN 395 east from Main Street in Erwin and go 10 miles. Turn left (northeast) on FR 230 for the Auto Tour on the Tennessee/North Carolina border to TN 107, and turn left (west) on TN 107 to go to Unicoi. The Auto Tour is truly mountainous driving with switchbacks and is rough for low-riding passenger cars. The tour takes you around Unaka Mountain Scenic and Wilderness areas.
Roan Mountain is east of Elizabethton on 19E. In the town of Roan Mountain turn right (south) on TN 143 for a pleasant drive into Roan Mountain State Park, to the state line at Carvers Gap, then up the peak to the Roan High Knob.
US 321 southeast from Elizabethton goes along the southern shore of Watauga Lake, past Cardens Bluff and Watauga Point. Take TN 67 north from US 321 to drive along Doe Creek between Doe Mountain and Iron Mountain to Mountain City.
The southern end of the northern CNF contains a scenic drive along the French Broad River. From Greeneville take TN 70 south across Nolichucky Dam, turn right on TN 107 which travels through Houston Valley, then turn right on US 25/70 and travel along the French Broad River to Newport.