Caves and Caverns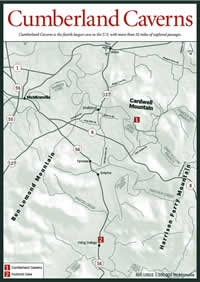 Cumberland Caverns
[Fig. 20(1)] The western edge of the plateau has several outliers, portions of the main structure that have been detached by erosion, and Cumberland Caverns is located on one of these geologic islands. Cumberland Caverns is the second largest cave system in the country, with 32 miles of passageways, and it is the most extensively mapped cave in Tennessee.
As with all caves, water dissolves and erodes rock to carve an underground hole. The water follows the path of least resistance and sometimes flows uphill or downhill depending on where cracks or fractures allow it to flow. The stream that helped carve out the Cumberland Caverns still flows, in fact it forms a 60-foot waterfall in the Waterfall Room. The Hall of the Mountain King is one of the largest rooms in a cavern east of the Mississippi. It extends 600 feet with a 140-foot-high ceiling and is 140 feet wide, and all of it is more than 300 feet below ground level. There is also an underground dining room for groups.
Cumberland Caverns is commercially operated, and tours provide visitors the chance to see a wide variety of formations: stalactites, stalagmites, helectites, columns, flowstone, cave coral, gypsum flowers, and other features. Also part of the tour is a dramatization of the creation of the cave in sound and light.
Directions: To reach the caverns from McMinnville, take TN 56 south to TN 8 and travel southeast for 7 miles and follow the signs.
Activities: Guided cave touring, overnight spelunking, picnicking, hiking, and gem stone panning.
Facilities: Picnic area, hiking trails, and primitive camping
Dates: The caverns are open daily from May_Oct. and by appointment from Nov._Apr.
Fees: There is a charge for the guided tour and spelunking.
Closest town: McMinnville, 7 miles.
For more information: Cumberland Caverns, 1437 Cumberland Caverns Road, McMinnville, TN 37110. Phone (931) 668-4396.
Hubbard Cave
[Fig. 20(2)] This cave is also know as Bat Cave because of the hundreds of thousands of gray bats (Myotis grisescens) that use it as a hibernaculum. The 50 acres that include Hubbard Cave are on the western wall of the plateau and are owned by The Nature Conservancy. To protect the bat population, a gate blocks one of the three entrances. Like many of the caves in the region, it was mined for saltpeter during the Civil War, and some evidence of this activity is still present near the entrance used by people who explore the cave. Because of the bat population, visitation isn't encouraged and only guided tours are offered.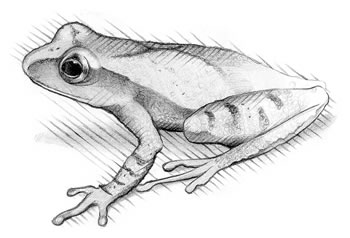 Directions: Hubbard Cave can be reached off TN 56 south of McMinnville, near the community of Irving College.
Activities: Field trips are available through The Nature Conservancy.
Facilities: None.
Fees: There is a charge for field trips.
Dates: Open for guided field trips only and advance reservations are required. Two to three tours are scheduled each summer.
For more information: The Nature Conservancy, 50 Vantage Way, Suite 250, Nashville, TN 37228. Phone (615) 255-0303.
Big Bone Cave
[Fig. 16(3)] Big Bone Cave is another of the caverns on one of the western outliers, located in the Big Bone Cave State Natural Area near the town of Rock Island.
The cave was an important source of the saltpeter used for making gunpowder during the Civil War and the War of 1812. It got its name after miners discovered the bones of a giant Pleistocene ground sloth (Megalonyx jeffersoni) here in 1811. The bones of a jaguar, or American leopard (Felis onca), were also found.
Radon gas is in the cave, and it is open for tours by appointment only. Appointments can be made by calling Rock Island State Park, phone (931) 686-2471. Rock Island State Park is not on the plateau, but is in charge of conducting tours of Big Bone Cave.
Directions: Go to Rock Island State Park for directions.
Activities: Cave touring by appointment only.
Facilities: None.
Fees: None.
Closest town: Rock Island, 5 miles.
For more information: Rock Island State Park, 82 Beach Road, Rock Island, TN 38581. Phone (931) 686-2471.