| | | |
| --- | --- | --- |
| | Wildlife Viewing Guide | |
---
General Coffee State Park
Description: Located in the lower Coastal Plain, this site exhibits habitat ranging from sand ridges to gum and cypress river swamps. Containing 1,510 acres, it is the tenth largest state park in land mass. Water features include a number of small lakes through which the Seventeen Mile River winds. The park occupies some of the highest ground in the area, and it is not unusual to find natural rock outcrops, locally called "soap stone outcrops". Approximately 400 acres of prime gopher tortoise and indigo snake habitat have been identified and are actively managed to protect these species and the wildlife community of which they are a part. The Seventeen Mile River swamp boardwalk offers many opportunities to witness endangered and protected plants in their habitats located along the nature trail. The site is well-interpreted with signs, but tours are conducted on request.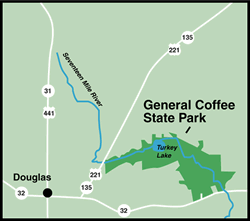 Viewing Information: The park is a welcome home to beavers, bobcats, white-tailed deer, black bears, hawks, owls, a variety of songbirds, bald eagles, foxes, herons, kingfishers, gopher tortoises, and indigo snakes. Visitors can actually walk among the burrows of the gopher tortoise and witness these amazing and docile creatures firsthand during warm weather, usually April through early November; they hibernate during the cooler months. Visitors can get up-close and personal with birds of prey at the Christopher L. Morris Raptor Rehabilitation and Education Center located on the park. Some birds must stay here in captivity because their injuries prevent them from surviving in the wild. Others are released when they have recovered.
Directions: From Douglas, travel east 6 miles on GA Hwy. 32 to the park entrance.
Management: Georgia DNR, Parks and Historic Sites Division, 912-384-7082 (Park Office)
Closest Town: Douglas, GA
Site Notes: observation platforms, tours, interpretive programs, pioneer village, archery range, cottages, group shelter.










---
Read and add comments about this page
---
Reader-Contributed Links to the Georgia Wildlife Viewing Guide Book: