| | | |
| --- | --- | --- |
| | Wildlife Viewing Guide | |
---
Di-Lane Plantation Wildlife Management Area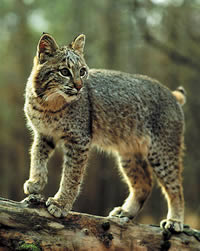 Description: Di-Lane Plantation is an 8,100-acre WMA situated in Georgia's Upper Coastal Plain. About 70 percent of the area is forested, primarily in natural stands of upland hardwoods and pines. The understory varies from dense thickets of palmetto, wax myrtle, and gallberry to open grassy meadows. The remaining 30 percent is in various stages of old-field succession intermixed with wildlife plantings to enhance habitat. The area has some outstanding wetland habitats that harbor many species of native resident and migratory wildlife. Laurel oaks draped in Spanish moss line the entrance road that passes a pet cemetery established by a previous owner in tribute to his bird dogs.
Viewing Information: In addition to providing habitat for game birds, such as bobwhite quail, mourning doves, and wild turkeys, Di-Lane Plantation is also home to many nongame birds, including bluebirds, sparrows, and warblers. During the late fall and early spring, large numbers of hawks can be observed hunting the open fields. Many wood ducks and a variety of other waterfowl roost throughout the area in winter. Other common winter wetland birds include great blue and green herons and occasionally wood storks. The abundant early successional habitats intermixed with mature forests maintain high populations of prey species, including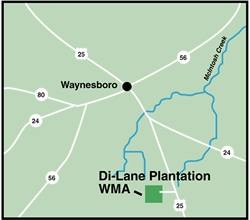 rabbits, fox squirrels and gray squirrels, white-tailed deer and numerous rodents. Because of the excellent populations of prey,Di-Lane is a good place to observe predators such as gray and red foxes, bobcats and coyotes. Other common mammals include raccoons, opossums, skunks, and beavers. River otters are occasionally observed. Several species of bats commonly occur in the area. A variety of turtles, frogs, salamanders, and snakes occur throughout the area. Three of Georgia's six venomous snakes are found in the area, including cottonmouths, copperheads, and timber rattlesnakes. The American alligator is a common summer sight.
Directions: From Waynesboro, take 4th ave./Herndon Rd. south 10 miles and follow signs to the check station.
Management: Georgia DNR, Wildlife Resources Division, 706-595-4222
Closest Town: Waynesboro, GA





---
Read and add comments about this page
---
Reader-Contributed Links to the Georgia Wildlife Viewing Guide Book: