| | | |
| --- | --- | --- |
| | The Natural Georgia Series: Barrier Islands | |
---
Fieldtrip:A Wildlife Field Trip To The Coast
By Richard J. Lenz. Photos by Richard T. Bryant
The Georgia coast is one of America's great natural treasures with its dazzling collection of salt marshes and estuaries, tidal rivers and creeks, and barrier islands and sounds. Only 100 miles long, Georgia has a shorter coastline than the state of New York. However, the Georgia shore boasts the longest unbroken stretch of wild Atlantic beachfront and marsh on the eastern seaboard. And that is why I would much rather visit the beach of Cumberland Island, Georgia than the beach of Long Island, New York.
On many of Georgia's barrier islands, the solitude and natural beauty can be stunning. One can walk the beach for miles and not encounter another soul or even another set of footprints in the sand, with your only companions being gulls, terns, and sandpipers, and the intriguing shells washed up on the shore and the susurration of the surf. On higher ground, the sun-dappled woodlands of Spanish moss-draped live oaks, cabbage palms, red cedars, and tall pines create an enchanting forest unlike anywhere else in the world. In the freshwater sloughs formed between dune ridges, alligators bellow their ancient songs of love and territory. The sheltered marshes on the western sides of the islands are rich, brackish soups that serve as protected nurseries for many marine fish and shellfish. Egrets and herons patiently stalk finned prey in the shallower areas, while sleek bottlenose dolphins cruise the tidal creeks hunting a meal of menhaden.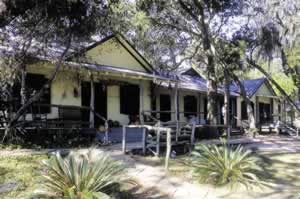 The credit for Georgia's wild coast goes to private landowners, state and federal government officials, environmental organizations, and private foundations that showed visionary leadership in the 1960s and 1970s. Today, two-thirds of the islands are under some level of environmental protection.
While the undeveloped and untamed character of Georgia's barrier islands distinguishes them from the majority of barrier islands of Florida or South Carolina, it also takes a greater investment to visit them. The wilder the island, the more planning required to reach it.
Visiting Georgia's undeveloped islands requires a boat. Two have regular ferry service: Cumberland and Sapelo islands. A ferry leaving from St. Marys accesses Cumberland Island National Seashore twice daily. Georgia's largest barrier island with 16 miles of beach is popular with nature lovers, featuring a wide variety and abundance of wildlife. A campsite with showers and bathrooms is found near the southern end.
Sapelo Island, located in McIntosh County, is reached by the general public through twice-weekly ferry service. Tickets are purchased at the dock. Most visiting Sapelo travel with a guided tour group that offers a good basic overview of the island, but allows little freedom to explore the island. However, wildlife special tours may be arranged for serious groups by calling the Sapelo Island National Estuarine Research Reserve at (912) 485-2251.
Two of the wildest islands, accessed only by charter boat, are national wildlife refuges: Wassaw and Blackbeard islands. Both are open only during daylight hours. These islands have it all, from salt marshes to boneyard beaches, along with an untamed character not found on many islands on the southeastern Atlantic coast. Freshwater ponds provide refuge to waterfowl, while wading birds are more common in the salt marsh and shorebirds are found on the beaches. Shelling is generally excellent as visitation is light. Wassaw is considered to be the most pristine barrier island on the Georgia coast. Contact the refuges' offices for visiting regulations and recommended charters.
Little St. Simons, a privately owned island, is an unusual secluded getaway that offers an entire island for exploring along with comfortable accommodations. Reached by the island's boat from the north end of St. Simons, reservations are limited and made by calling (912) 638-7472.
If convenience is your main criteria, only four barrier islands are connected to the mainland by causeway: Tybee, St. Simons, Sea Island, and Jekyll. They each have a different story to tell and distinctly different appeal. The coastal visitor may use one of these islands as their home base for travelling to more pristine islands.
Going north to south, Tybee Island, 18 miles east of Savannah, is the most densely developed island on the coast. Tybee still has marsh, beach, and dunes to explore, though much of it is heavily used. Tybee Island Marine Science Center, located on south beach near the pier, is a valuable public resource for marine education, and has several aquariums and touch-tanks where children and adults alike can learn more about the sea. St. Simons Island is approximately one hour's drive south of Savannah. Georgia's second largest and most populated barrier island, St. Simons has a strong residential feel to it, with all the modern trappings. Nonetheless, developers have retained the island's beautiful natural setting of ancient live oaks, cedars, and pines, that creates much of the island's allure. East Beach and Gould's Inlet are popular with tourists, and like other developed islands St. Simons is easily accessed but may lack the wild quality you are looking for. Fewer sea turtles nest on St. Simons than even Tybee, preferring to crawl across the sands of Sea Island, located a short drive east from
St. Simons. Sea Island is home of the world-renown resort the Cloister and million-dollar homes. The renourished beach is difficult to reach unless you are staying at the resort or someone's home. Across St. Simons Sound is Jekyll Island. Once the playground of America's mega-rich, today Jekyll is owned by the state and enjoyed by the public. The island has a fascinating historic district and features outdoor recreation, but if it's wildlife you are seeking, South End Beach is a good place to look. Also worth visiting on the north end is the Clam Creek Picnic Area, along with a boneyard beach that reveals the ongoing evolution of this barrier island.
Cumberland Island National Seashore
(912) 882-4335
Sapelo Island
(912) 437-6684
Wassaw National Wildlife Refuge
(912) 652-4415
Blackbeard Island National Wildlife Refuge
(912) 652-4415
Little St. Simons
(912) 638-7472
Tybee Island
(912) 786-5444
St. Simons
(912) 638-9014
Sea Island
(912) 638-3611
Jekyll Island
(800) 841-6586
---
Read and add comments about this page
---
Go back to previous page. Go to Barrier Islands contents page. Go to Sherpa Guides home.
---
[ Previous Topic | Next Topic ]