Key Largo
[Fig. 4, Fig. 5] Key Largo is the first island motorists come to as they drive south from Miami on the Overseas Highway (US 1). The largest of the Florida Keys, it's about 30 miles long. With nearly 14,000 year-round residents, the town of Key Largo is the second most populous town in the Keys after Key West and a major destination for many of the millions of visitors who descend on the Keys every year. The facilities are here, however, to handle the crowds: diving operations, fishing charters, boat tours, shell shops, motels, campgrounds, restaurants, and resorts line the highway.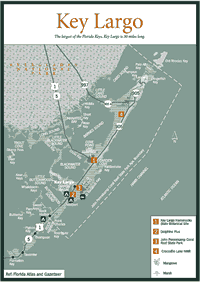 Key Largo will ring a bell with movie buffs. The town was called Rock Harbor until Humphrey Bogart, John Huston, and company produced Key Largo in 1948. The film's director, John Huston, made a few atmospheric shots inside the old Caribbean Club, but Bogie and Bacall remained on the Hollywood sound stage where the Keys were re-created. That didn't deter resolute citizens from pressing to take advantage of the movie's popularity. With the blessings of the U.S. Post Office, Rock Harbor became Key Largo in 1952.
To further enhance the Bogart aura, the river boat used in the 1952 Bogie-Katherine Hepburn classic, The African Queen, was purchased by the owners of the Holiday Inn and takes guests on trips from the hotel dock. You can also see, but not ride in, The Thayer IV, the Chris-Craft boat Henry Fonda piloted in On Golden Pond.
The island's main attraction and international claim to fame is the magnificent coral reef system that parallels the keys on the Atlantic side. Scuba divers and snorkelers come from all over the world to explore the incredibly diverse and scenic formations. The minute you drive into Key Largo you'll see dive shops, dive flags (red with a white stripe), and signs advertising dive trips to the coral reefs of John Pennekamp Coral Reef State Park and the Key Largo National Marine Sanctuary.
Key Largo is also a magnet for fishing enthusiasts, ranging from the lifetime fanatic to the rank amateur who barely knows which end of the rod to hold. Whether your skills equal that of Zane Grey or Homer Simpson, you can go fishing in the Florida Keys and have fun. And probably catch some fish. More than 10 percent of the International Game Fish Association's saltwater line class fly-fishing records were recorded out of Key Largo.
The first of the more than 1,000 fishing guides and charter boat captains working out of the Florida Keys are based out of Key Largo. A walk past the various charter booths at the Fishing Village at the Holiday Inn Marina (MM 100) will give you a full sample of what's available. Talk to the captains and mates about what's in season and look at the photos they have on display.
Fishing out of Key Largo is basically divided into two categories: offshore reef fishing and backcountry fishing. Offshore trips take place aboard charter boats that carry a limited number of people and usually troll for large game fish like king mackerel (Scomberomorus cavalla), Atlantic sailfish, wahoo (Acanthocybium solandri), cobia (Rachycentron canadum), and dolphin (Coryphaena hippurus). Party boats carry more people and generally bottom fish on the reefs for grouper and yellowtail snapper (Ocyurus chrysurus). Trips are usually half days or full days. Incidentally, most restaurants in the Keys will cook your catch in the manner of your choice.
Backcountry fishing takes place among the mangrove islands and grass flats of Florida Bay. A typical trip aboard a flats boat includes casting for snook, redfish, tarpon, permit (Trachinotus falcatus), or bonefish. Some guides out of Key Largo like to fish at different spots all the way to Flamingo 35 miles away, stop in there for lunch and gas, then fish all the way back to the island. Most backcountry guides cater to fly-fishing and conventional tackle use.
A number of dive boats, eco-tour boats, and glass bottom boats are also based at the Holiday Inn Marina and other sites along Key Largo. Most businesses offer package trips or will provide any type of trip you desire, including bird-watching endeavors. Eco-tours explore the mangrove-lined creeks and channels along the Atlantic coast and the mangrove islands and shallow grass flats of Florida Bay.
You don't need to be a scuba diver to enjoy the reefs off Key Largo. Most operations offer easy snorkel trips and will provide instruction and equipment. Wet suits are also provided during cool weather. It takes about 45 minutes to reach the reefs and trips usually last two- to two-and-a-half hours, depending on the winds and the tides.
A kayak rental concession at the Howard Johnson Key Largo (MM 102 Bayside) offers guided or self-guided tours of the mangrove coastline. This is a good way to see many of the wading birds that frequent the Florida Bay shoreline. It's also a reliable way to see West Indian manatees during the colder months.
For more information: You can get the full list of businesses in the area by contacting or stopping at the Key Largo Chamber of Commerce, MM 106, 105950 Overseas Highway, Key Largo, FL 33037. Phone (800) 822-1088. Local phone (305) 451-1414.
John Pennekamp Coral Reef State Park
[Fig. 5(3)] John Pennekamp Coral Reef State Park and the adjacent Key Largo National Marine Sanctuary include about 178 nautical square miles of coral reefs, seagrass beds, and mangrove swamps. Named for a late Miami newspaper publisher who championed the establishment of Everglades National Park and the Florida state park system, it was the country's first underwater state park.
Tropical vegetation, a huge variety of shorebirds, and marine life can be seen on land portions of the park and on reefs a few miles offshore. The mangrove swamp provides visitors with an opportunity to explore fascinating water channels. Unusual tropical-looking trees can be seen in the hardwood hammock in the park's upland limestone areas. During the winter this is one of the busiest parks in Florida. It's a good idea to arrive early. If you'd like to stay overnight, reserve well in advance one of the 47 full-service camping sites for tents and RVs.
Fishing is allowed in Pennekamp within guidelines of Florida state law. Saltwater licenses are required, and spearfishing, possession of spearfishing gear, and collection of tropical fish by any means is illegal inside the park's boundaries. Ask for a copy of fishing regulations when you buy a fishing license.
The park's Mangrove Trail uses a boardwalk to explore a portion of the mangrove estuary. It passes over clear, grassy channels in which you'll see gray snapper milling around the roots of the mangrove trees. Sometimes a redfish will even swim by, easily identified by the one or two large spots on its silver body.
Watch for black-crowned night herons (Nycticorax nycticorax), great blue herons, and tricolored herons feeding around the bases of the mangrove tree prop roots. A short lookout tower is still tall enough to allow you to see over the top of the mangrove forest. Canoes and kayaks can be rented in the park for exploring the mangroves in more detail.
The parking lot at the trail entrance also serves one of the small beaches. A pay-as-you-view telescope that looks out over a mud flat is mounted on the porch of a bathhouse next to the beach. At low tide look for a variety of feeding birds—willets (Catoptrophorus semipalmatus), piping plovers, sanderlings (Calidris alba), herons, and terns gathered on the exposed flats. During high tide sea gulls, brown pelicans, and double-crested cormorants sit on the rocks that encircle the swimming area.
The park's visitor center's outstanding natural history exhibits interpret the park's unique marine environment. There's also an entrancing, circular, 30,000-gallon saltwater aquarium in which you see sharks, yellowtail snapper, gray snapper, lane snapper (Lutjanus synagris), Spanish hogfish (Bodianus rufus), rock beauty (Holacanthus tricolor), southern lobster (Panulirus argus), and a variety of grunts, groupers and angelfish swim in, out of, and around a coral reef. For a special treat be there at feeding time.
People come to John Pennekamp to experience the coral reefs, and the park is geared to provide that experience. Snorkeling, scuba diving, and glass bottom boat tours operate right out of the park. Or you can rent a boat and plan your own reef trip. You can rent snorkeling equipment and wet suits for use on the reefs or swimming off the beaches. Scuba instruction is also available. The Dive Shop inside the park, a PADI five-star facility, offers two-tank, two-location tours to certified divers. A full range of instructional courses is also available.
Swimming and snorkeling are excellent at John Pennekamp's three small beaches. Although it hardly compares with a reef dive, there's a variety of sea life to be discovered around the rocks and seagrasses in shallow water. A reconstruction of a sixteenth-century Spanish shipwreck, complete with cannons, lies 130 feet offshore from Cannon Beach. It allows you to get a little of the feel of a wreck dive without boarding a boat. The cannons off the beach and many of the other cannons on display in the park are from the 1715 and 1733 Spanish gold fleets that were scattered and driven onto reefs throughout South Florida by hurricanes.
If you aren't into snorkeling and diving, you can get a limited idea of the reefs' grandeur on the glass bottom boat San Jose. Daily it makes three, two-and-a-half-hour trips from John Pennekamp to Molasses Reef, where it stays for about a half hour. On days when visibility is good, the majesty and color of the reef, and animals that live there, are plainly visible through the boat's underwater viewing windows.
The magnifying effect of the water makes it seem as if the bottom is only inches away. As the boat drifts along, a constantly changing panorama of reef life passes by. A shimmering school of bright yellow and blue yellowtail snapper comes into view, then disappears. Multicolored parrotfish nuzzle around on the bottom chewing on the coral. The log-shaped silhouette of a barracuda passes over them. Domes of hard coral round out some of the reef's rough edges. Soft corals and seafans stand like bushes without branches unwavering in the current.
Considered the most complex of all ecosystems, coral reefs are also the most beautiful underwater gardens man has the privilege to observe. Reefs are found only in shallow oceans, such as those in South Florida, with clear, perpetually warm waters.
Scientists estimate that Florida's coral reefs have taken from 5,000 to 7,000 years to develop. Biologists once believed corals were plants. But in more recent times, they've come to realize that every coral is actually a colony made up of thousands of microscopic, soft-bodied animals, called polyps, that have a hard, stony skeleton, much like a sea anemone.
Rarely visible during the day, polyps emerge at night and feed on plankton that drifts within reach of their tentacles. The yellowish-brown or green color visible to the human eye is the coral's living tissue—less than 0.0625 of an inch thick. The animal is wounded each time its surface is touched by a boat anchor, a swim fin, or a human foot or hand.
These primitive microorganisms are the architects of the reefs, and the creation of one small reef requires the joint effort of billions of individuals. Each extracts building material—calcium—from the sea and uses it to make a protective tube-type skeleton. Hundreds of these skeletons make a coral. Untold numbers of corals grow side by side and on top of each other to form a reef.
The huge and incredibly diverse coral reef community includes sponges, shrimp, crabs, turtles, lobsters, and about 600 species of fish. Living space is unbelievably hard to come by. Every hole, every crack, and every cranny is some creature's habitat. The old and unfit are evicted by younger, stronger tenants. Some, like the Christmas tree worm (Spirobranchus giganteus), live their whole life anchored to the coral, which they feed on. Flamingo tongue (Cyphoma gibbosum), a snail-like mollusk, eats the coral and, in turn, is eaten by small fish, which are eaten by larger fish that often end up on our dinner tables.
Although the reefs are hard enough to bring down ships that run aground on them, they are also extremely fragile in that they can take centuries to rebuild. Severe penalties are imposed for deliberately and accidentally harming any part of the reef. Boat damage carries especially severe penalties. Destruction of coral formation through grounding or anchoring can result in fines up to $50,000 for small boats. Larger ship owners have been assessed millions of dollars.
Directions: Overseas Highway, MM 102.5.
Activities: Snorkeling, scuba diving, swimming, hiking, camping, boating, and picnicking.
Facilities: Snorkeling and diving trips; sailboat, canoe, and reef boat rentals; scuba instruction and certification; boat ramp; glass bottom boat tours; snack bar; restrooms; changing rooms; visitor center; gift shop; orientation film; and camping sites.
Dates: Open year-round.
Fees: There is a charge for admission and activities.
Closest town: Key Largo.
For more information: John Pennekamp Coral Reef State Park, PO Box 487, Key Largo, FL 33037. Phone (305) 451-1202. For information on rentals and reservations: Coral Reef Park Company, PO Box 1560, Key Largo, FL 33037. Phone (305) 451-1621.
Dive Sites
Many of the park's diving sites have their own fascinating features. Park Service boats usually go to Molasses Reef, French Reef, White Bank Dry Rocks and the Benwood wreck.
The Christ of the Deep statue at Key Largo Dry Rocks is one of the park's best-known landmarks. The 9-foot replica of a bronze statue in the Mediterranean near Genoa, Italy, was presented to the Underwater Society of America by Italian industrialist and sportsman Edigi Cressi in 1961.
The statue's base sits on the sandy sea bottom, 20 feet under, surrounded by enormous formations of various types of brain coral and elkhorn coral (Acropora palmata). Stingrays, barracuda, and other marine life regularly mill around the site. The top of the statue is easily spotted only 10 feet below the surface. Its outstretched arms seem to beckon all to enjoy the wonders of nature all around it.
The shallow reefs and mild currents at Grecian Rocks, near the statue, are popular with snorkelers. Also nearby, the Cannon Patch Reef, with an average depth of 4 feet, has a scattering of coral-encrusted cannons waiting to be discovered. Even though you know they are there, it's still exciting to find one of the ancient cannons and wonder about the action it might have seen, or the men who built it and fired it hundreds of years ago.
Molasses Reef is the park's largest and most popular scuba diving site. Located 6 miles offshore, it got its name from two shiploads of Caribbean molasses that went aground here. It is noteworthy for overhanging ledges, high-profile coral ridges, towering coral wells, swim-through tunnels, hard bottoms, and large sponges. Divers often are shadowed by barracuda, manta rays, silver tarpon, permit, Spanish hogfish, snapper, and squirrelfish (Holocentrus adscensionis). An 8-foot-long Spanish anchor is a landmark and a popular rendezvous point for divers.
French Reef is noted for its undercut ledges and swim-through tunnels. Several large caves and ledges are covered with lavender-colored sea fans, tube sponges (Callyspongia plicifera), anemones, and soft corals. They are home to schools of mangrove snapper, barracuda, grouper, sea turtles, and lobsters.
The Benwood, a 285-foot steel-hulled freighter, located 1.5 miles northeast of French Reef, was torpedoed by a German submarine during World War II. As she tried to make her way home, the ill-fated vessel accidentally collided with another vessel. Years later the hull was used as a bombing practice target and finally dynamited and sunk. Although the superstructure was salvaged, a large section of the hull remains underwater and attracts large numbers of colorful fish. A spar buoy and four mooring buoys mark the location.
White Banks Dry Rocks is the largest snorkeling reef. Its 5- to 15-foot depths are excellent for novices, who are rewarded by a large sea garden of rounded domes of brain coral and the intricate branches of staghorn (Acropora cervicornis) and elkhorn coral, along with waves and waves of small, colorful fish.
The 112-foot-tall Carysfort Reef Lighthouse, built in 1853, marks the site of Carysfort Reef, at the far northern boundary of the park. Named for the HMS Carysfort, a 20-gun British frigate that went aground here in 1770, the reef offers protected snorkeling and scuba diving to 75-foot depths. The lighthouse is about 7 miles from shore, where the reef is one of the closest to the Gulf Stream. In earlier times, ships headed south usually sailed inside the Gulf Stream to avoid its currents, and frequently found grief on the reef.
In addition to the Carysfort, more than 200 ships were either damaged or sunk on the reef before the lighthouse was built to guide them through. In 1852, the U.S. Army Corps of Engineers sent Lt. George Gordon Meade to oversee construction of the lighthouse. Of iron-pile design with a skeleton tower, its 18 lamps with 21-inch reflectors were first lighted in March 1853. The lamps were subsequently upgraded to solar-powered optics. The lighthouse was taken out of active service after World War II.
Public and privately funded efforts are now under way to turn the lighthouse into a "beacon" that could help save the reef itself. The National Oceanic and Atmospheric Administration (NOAA) and the nonprofit Pennekamp Coral Reef Institute are cooperating on plans to convert the lighthouse keeper's quarters into a marine science center.
Scientists who have visited the area have expressed interest in studying coral bleaching, salinity levels, and other factors that are contributing to the decline of this and other coral reefs in the Keys. A laboratory would enable scientists to continuously monitor water quality and marine life populations. When the project is completed, NOAA will manage the project under an agreement with the Coast Guard.
Directions: Overseas Highway, MM 102.5.
Activities: Snorkeling, scuba diving.
Facilities: Snorkeling and diving trips; reef boat rentals; scuba instruction and certification; boat ramp; glass bottom boat tours.
Dates: Open year-round.
Fees: There is a charge for activities.
Closest town: Key Largo.
For more information: For information on rentals and reservations contact the Coral Reef Park Company, PO Box 1560, Key Largo, FL 33037. Phone (305) 451-1621.
Key Largo Hammocks State Botanical Site
[Fig. 5(1)] John Pennekamp park also manages the 2,000-acre Key Largo Hammocks State Botanical Site. Along with the adjacent Crocodile Lake National Wildlife Refuge, the sites contain the largest continuous tract of hardwood forest remaining in the Keys. The hardwood forest, or hammock, supports a wide diversity of plant species. About 80 percent of them originated in the West Indies. Nearly 100 species of native trees and shrubs also flourish here.
A short nature trail (less than 1 mile) takes you past gumbo-limbo, paradise tree (Simarouba glauca), blue morning glory vines (Ipomoea indica), wild bamboo (Lasiacis divaricata), West Indian mahogany, and willow bustic (Dipholis salicifolia). The forests are also habitats for endangered species such as the Key Largo wood rat, Key Largo cotton mouse (Peromyscus gossypinus allapaticola), Schaus' swallowtail butterfly, Eastern indigo snake, and Stock Island tree snail (Orthalicus reses). The hammock also provides important seasonal food sources for migratory neotropical songbirds, and permanent homes for other colorful butterflies and tree snails.
The trail starts at the gate of the former entrance to Port Bouganville 0.5 mile north of the intersection of US 1 and CR 905. Look for the pink walls of the defunct subdivision. There are no state personnel on duty. A pamphlet explaining the trail is available in the old guard house.
A number of structures were built as part of the Port Bouganville project, including a deep water canal with boat slips, a hotel, private villas with boat access, tennis courts and sauna. After the development failed, the state was able to purchase the land and now the hammock is beginning to reclaim its former glory.
The state plans to eventually remove the buildings. For now they should be avoided because of their dilapidated and unsafe condition.
Directions: The trail is located on CR 905, 0.5 mile north of the intersection of CR 905 and US 1.
Dates: Open daily.
For more information: Key Largo Hammocks State Botanical Site/Crocodile Lake National Wildlife Refuge, PO Box 370, Key Largo, FL 33037. Phone (305) 451-4223.
Crocodile Lake National Wildlife Refuge
[Fig. 5(4)] Adjoining the Key Largo Hammocks State Botanical Site, Crocodile Lake National Wildlife Refuge was created in 1980 to protect the endangered American crocodile. Humans are crocodiles' only predator. Poaching and widespread destruction of their habitats has reduced the crocodiles' population to fewer than 500. They feed primarily on fish, snakes, turtles, crabs, birds, raccoons, and other small animals unfortunate enough to be within their reach.
Because of the crocodiles' sensitivity to human disturbance, the national wildlife refuge is off-limits to the public, except by special permit. Refuge management is studying ways of offering public use that will safeguard the visitors and inhabitants. An elevated boardwalk and/or a wildlife observation tower are possibilities.
Adjacent inshore waters are managed as part of the Florida Keys National Marine Sanctuary. Between March 1 and October 1, when crocodiles are mating and hatching their young, there is a 100-foot, no-access buffer zone on the entire refuge shoreline.
Key Largo and neighboring areas on the extreme South Florida mainland are the crocodiles' northernmost range. The mangrove wetlands in the refuge and exposed canal banks in the abandoned Port Bouganville development provide habitat, solitude, and nesting areas for the shy, secretive reptiles.
The saltwater crocodiles' only other refuges are in Everglades National Park and the Florida Power and Light Company's Turkey Point Nuclear Power Plant, near Homestead.
Directions: Highway CR 905, north of the abandoned Port Bouganville
Development.
Activities: Closed to the public.
Closest town: Key Largo.
For more information: Crocodile Lake National Wildlife Refuge, PO Box 370, 211 Charlemagne Road, Key Largo, FL 33037. Phone (305) 451-4223.
Dolphins Plus
[Fig. 5(2)] This is one of four places in the Keys where you can encounter playful, intelligent dolphins on their own turf. Structured and nonstructured programs are designed for those who want to do much more than sit in an amphitheater and watch dolphins leap for fish and dive through hoops. Each program begins with an hour-long orientation session on dolphins' natural history, intelligence, anatomy, communications abilities, social structure, and environmental issues that affect them.
Small-toothed mammals that are related to whales, dolphins' long, sleek, torpedo-shaped bodies and elongated snouts are easily recognized. They nurse their young, often with the aid of a female wet nurse, and care for their calves for up to four or five years.
They use about 90 percent of their lung capacity (humans use only 15 to 20 percent) and can remain submerged for 15 to 20 minutes at a time. They can shut down either side of their 5-pound brain, while the other side continues to take care of metabolic processes, blood flow, breathing, and other vital functions.
The eyes of a dolphin operate independently, so that even when they are resting they can be continuously aware of what is happening around them. They have no olfactory glands, and thus no sense of smell, but they have a heightened sense of taste, which accounts for their mouths usually being held open in a happy face smile.
Dolphins have several stomach chambers and don't chew or bite down on their food. They communicate with each other with clicking sounds. In the wild, they search for food, potential enemies, and other objects by use of echolocation, an incredible sonar that allows them to transmit clicks, whistles, and screams and interpret the returning echoes. Blowholes on the top of their heads are nostrils with internal passages for each lung.
There are three prevalent species of dolphins in Florida's nearshore waters: the Atlantic bottle-nosed dolphin, striped dolphin, and spotted dolphin. The bluish gray bottlenose has a bump on its forehead and can grow to 10 feet or larger. A fully grown blue-black striped dolphin can reach up to 8 feet in length. The slat-black Atlantic spotted dolphin grows to be 7 feet long. All three species have whitish bellies.
Highly social animals, dolphins travel in large herds, divided into family groups called pods. They love to ride ships' bow waves and gracefully leap far out of the water, as if to entertain awestruck humans.
Often confused with porpoises, dolphins have a conspicuous beak and a dorsal fin that arcs toward the tail; porpoises have a less prominent beak and all but one porpoise species has a triangle-shaped dorsal fin. Also, dolphins have cone-shaped teeth, and porpoises' are spade-shaped.
If you see dolphin on a restaurant menu, don't be concerned that you're being asked to eat Flipper. What's being prepared is the dolphin game fish, a commonly caught, cold-blooded ocean fish, unrelated to mammalian dolphins. Restaurants aware of the confusion frequently list it by its other names such as mahimahi and dorado.
At Dolphins Plus and other encounter places in the Keys, the structured program guarantees contact with dolphins. Constantly choreographed by the instructor, the friendly mammals will playfully bump you, roll over, and invite you to rub their bellies, and invite you to grasp their pectoral fins and take a joy ride across the pool. The nonstructured program is a free-swim, for about an hour, with no guarantee of contact. With no instructor to direct them, the dolphins may playfully interact, or exert their independence and choose to ignore you altogether. Their unique personalities are evident after only a few minutes in the water with them.
Directions: MM 99.5 Oceanside, Key Largo.
Activities: Structured and nonstructured swimming with dolphins; rehabilitation therapy for persons with mental and physical disabilities.
Facilities: Fenced-in pools, restrooms, changing rooms, gift shop.
Dates: Open year round.
Fees: There is a charge for swimming with dolphins. Reservations required. Participants under 18 years old must be accompanied by an adult.
Closest town: Key Largo.
For more information: Dolphins Plus Marine Mammal Research and Education Center, PO Box 2728, Key Largo, FL 33037. Phone (305) 451-1993. Fax (305) 451-3710.
Web Site www.pennekamp.com/dolphins-plus.
Key Largo Restaurants
Seafood dominates Key Largo restaurant menus. You'll also find Italian, Mexican, Thai, and other cuisines and all your favorite fast-food emporiums.
Ballyhoo's Seafood Grill
MM 98 Median, Key Largo. Breakfast regulars swear by the pancakes and seafood omelets at this Old Florida-style eatery in a 1930s conch house. Many come back for seafood, chicken, and steak at lunch and dinner. Very casual. No reservations. Moderate. Phone (305) 852-0822.
The Fish House
MM 102 Oceanside, Key Largo. Big servings of fish, steak, and chicken keep this New England-type seafood house packed at lunch and dinner. The Fish House will also ship fresh and precooked seafood anywhere in the U.S. Casual. No reservations. Moderate. Phone (305) 451-HOOK (4665) or (888) 451-4665.
The Italian Fisherman
MM 104 Bayside, Key Largo. This longtime favorite of locals and visitors serves generous portions of pastas, veal, chicken, and seafood dishes. Conch prepared as chowder and several other ways is a specialty. Enjoy the sunset from the outdoor terrace. Casual. Reservations for large groups. Moderate. Phone (305) 451-4471.
Mrs. Mac's Kitchen
MM 99.4 Overseas Highway, Key Largo. Friendly, unpretentious roadside shack serves terrific chili, pita bread sandwiches, steaks, seafood, burgers, basic Italian dishes, and Key lime pie. Very casual. No reservations. Inexpensive. Phone (305) 451-3722.
Num Thai Restaurant And Sushi Bar
MM 103 Overseas Highway, Key Largo. Small, friendly shopping center restaurant serves excellent Thai cuisine and sushi. Casual. Reservations for groups of six or more. Inexpensive to moderate. Phone (305) 451-5955.
Key Largo Lodging
Lodgings range from ultraexpensive resorts to small, privately owned motels. In-season and out-of-season rates vary greatly. For a full list of accommodations contact the Key Largo Chamber of Commerce, MM 106, 105950 Overseas Highway, Key Largo, FL 33037. Phone (800) 822-1088. Local phone (305) 451-1414.
Holiday Inn Key Largo Sunspree Resort
MM 100 Oceanside, Key Largo. This big, splashy chain hotel has just about everything: 135 guest rooms and suites, a large marina and boat ramp, a freshwater swimming pool, restaurants and bars, shops, and diving and snorkeling excursions. Plus it's the home port of the African Queen. Expensive. Phone (305) 451-2121 or (800) THE-KEYS.
Jules' Undersea Lodge
Koblick Marine Center, 51 Shoreland Drive, MM 103.2 Oceanside, Key Largo. Guaranteed—you won't wake up in your room, look out the window, and wonder what city you're in, not with fish swimming nonchalantly past your windows, 30 feet below the surface of a lagoon, about 100 feet from shore. If you aren't a certified scuba diver, the staff can give you a quickie course that will ease you down into your air-conditioned quarters, where you'll have the comforts of a bathroom, TV, VCR, and phone. The price includes a full dinner and breakfast. Very expensive. Phone (305) 451-2353. Fax (305) 451-4789. Web site www.jul.com.
Largo Lodge
MM 101.7 Bayside, Key Largo. Located 0.5 mile south of John Pennekamp park, this small, quiet, immaculately kept resort is set among tall palms and lush tropical foliage. Six cottages with screened porch, living room, and kitchen can sleep up to four. If there are youngsters in your party, you'll have to look elsewhere. To maintain the adult decorum, no one under age 16 is allowed. Moderate. (305) 451-0424 or (800) IN-THE-SUN.
Westin Beach Resort Key Largo
MM 97 Bayside, Key Largo. If you're looking for a full-service, all-the-bells-and-whistles resort, the Westin is the nicest Key Largo has to offer. Fitted into a buttonwood grove on the shore of Florida Bay, the low-rise buildings house 200 guest rooms, two restaurants, pools, a beach, tennis, nature trails, and a boat dock. Very expensive. Phone (305) 852-5553 or (800) KEY-LARGO. Fax (305) 852-8669. Web site www.888tellnet.com/keylargo.html.
Stone Ledge Resort
MM 95.3 Bayside, Key Largo. A nicely run stucco motel with 19 guest rooms. All have refrigerators and 10 have kitchens. Amenities include a dock and sandy beach. Inexpensive to moderate. Phone (305) 852-8114.
Key Largo Campgrounds
Key Largo and many of the Keys are popular destinations for the winter RV crowd. Reservations should always be made in advance during colder months.
American Outdoors
MM 97.5 Bayside, Key Largo. RV sites, boat dock, ramp, marina, laundry, and showers. Pets allowed. Inexpensive. Phone (305) 852-8054. Fax (305) 853-0509.
Key Largo Kampground And Marina
MM 101.5 Oceanside, Key Largo. RV and tent sites, showers, pool, laundry, boat dock and ramp. Pets allowed. Inexpensive. Phone (305) 451-1431 or (800) KAMPOUT.