Key West Dining
Seafood naturally dominates Key West restaurant menus. Some of it is fresh from local waters, as advertised, but a lot of it is shipped in frozen from other coasts. You'll also find Cuban, Mexican, Chinese, Italian, Thai, and other cuisines. Duval Street is lined with restaurants. Some are quite good and popular with locals. Many are tourist restaurants in the worst sense, indistinguishable, one from the other. Some of the best food and most interesting dining experiences are in residential neighborhoods off Duval. You can leave your ties and dressy clothes at home. Even the best restaurants only ask is that you wear shoes and otherwise come decently clothed. "Dressy casual" usually means a shirt with sleeves and a collar.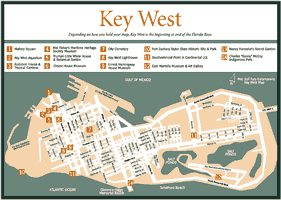 Antonia's
615 Duval Street. In this fickle here-today-gone-tomorrow town, Antonio's is something of a landmark. After it was destroyed by fire in 1995, it was quickly rebuilt by popular demand. Locals and tourists happily mingle and enjoy Antonio's rich Southern Italian fare and excellent wines. Casual to dressy. Dinner nightly. Reservations accepted. Expensive. Phone (305) 294-6565.
Blue Heaven
729 Thomas Street at the corner of Thomas and Petronia streets. As the signs advises, "You don't have to die to get here." All you have to do is walk a couple of blocks off Duval Street into the colorful Bahama Village neighborhood. Enter the spacious, fenced, tree-shaded, dirt-and-sawdust floored patio and wait for one of the colorfully painted tables to open up.
While you're perusing the menu, look under the table. Chances are, a mother hen and brood of chicks are earnestly scratching in the dirt for their breakfast. The free-range chickens are in keeping with the neighborhood, where in Caribbean tradition, they wander unfettered in yards and streets. We're assured that none of the restaurant's chicks end up on dinner plates.
At one corner of the patio, there's a Rooster Cemetery. Craftsmen sell jewelry, tarot cards, and Caribbean art. All this and the food is terrific, which explains the usual wait for a table. "Breakfast with the Roosters" is highlighted by "Richard's Very Good Pancakes," seafood Benedict, omelettes, a breakfast tortilla, big bowls of fruit, and homemade banana bread. Caribbean-slanted lunch brings forth vegetarian black bean soup, jerk chicken, local fish, and black beans and rice. "Dinner with Chef Dan" starts with carrot and curry soup or Caribbean BBQ shrimp (also an entree), and includes jerk chicken, fish, pork tenderloin, and New York strip steak. Shrimp and grits and the avocado omelette are among the Sunday brunch specials. The companion Blue Heaven Bakery has Key lime pies, croissants, breads, and quiches to take out or enjoy at sidewalk tables on Petronia. Both are open everyday. Very casual. No reservations. Inexpensive. Phone (305) 296-8666.
El Siboney
900 Catherine Street. When Conchs crave Cuban they usually head for this reliable old favorite. Traditional Cuban favorites like ropa vieja (a shredded beef dish with a rumpled appearance that resembles "old clothes"), picadillo, fried plantains, black beans and rice, roast pork, and sangria. Casual, no reservations. Lunch, dinner daily, closed Sunday. Inexpensive. Phone (305) 296-4184.
Half Shell Raw Bar
231 Margaret Street. No visit to Key West seems complete without boiled shrimp, oysters on the half shell, fried and grilled fish, stone crabs, and lobster in the screened dining room overlooking West Key Bight. Casual, reservations for large parties. Lunch and dinner daily. Inexpensive to moderate. Phone (305) 294-7496.
Louie's Back Yard
700 Waddell Street, at the corner of Waddell and Vernon streets. One of Key West's oldest, and without doubt, one of its best-known restaurants. First-rate Caribbean and American food in a romantic setting. Sit outside on the seaside dining deck, under the tropical trees and feel smug that you were able to garner one of the hard-to-come-by reservations. Lunch and dinner daily. Expensive. Phone (305) 294-1061.
Mangia Mangia
900 Southard Street, at Margaret Street. That's Italian for "Eat, Eat," and that's what legions of local and visiting faithful do at this cheerful Old Town favorite. What they mostly come to devour are a half dozen pastas, made fresh daily, topped with a variety of sauces. The menu also includes seafood, grilled meats, and salads, and an award-winning, 300-selection wine list. Casual to dressy. Reservations suggested. Open nightly. Moderate to expensive. Phone (305 )294-2469.
Michael's
532 Margaret Street. In this seafood-oriented town, Michael's is where meat-lovers come to eat beef. In the formal dining room or at umbrella tables by the fountain, they tuck into USDA prime, Midwestern grain beef—ribeyes, T-bones, New York strip, prime rib, filet mignon—served in very generous portions. The menu also offers seafood and game dishes. Dressy. Reservations suggested. Open nightly. Expensive. Phone (305) 295-1300.
Seven Fish
632 Olivia Street at Elizabeth Street. This small, squeaky-clean dining room in a rehabbed Old Town residential area is a big favorite with the locals, who patiently wait outside and around the tiny bar for a chance to devour wild mushroom quesadilla, crab cake, and spicy tuna roll appetizers, and main courses such as shrimp scampi, pasta, grouper, sea scallops, and other fresh seafood. As noted, be prepared to wait, especially on weekends. Dinner every day except Tuesday. Casual. No reservations. Inexpensive to moderate. Phone (305) 296-2777.