Key West Lodging
A town that lives and dies by the constant flow of tourist dollars naturally has the widest possible spectrum of places to keep tourists comfortably housed—from chain motels similar to the thousands that line America's roadways, to lavish resort hotels, to quaint guest houses and bed and breakfast inns in restored Caribbean and Victorian homes.
For a prolonged stay, you might want to rent a house or a condo from a local realtor. Chain motels—Days Inn, Howard Johnson, Holiday Inn, Best Western, Fairfield Inn, Hampton Inn, etc.—are lined along North Roosevelt Boulevard (US 1), a four-lane traffic-crazy artery that brings you into town from the Lower Keys.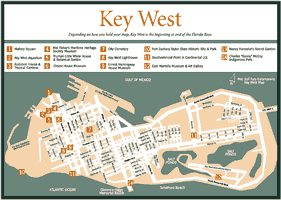 Most of the motels offer at least limited Gulf of Mexico views, although the beaches and waterfront views are much better on South Roosevelt Boulevard (US A1A) where the lodging is more expensive. Crowded among the motels are all the most common fast-food outlets. And there are plenty of shopping malls with familiar stores like Kmart and Sears. You can also stop at the Key West Welcome Center, 3840 North Roosevelt Boulevard for maps, brochures, and information. Phone (305) 296-4444 or (800) 284-4482.
If you're looking for charm with a capital C, however, you'll have to head to quiet residential streets like Fleming, Simonton, William, Angela, Olivia, Caroline, and Southard. There you'll find comfortable bed and breakfast inns, guesthouses, and small hotels that welcome you with private gardens, pools, continental breakfast with piles of tropical fruit, complimentary afternoon wine, and a friendly, welcome-to-our-happy-home spirit. The innkeepers cheerfully share their cache of hidden away eateries and bars, known only to locals (and other tourists steered there by their hosts).
Some Old Town guest houses are exclusively gay. Innkeepers will probably inform you if that's the case, but if that's not your preference, and there's a doubt, be sure to inquire. If you're looking for a full-service resort on the ocean, South Roosevelt Boulevard (A1A) should be your address. Hotels that front Atlantic beaches are so close to the airport, you'll be in the water, musing smugly about what the poor folks at home are doing, a few minutes after picking up your luggage in the terminal. There are also many moderately priced motels in the closer-in South Street-Simonton Street beach area.
Prices are highest during the December through May winter season, when hotels may require a nonrefundable two- to three-day deposit. Rates are usually jacked up a few more notches during holidays and big local festivals, when many places require a multiple-day minimum stay. Prices drop dramatically in summer and fall.
For more information: The Key West Chamber of Commerce will send you an accommodation guide, with thumbnail descriptions. PO Box 984, Key West, FL 33041. Phone (305) 294-2587 or (800) LAST-KEY (527-8539). Fax (305) 294-7806.
Guest houses, Inns, Resorts, and Hotels
Alexander's Guest House
1118 Fleming Street. Award-winning exclusively gay accommodations. There are 17 deluxe guest rooms, some with kitchens, freshwater pool, complimentary continental breakfast. Expensive. Phone (305) 294-9919 or (800) 654-9919.
Andrews Inn
Zero Whalton Lane. On a shaded lane, off the 900 block of Duval Street. There are 8 tropical-style rooms. Pool, off-street parking. Breakfast, evening cocktails. Moderate to expensive. Phone (305) 294-7730.
Atlantic Shores Resort
510 South Street. An Art Deco motel, with 72 rooms right on the ocean, a half-block from Duval. Restaurant, lively, very popular bar, 150-foot pier, and clothing-optional pool. Moderate to expensive. Phone (305) 296-2491 or (800) 526-3559.
Banana Bay Resort
2319 North Roosevelt Boulevard. Located on a historic piece of property. Once the site of Flagler's Key West railroad terminal. Later the first post-war motor lodge was built on the site. Today the Banana Bay Resort has 48 deluxe rooms including 12 suites. It also has a Gulf-front beach, sun deck, water sports, pool, whirlpool, beachside Tiki bar, and a marina with dock space. Moderate. Phone (800) 226-2621, ext 2.
Best Western Key Ambassador Resort Inn
3755 South Roosevelt Boulevard. There are 100 guest rooms, many with porches, balconies, and refrigerators, across from the ocean. Pool, continental breakfast, airport shuttle. Expensive. Phone (305) 296-3500 or (800) 432-4315.
Curry Mansion Inn
511 Caroline Street. Features 15 elegant old Keys-style rooms and more modern rooms by the pool. Breakfast, lavish gardens, beach privileges at the Pier House and Casa Marina. Expensive. Phone (800) 253-3460.
Cypress House
601 Caroline Street. Built in 1888, the grand Conch mansion, a block off Duval, is one of Key West's best examples of nineteenth century Bahamian architecture. Large air conditioned guest rooms, with high ceilings and ceiling fans, open onto gardens and a 40-foot heated lap pool. Expensive. Phone (305) 294-6969 or (800) 525-2488.
Gardens Hotel
526 Angela Street. A block off Duval, 17 deluxe rooms and suites are in four Bahamian-style houses, grouped around a garden courtyard and swimming pool. The sumptuous gardens are the legacy of the late Peggy Mills, a Key West nature enthusiast who began her botanical collection in the 1930s and grew fantastic things until her death in the 1980s. Royal poinciana, palm and mango trees, orchids, hibiscus, and bougainvillea create a secluded haven that attracts visiting celebrities and many weddings. Among the nonbotanical treasures are tinajones, enormous earthenware jars that originally brought oil and other products from Cuba. The amiable pool-side bartender is a wealth of inside tips about local favorite restaurants and bars. The breakfast buffet is laden with fresh-baked breads and pastries and tropical fruit. Very expensive. Phone (800) 526-2664 or (305) 294-2661.
Holiday Inn La Concha Resort Hotel
430 Duval Street. The seven-story 1920s landmark, modernized in 1986, towers over the Duval Street entertainment area. The comfortable lobby with cushy chairs and sofas is a good place to meet friends and call timeout for a spell. Walk out the front door, and you're in the middle of the day-and-night action. The inn also includes 160 guest rooms, rooftop restaurant (The Top) with all-encompassing views, stylish streetside Celebrities restaurant, shops, tour services, bar, and pool. Expensive. Phone (800) 745-2191 or (305) 296-2991.
Key West Hilton Resort & Marina
245 Front Street. Contemporary resort complex opened in 1995. Guests can walk around the corner for sunset on Mallory Square, or watch it from their rooms or the marina. Also includes oceanfront dining, full service marina, water sports, and secluded beach. Very expensive. Phone (800) 445-8667 or (305) 294-4000.
Key Wester Resort
3675 South Roosevelt Boulevard. A 100-room resort on 9 Atlantic-facing acres. Tennis courts, pool, Tiki bar, and restaurant. Very expensive. Phone (800) 477-8888 or (305) 296-5671.
La Pensione Inn
809 Truman Avenue. Classic Revival mansion on the edge of Old Town. Built in 1891, with 7 luxurious guest rooms with distinctive Key West-Caribbean decor. Pool, continental breakfast, off-street parking. Expensive. Phone (305) 292-9923 or (800) 893-1193.
Marquesa Hotel
600 Fleming Street. Small, elegant hotel in a restored 1880s boardinghouse and two companion buildings a short walk from Duval. There are 27 deluxe rooms and suites. Upscale restaurant with Caribbean and American cuisine, bar, pool. Expensive. Phone (800) 869-4631 or (305) 292-1919.
Marriott's Casa Marina Resort
1500 Reynolds Street. Henry Flagler planned this Spanish Renaissance-style Xanadu as a plush exclamation point at the end of the Florida East Coast Railroad. He died before it was built, but its languid Old World charm lured affluent pre-WWII travelers all the same. Marriott saved it from the bulldozers in 1978, did a total makeover, and nowadays, it's Key West's largest oceanfront resort, with 314 rooms, 2 pools, a 1,100-foot beach, water sports, bikes, a health club, Flagler's Restaurant, bars, and entertainment. The only drawback is it's a bit of a hike or bike from downtown. Very expensive. Phone (305) 296-3535.
Nassau House
1016 Fleming Street. Hospitable B&B in quiet Old Town residential area. There are 6 rooms and suites, some with kitchens. The spacious, third-floor Treetop Suites and Nassau Cottage offer the ultimate privacy. Continental breakfast, pool, pets allowed. Moderate. Phone (800) 296-8513 or (305) 296-8513.
Ocean Key House Suite Resort And Marina
Zero Duval Street. On the edge of Mallory Square. Deluxe suites with kitchens, jacuzzi, balconies with views of water and sunset. Very expensive. Phone (800) 231-9864 or (305) 296-7701.
Pier House Resort Hotel And Caribbean Spa
One Duval Street. A longtime favorite of Key West regulars. The 142 rooms and suites with private terraces are in a tropical garden setting. At the gateway to the Duval activities, its got just about everything you could require—a private beach, shops, health spa, outdoor pools, 5 restaurants, and 5 bars. Very expensive. Phone (800) 327-8340 or (305) 296-4600.
Southernmost Point Guesthouse
1327 Duval Street. Across from South Beach. There are 6 rooms in a revamped 1885 Victorian mansion. Ocean view, continental breakfast, BBQ grills, whirlpool, jacuzzi, parking. Pets, children welcome. Inexpensive to moderate. Phone (305) 294-0715.
Chain Motels
Days Inn
3852 North Roosevelt Boulevard. 133 rooms, 18 suites with full kitchens, pool, breakfast restaurant, pets welcome. Inexpensive to moderate. Phone (305) 294-3742 or (800) 325-2525.
Econo Lodge Resort
3820 North Roosevelt Boulevard. 145 rooms, some with kitchens, 24-hour Denny's Restaurant, Tiki bar, lounge, parking. Moderate to expensive. Phone (305) 294-5511 or (800) 999-7277.
Fairfield Inn By Marriott
2400 North Roosevelt Boulevard. 100 guest rooms, 32 suites. Free continental breakfast, pool. Moderate to expensive. Phone (305) 296-5700 or (800) 228-2800.
Hampton Inn
2801 North Roosevelt Boulevard. 158 rooms, pool, continental breakfast, jacuzzis, Tiki bar. Inexpensive to expensive. Phone (305) 294-2917 or (800)-HAMPTON.
Holiday Inn Beachside
1111 North Roosevelt Boulevard. 222 rooms, 79 with Gulf of Mexico views. Freshwater pool, water sports, diving and snorkeling trips arranged, restaurant, bar, gift shop, lighted tennis courts. Expensive. Phone (305) 294-2571 or (800) 292-7706.
Howard Johnson Lodge
3031 North Roosevelt Boulevard. Midscale resort with 64 rooms, restaurant, bar, pool, Jet Ski and bicycle rentals. Expensive. Phone (305) 296-6595 or (800) 654-2000.
Quality Inn
3850 North Roosevelt Boulevard. 148 rooms and efficiencies, some with kitchens. Pool, in-room coffee makers. Moderate to expensive. Phone (305) 294-6681 or (800) 228-5151.
Ramada Inn
3420 North Roosevelt Boulevard. 104 rooms. Full service restaurant, lounge with entertainment. Pool. Pets welcome. Inexpensive to moderate. Phone (305) 294-5541 or (800) 330-5541.
Campgrounds/rv Parks
Boyd's Key West Campground
MM 5, 6401 Maloney Avenue, Stock Island. 203 RV camping sites, freshwater pool, camp store, water, electricity, sewer hookups, cable TV, 24-hour security, boat ramp and dock. Pets welcome. Inexpensive. Phone (305) 294-1465, fax (305) 293-9301.
Jabour's Trailer Court And Campground
223 Elizabeth Street, Old Town. Waterfront campground is in walking or short driving distance of everything in town. 74 tent, van, RV, and trailer sites. Pets are welcome. Inexpensive. Phone (305) 294-5723.
Vacation Rentals
At Home In Key West
3201 Flagler Avenue. Moderate to expensive. Phone (305) 296-7975.
Key West Realty
1109 Duval Street. Moderate to expensive. Phone (305) 294-7253 OR (800) 654-5131.
Olde Island Realty
525 Simonton Street. Moderate to expensive. Phone (800) 621-9405.
Rent Key West Vacations
1107 Truman Avenue. Moderate to expensive. Phone (800) 833-7368.