Key West Night Life
In Key West, every hour is happy hour. Finding a place to settle awhile and enjoy a brew or favorite beverage is as simple as looking around and making a choice among bars that are almost as numerous as the island's T-shirt shops.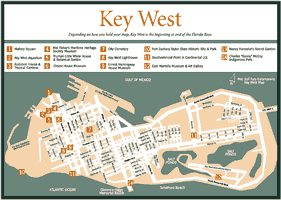 Captain Tony's Saloon
428 Greene Street. As the sign over the front door announces, this dark saloon a few steps off Duval was "The First and Original Sloppy Joe's." Between 1933 and 1937, it was Hemingway's favorite hangout. Papered with business cards and fading posters, it claims to be Florida's oldest bar. There's raucous live entertainment nightly. Phone (305) 294-1838.
Sloppy Joe's
201 Duval Street, at the corner of Duval and Greene streets. When the rent on Captain Tony's was increased in 1937, the owner picked up his wares, his patrons (Hemingway among them), and moved down the street to a former restaurant, where the bar has become as huge a Key West tradition as homage to Hemingway and sunset on Mallory Square. Absolutely nobody comes to Key West without at least stepping inside the always-wide-open doors and seeing what the fuss is all about. It's as big as a barn, colorful, plastered with Papa's images, loud, and positively vibrating with hundreds of energy sources and rock bands that play from early morn to the wee hours. The beer's cold, the margaritas potent, and you can't go back to Ohio or Liverpool without a T-shirt with Hemingway's stern image. Phone (305) 294-5717.
Hog's Breath Saloon
400 Front Street. This laid-back old saloon sells almost as many T-shirts as Sloppy Joe's ("Hog's Breath is Better than No Breath At All"). And it packs 'em in just as tightly. Open daily. Live entertainment from early afternoon to at least 2 a.m. Phone (305) 296-2032.
The Green Parrot
601 Whitehead Street, at the corner of Whitehead and Southard streets. A lot of locals come to this old-time neighborhood saloon to escape the tourists at Captain Tony's and Sloppy Joe's. Intrepid tourists find it anyway, on the way to and from Hemingway's House. Good drinks, a pool table, darts. Phone (305) 294-6133.
Margaritaville Café
500 Duval Street. There you are, sipping your second or third margarita, munching your cheeseburger, grooving to the music, when, wow, wait till we tell the folks back home they'll never believe it the man Buffett himself walked in and stopped by our table and asked us were we having a good time. In Key West, all dreams are possible. Phone (305) 292-1435.