Caroline County
Caroline County claims no border on the Chesapeake Bay, but it is bordered and dissected by important bay tributaries in both the Choptank River watershed and the Nanticoke River watershed. The Choptank River enters the county on the northeast border from Kent County, Delaware, runs through the heart of the county and by the county seat of Denton, and then forms the county's southwestern border. Tuckahoe Creek, a Choptank tributary, provides the rest of the meandering county line on the western side. Marshyhope Creek, in the southeastern corner of the county, is in the Nanticoke watershed.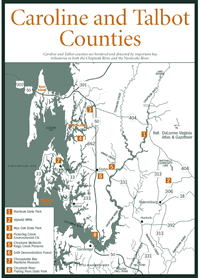 Two state parks—Tuckahoe and Martinak—and Idylwild Wildlife Management Area take advantage of the woodlands and wetlands along these waterways. Caroline's parks tend to be less crowed than many parks.
Tuckahoe State Park is on both sides of Tuckahoe Creek, which separates Caroline and Queen Anne's County. Martinak State Park is on the junction of the Choptank River and Watts Creek. Idylwild Wildlife Management Area is in the Nanticoke River watershed on Marshyhope Creek, in the southern part of Caroline County. After leaving Caroline, Marshyhope empties into the Nanticoke River, a Chesapeake Bay tributary in southern Dorchester County.
Private campgrounds in the county include Holiday Park (410-482-6797) and Lake Connie (410-482-8479).
For more information: Caroline County Economic Development, 218 Market Street, Denton, MD 21629. Phone (410) 479-0600.
Martinak State Park
[Fig. 19(1)] This small park, named for George Martinak who donated the land to the state, packs a great deal of opportunity in its 107 acres. Most of the park is developed, but rental canoes and a boat ramp provide access to the Choptank River and Watts Creek where bass, perch, and sunfish challenge the skill of anglers. A state Chesapeake Bay sport-fishing license is required. Canoeists paddle the tidal flat water of both river and creek, enjoying the forest of Virginia and loblolly pines that was once the site of a Choptank Indian village.
Camping is available spring through fall. Some sites have electric hookups. Park rangers conduct evening fireside programs on summer Saturdays. Four rental cabins are available seasonally, with one of them available year-round, providing a means to hear in the dead of winter the mysterious night sounds of a barred owl in a faraway tree or a flock of Canada geese overhead.
Families can bring fried chicken and potato salad for a Sunday afternoon picnic, followed by a nap in the sun or a prowl for flowers and frogs on the banks of Watts Creek.
Directions: From MD 404, about 1 mile south of Denton in central Caroline County, turn right on Deep Shore Road and drive about 0.5 mile to the park.
Activities: Hiking, biking, picnicking, camping, flat-water canoeing, boating, fishing.
Facilities: Hiking and biking trail, picnic tables with grills, pavilions, boat ramp, canoe rental, campground (some with hookups, one handicapped-accessible loop), handicapped-accessible bathhouse, rental cabins, playground, restrooms, dump station.
Dates: The park is open daily, year-round, except Christmas and Thanksgiving. The campground and cabins are open Apr. through Oct. (1 cabin available all year).
Fees: There is a fee for camping and a rental fee for pavilions, cabins, and canoes.
Closest town: Denton is about 1 mile north.
For more information: Martinak State Park, 137 Deep Shore Road, Denton, MD 21629. Phone (410) 479-1619.
Idylwild Wildlife Management Area
[Fig. 19(2)] The lovely freshwater marshes of Marshyhope Creek form the western boundary of this state wildlife management area located in the southeastern corner of Caroline County. The marshes of Idylwild combine with forested wetlands, dry forests, and agricultural fields to provide 3,000 acres of habitat for a large variety of plants and animals. An abandoned sand and gravel quarry left deep ponds that have become home to bass and pickerel.
Trails, though unmarked, are wide and well maintained. Fields are cultivated specifically to provide food and cover for white-tailed deer, wild turkey, rabbits, and other wildlife. The conical, chiseled stumps left by beaver are evident around the marsh. The playful river otter makes occasional appearances. Old rotting trees in the forests of Virginia pines, loblolly pines, and oaks provide nesting cavities for bluebirds. Scarlet tanagers, identified by bright red plumage and black wings, catch the sun as they fly high in the oaks and pines. Woodcocks probe the muddy creek banks for earthworms. Gray foxes prowl the woods for small rodents at night. An occasional bald eagle steals a fish from an osprey.
In short, Idylwild is a great place to spot wildlife, especially in the early morning and at dusk. No one has to tell hunters of the opportunities here. Seasons are provided for waterfowl, deer, squirrel, turkey, rabbit, and woodcock. But wildlife watchers, bird watchers, and nature photographers can also have good luck at places like this where the lack of amenities also means a lack of disturbance by crowds of people.
The stretch of Marshyhope Creek between the wildlife management area and Federalsburg and the creek below Federalsburg are among the few places canoeists can access any of the beautiful Nanticoke River tributaries. The Nanticoke itself has too much large-boat traffic to be safe for canoeing or kayaking.
Directions: From Federalsburg, in southern Caroline County, take Central Avenue east across Marshyhope Creek. This road becomes Houston Branch Road (MD 306). Look for the road into the management area after about 0.75 mile, on the left.
Activities: Hiking, mountain biking, flat-water canoeing, horseback riding, fishing, swimming (in unguarded ponds), and seasonal hunting, trapping, and fox chasing.
Facilities: Hiking roads and trails, with access for the disabled.
Dates: Open year-round. Call for hunting seasons, which may vary annually.
Fees: None.
Closest town: Federalsburg is about 1 mile west.
For more information: LeCompte Work Center, phone (410) 376-3236 or (410) 820-7098.
---
Read and add comments about this page
---

Reader-Contributed Links to the Chesapeake Bay Book: