Fall Creek Falls State Resort Park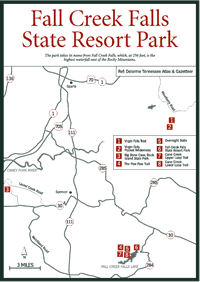 [Fig. 16] Fall Creek Falls is one of Tennessee's best-known and most popular parks, and for very good reason. The 20,000-acre park has beautiful and spectacular features, including waterfalls, streams, gorges, hardwood and evergreen forests, and a broad offering of recreational facilities and activities. More than 200 species of blooming wildflowers attract visitors each spring. The brilliance of maple, dogwood, sourwood, and hickory also bring visitors back in the fall. A nature center is part of the park and is located approximately 1 mile from the north entrance at the four-way stop. Inside the nature center are exhibits and videos.
The park takes its name from Fall Creek Falls, which, at 256 feet, is the highest waterfall east of the Rocky Mountains. Other falls are Piney Creek, Cane Creek (the waterfall seen in the movie The Jungle Book), Cane Creek Cascades, Rockhouse Creek, and Coon Creek. The deep, moist gorges have rhododendron and laurel thickets and plant species similar to those found in southern Canada.
The National Park Service bought the land in 1935 and it was developed by the CCC during the Depression. Tennessee took possession of the land in 1944, turning it into a state park in 1972. Visitors will enjoy many outdoor activities including hiking along 30 miles of trails.
Directions: Traveling eastbound on I-40, exit south on TN 111 at Cookeville, and continue on TN 111 to the park. Traveling westbound on I-40, exit south on TN 127 west of Crossville, then go east on TN 30 at Pikeville.
Activities: Hiking, biking, horseback riding, golfing, tennis, swimming, fishing, boating, backpacking, picnicking, nature programs, and playground activities.
Facilities: Inn, restaurant and snack bar, gift shop and general store, cabins, campsites, group lodges, bathhouses, nature center, Olympic-sized swimming pool, championship golf course, hiking/biking/horse and motor nature trails, recreation hall, horse rentals.
Dates: Open year-round.
Fees: There is a charge for camping, golf, boat rentals, bicycle rental, and horseback riding.
Closest town: Spencer, approximately 10 miles.
For more information: Fall Creek Falls State Resort Park, Route 3, Pikeville, TN 37367. Phone (423) 881-3297. (Note: Because of the park's popularity, lodging reservations often must be made a year in advance.)
The Paw Paw Trail
[Fig. 16(4)] The Paw Paw Trail passes through pine-oak forest in the higher elevations and rhododendron in the lower portions. It has short side trails leading to the base of Cane Creek Falls and to the east rim of the Cane Creek Gorge overlooking Cane Creek Falls.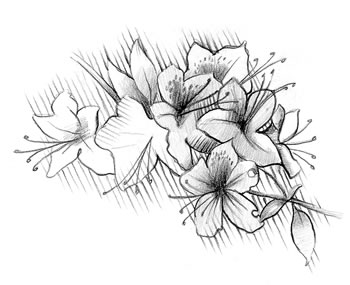 The trail leaves the parking lot at the nature center with a quick rocky descent to Rockhouse Creek and then climbs to the pine-oak forest with a holly understory before returning by a connecting trail to the nature center.
Trail: Approximately 5 miles, a loop.
Elevation: Change of 200 feet to base of the falls.
Degree of difficulty: Moderate.
Surface and Blaze: Forest floor and orange blaze.
Overnight Trails
[Fig. 16(5)] Use of two overnight trails, the Cane Creek Upper Loop and Cane Creek Lower Loop, requires registration at the nature center. A parking area is provided for the users of the trails. Each loop must be traveled in a clockwise fashion, and there are two primitive campsites on each trail.
Cane Creek Lower Loop Trail
[Fig. 16(8)] This trail encircles all of the gorges within the park boundary, staying mostly on top of the plateau, and provides access to Fall Creek Falls, Piney Falls, and Cane Creek Cascade on a route that offers great scenic views and opportunities to see a variety of wildflowers, and bird and animal life.
The strenuous part of the trail descends into Cane Creek Gulf about 3.5 miles along the hike. The 800-foot drop takes place in 0.8 mile with the 800-foot ascent taking only 0.7 mile. There is a campsite at the top of the climb. From the camp the trail goes along a road for a short distance and crosses two wooden bridges and a suspension bridge near the nature center.
Trail: 13 miles.
Elevation: Begins at 1,820 feet and ends at 800 feet.
Degree of difficulty: Strenuous.
Surface and Blaze: Rock and forest floor.
Cane Creek Upper Loop Trail
[Fig. 16(7)] Generally following the gently rolling uplands of the top of the plateau, this trail isn't as well traveled as its counterpart (see above). Along the way there are extensive patches of blueberries (Vaccinium corymbosum) and large fern beds. The sighting of deer and ruffed grouse is not uncommon.
Trail: 14 miles.
Elevation: Change of 240 feet.
Degree of difficulty: Strenuous.
Surface and Blaze: Forest floor and white blaze.