Trail Descriptions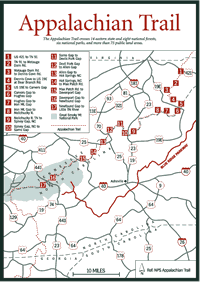 The portion of the AT that passes through the mountains of Tennessee and North Carolina and is covered in this book begins at Low Gap on US 421 just south of the Tennessee/Virginia state line, and it ends at Fontana Dam, North Carolina. The description of the trail given below is from north to south, and is a condensed version of the directions given in Appalachian Trail Guide to Tennessee-North Carolina published by the Appalachian Trail Conference. Copies of the book, as well as guides to the other 14 states covered by the AT, are available at bookstores or can be ordered from the ATC, PO Box 807, Harpers Ferry, WV 25425. Phone (304) 535-6331.
All of the AT is blazed with white, 2-by-6-inch, rectangular markers painted on trees and rocks. A double blaze, one above the other, warns of turns, junctions, or other places where hikers should be alert. Blue blazes mark AT side trails, which usually lead to shelters, a water supply, or viewpoints.
US 421 to TN 91, 7.0 Miles
[Fig. 50(1)] 0.0 Begin at roadside park on US 421 (3,384 feet).
0.1 Reach ridgecrest and excellent campsite.
2.6 Pass over Locust Knob (4,020 feet).
3.5 Reach trail junction where AT leaves Holston Mountain. Double Springs Shelter is about 200 feet beyond junction, and spring is about 100 yards from shelter.
3.8 Reach crest of Cross Mountain.
4.3 Good spring and campsite located on the left.
7.0 Reach TN 91.
TN 91 to Watauga Dam Road, 16.0 Miles
[Fig. 50(2)] 0.0 Begin on eastern side of TN 91 (3,470 feet).
2.7 Pass over a summit (4,120 feet).
4.5 Reach Iron Mountain Shelter. Water located 0.2 mile farther south on AT.
5.0 Reach top of broad summit.
6.2 Reach Turkeypen Gap (3,970 feet).
6.6 Reach level, grassy area with good tent sites, but no water.
7.4 At top of rise is grassy area with good tent sites.
10.1 Enter Big Laurel Wilderness.
11.5 Reach Vandeventer Shelter. To reach water, continue south on AT for 300 feet, then turn right on blue-blazed trail and descend 0.2 mile to old road track. Bear right 0.3 mile off road into hollow to spring.
13.3 Pass spring.
16.0 Reach Watauga Dam Road and end of Big Laurel Branch Wilderness Area.
Watauga Dam Road to Dennis Cove Road, 12.8 Miles
[Fig. 50(3)] 0.0 From high point of Watauga Dam Road (2,240 feet), climb western bank on stone steps and begin trail.
0.8 Turn right on paved dam-access road.
1.2 Walk across Watauga Dam.
2.2 Turn right onto old road paralleling stream. Beyond, where AT crosses stream, blue-blazed trail leads 50 yards uphill to Watauga Lake Shelter.
3.3 Swing right onto dirt road.
3.9 Reach USFS Shook Branch Recreation Area with picnic tables, sandy beach, drinking water, and toilets (open in warm weather). This is the start of a new 3.4-mile section of the AT that eliminated 5.7 miles of the former route.
4.5 Enter 4,365-acre Pond Mountain Wilderness.
7.1 Reach Pond Flats, a level area affording excellent camping.
7.4 Spring located in rocky bottom of drainage.
8.8 To left of trail, a small ledge offers a magnificent scenic view of Laurel Fork Gorge, with Potato Top, White Rocks Mountain, and Roan Mountain to the left.
10.6 Pass Waycaster Spring on left.
10.9 Reach summit of low, narrow ridge. Continue up ridge crest about 300 feet to Laurel Fork Shelter. Follow a path 150 feet from shelter to water.
11.6 Reach Laurel Falls.
12.8 Cross USFS parking lot to paved Dennis Cove Road to end of section. To left USFS 50 leads 1 mile to USFS Dennis Cove Recreation Area on Laurel Fork with a campground (fee) and running water.
Dennis Cove (USFS 50) to US 19E at Bear Branch Road, 19.4 Miles
[Fig. 50(4)] 0.0 From USFS parking lot in Dennis Cove (2,510 feet), cross USFS 50 to the south and climb bank to enter woods.
2.8 Reach White Rocks Mountain fire tower.
3.6 Reach field and pass former site of Canute Place, named for early settlers. All that remains of the Canute Place are scattered rocks from the house's foundation, and it is mostly covered with briars. This is a possible campsite.
5.8 Reach Moreland Gap (3,813 feet) and Moreland Gap Shelter. Spring a short distance down hollow opposite shelter.
6.1 Last major summit (4,121 feet) in this section.
7.2 Descend into hollow where several streams converge. Excellent campsite, but water should be purified.
10.0 Cross USFS logging road.
10.4 Trail crosses undulating terrain with several springs and possible campsites.
11.2 Excellent scenic view to south encompassing Hump, Little Hump, and Yellow mountains and Grassy Ridge, Jane Bald, Round Bald, and Roan High Knob. Straight ahead on trail to the east is a view of Buck Mountain, and in the distance is the outline of Grandfather Mountain.
12.7 Reach Walnut Mountain Road.
13.2 Turn left onto old gravel road in Slide Hollow.
13.6 Reach northeastern summit of Big Pine Mountain.
14.9 Turn right on old logging road in bottom of Sugar Hollow. Good campsite ahead.
15.9 Cross plank bridge over Jones Branch. Go through overgrown field and turn left on paved Campbell Hollow Road.
16.3 Turn left from Campbell Hollow Road and climb bank into overgrown field.
17.3 Reach summit (about 3,820 feet). White Rocks Mountain can be seen to the west, Beech Mountain to the east.
17.6 Spring is located at base of tree near ruins of house.
18.1 Leave woods and descend through Bishop Hollow.
19.1 Cross Bear Branch on bridge. Water is contaminated; do not use.
19.4 Cross US 19E to AT sign on southern side of highway and end of section.
US 19E to Carvers Gap (TN 143/NC 261), 13.4 Miles
[Fig. 50(5)] 0.0 From US 19E (2,880 feet), descend former driveway and cross bridge over stream.
0.5 Apple House Shelter is on right. Seasonal piped spring is 0.1 mile west, up the hollow.
2.1 Reach summit (about 3,820 feet).
2.6 Reach crest of rocky spur.
3.0 Enter Doll Flats (4,560 feet). Level area offers excellent campsites.
5.4 Pass plaque dedicated to the memory of Stan Murray, former ATC chairman, and cross summit of Hump Mountain.
6.3 Reach wide, grassy Bradley Gap (4,960 feet), which has good campsites. Two springs are nearby, but water must be purified.
6.9 Reach a small gap, then soon ascend to flat, grassy summit of Little Hump Mountain, with outstanding views and campsites.
8.7 Reach Yellow Mountain Gap (4,682 feet), which has good campsites. Historic Bright's Trace crosses gap, and to the left and back along Bright's Trace about 300 yards is a spring. Blue-blazed trail through fence to the left leads 0.3 mile downhill past spring to Overmountain Shelter.
10.4 Reach Low Gap and Stan Murray Shelter. Spring is about 100 yards left down ridge on blue-blazed trail.
12.6 Pass through Engine Gap.
13.4 Cross rail fence and descend stone steps to TN 143/NC 261 through Carvers Gap. USFS picnic area with spring and toilets is beyond parking area straight across the highway.
Carvers Gap (TN 143/NC 261) to Hughes Gap, 4.6 Miles
[Fig. 50(6)] 0.0 From Carvers Gap (5,512 feet), proceed to right of log fence along Cloudland Road to spring below picnic area.
1.3 Blue-blazed trail leads to summit of Roan High Knob (6,285 feet), and Roan High Knob Shelter. Spring is 50 feet past cabin.
2.8 Reach Ash Gap (5,340 feet), with good tent sites. Faint trail to left leads 0.1 mile to spring.
3.3 Reach summit of Beartown Mountain (5,481 feet).
4.6 Reach end of section at Hughes Gap. Small spring that trickles from rocks is 700 feet to right.
Hughes Gap to Iron Mountain Gap (TN 107/NC 226), 8.1 Miles
[Fig. 50(7)] 0.0 From Hughes Gap (4,040 feet), proceed north on old woods road.
1.3 Reach top of cliff on Little Rock Knob (4,918 feet).
2.1 Blue-blazed trail to right leads 200 yards to Clyde Smith Shelter and 300 yards to spring.
4.1 Reach Greasy Creek Gap (4,034 feet). Spring and good campsite are 300 yards to right on blue-blazed trail.
5.8 Pass overhanging rock, which may provide shelter for one or two people.
6.6 Blue-blazed trail leads downhill 0.1 mile to small stream, a good source of water.
8.1 Reach Iron Mountain Gap and end of section.
Iron Mountain Gap (TN 107/NC 226) to Nolichucky River, 19.1 Miles.
[Fig. 50(8)] 0.0 From highway at Iron Mountain Gap (3,723 feet), cross small, flat area at left of gravel road and enter woods.
1.2 Reach summit of Little Bald Knob (4,459 feet).
2.7 Reach Cherry Gap Shelter. Spring is 250 yards southwest on blue-blazed trail.
3.7 Reach Low Gap (3,900 feet).
4.7 Reach spring.
5.4 Pass benchmark on summit of Unaka Mountain (5,180 feet).
7.0 Reach Deep Gap (4,100 feet). Meadow to right is excellent campsite. Concrete-boxed spring is on right at eastern end of gap.
8.0 Reach nearly level trail, and soon cross bog. On western side of bog, blue-blazed trail to north leads 150 yards to spring and spacious campsite.
8.5 Reach Beauty Spot summit (4,437 feet), a natural grassy bald that provides excellent scenic views of Road Mountain, the Blacks, Big Bald, and Flattop Mountain, and the upper Toe River Valley.
10.8 Reach Indian Grave Gap (3,360 feet). Ascend steps across road, and re-enter woods.
13.6 Pass spring on left.
14.8 Reach Curley Maple Gap Shelter on left. Spring is 100 feet farther down AT on left.
17.8 Pass Nolichucky Gorge Campground (hiker hostel) and Nolichucky Expeditions building.
19.0 Cross railroad tracks. Take care; trains are quiet and may not signal approach.
19.1 Reach end of section at western end of Nolichucky River Bridge.
Nolichucky River, Tennessee to Spivey Gap, North Carolina, 10 Miles
[Fig. 50(9)] 0.0 From western end of highway bridge across Nolichucky River (1,700 feet), turn left and follow road 250 feet, then turn right and climb steep bank on steps.
2.6 Reach access road to site of former Temple Hill fire tower.
3.3 Enter Temple Hill Gap (2,850 feet).
5.7 Reach No Business Knob Shelter. Spring is about 20 yards ahead on AT.
8.3 Reach overgrown logging road through Devils Creek Gap.
8.4 Cross state line into North Carolina in gap.
9.6 Reach saddle, descend, and soon reach Oglesby Branch.
10.4 Descend stone steps to US 19W, cross to southern side of highway and end section.
Spivey Gap, North Carolina (US 19W) to Sams Gap, TN/NC (US 23), 13.6 Miles
[Fig. 50(10)] 0.0 AT resumes 0.3 mile east of Spivey Gap (3,200 feet).
2.3 Reach small clearing and good campsite at Whistling Gap.
4.3 Reach top of Little Bald (5,185 feet).
5.3 On old road, reach sign on tree designating water. To right, blue-blazed trail leads down into Big Bald Creek. Good spring is 0.2 mile down this trail.
5.7 Side trail goes north 0.1 mile to Bald Mountain Shelter. Spring is 50 feet down a side trail between AT and shelter.
6.8 Reach summit of Big Bald Mountain (5,516 feet).
7.6 Reach blue-blazed trail on right, which leads 100 yards down slope to spring.
9.8 Blue-blazed trail on right leads 20 yards to spring.
11.0 Reach Street Gap (4,100 feet).
13.6 Reach Sams Gap and end of section on west side of US 23.
Sams Gap (US 23) to Devils Fork Gap (NC 212), 8.2 Miles
[Fig. 50(11)] 0.0 Enter wide path 150 feet south of US 23 crest at Sams Gap (3,800 feet).
1.7 Reach High Rock (4,460 feet).
2.2 Blue-blazed trail to the left leads 0.1 mile to Hogback Ridge Shelter. Spring is 440 yards from shelter on trail to the west.
3.3 Reach Rice Gap (3,800 feet).
4.3 Reach Big Flat and a fair campsite.
6.4 Reach Sugarloaf Gap (4,000 feet). Sugarloaf Knob (4,560 feet) is to the left.
7.7 Reach and cross Boone Cove Road.
8.2 Reach NC 212 at Devils Fork Gap.
Devil Fork Gap (NC 212) to Allen Gap (NC 208/TN 70), 20.2 Miles
[Fig. 50(12)] 0.0 From the road at Devil Fork Gap (3,107 feet), climb steps on northern side of road, and turn right in field.
1.8 The site of the old Locust Ridge Shelter (removed in 1982) is a possible campsite. Water is down the left side in ravine.
2.7 Pass spring, cross two branches, then go 100 feet to reach Flint Mountain Shelter. Latrine is 75 feet west.
3.5 Reach Flint Gap (3,425 feet).
5.4 Reach blue-blazed dirt road to left, which leads 125 yards downhill to spring.
8.6 Reach Chestnut Log Gap (4,150 feet) and in 100 yards, the Jerry Cabin Shelter. A good spring is on a side trail 100 yards northwest of the shelter.
11.1 Pass spring on left bank above trail.
11.8 Reach Bearwallow Gap.
12.3 Pass spring on left below trail.
13.2 Reach old lumber road.
15.3 Reach Little Laurel Shelter on left. Blue-blazed side trail on right bears back 100 yards to boxed spring.
18.3 Reach fork. AT bears left, south of crest. Straight ahead is former AT route.
20.2 Reach end of section at TN 70 in Allen Gap.
Allen Gap (NC 208/TN 70) to Hot Springs, North Carolina, 14.7 Miles
[Fig. 50(13)] 0.0 From TN 70, 0.1 mile west of Allen Gap (2,234 feet), bear left in woods at foot of slope.
2.0 Reach Deep Gap.
3.7 Reach Spring Mountain Shelter. Spring is 75 yards down North Carolina side, opposite shelter.
5.4 Reach Hurricane Gap.
6.4 Cross head of ravine with good spring on right, and good campsite.
8.8 Cross old US 25/70 (no longer in use), then follow path of concrete overpass of new US 25/70.
9.8 In saddle, turn right downhill to pond. Pass above intermittent boxed spring and along pond. Excellent campsite.
11.4 Reach Pump Gap.
13.3 Reach sharp edge of crest. Lovers Leap Rock extends straight ahead to northwest.
14.2 Trail reaches small road bridge. Nantahala Outdoor Center is at right.
14.3 Follow US 25/70 over highway bridge across French Broad River.
14.6 Hot Springs Post Office, with AT hikers' registration book in lobby is on right. Beyond, on left, is USFS ranger district headquarters.
14.7 Reach end of section at junction of US 25/70 with NC 209.
Hot Springs, North Carolina, to Max Patch Road (NC 1182), 20.2 Miles
[Fig. 50(14)] 0.0 From junction with US 25/70 and NC 208, go 0.3 mile and turn right from highway, follow old roadbed for 30 feet, and climb steep bank to left.
3.2 Reach Gregg Gap. To left 75 yards is Deer Park Mountain Shelter. Spring is halfway between Gregg Gap and shelter.
4.5 Reach Little Bottom Branch Gap, and 0.3 mile farther, ascend Lamb Knob.
6.6 Pass under powerline and descend steps to Garenflo Gap (2,500 feet).
7.5 Cross old road grade and USFS road from Garenflo Gap.
8.9 Big Rock Spring is 50 yards ahead in ravine.
10.3 Reach top of Bluff Mountain (4,686 feet).
11.2 Pass Catpen Gap to left.
14.0 Reach small clearing in Lemon Gap (about 3,550 feet), adjacent to NC 1182, which enters Tennessee as TN 107 at Del Rio.
16.6 Trail passes beautiful cascades and ascends among hemlocks.
18.2 Pass through fence line and emerge in open meadow on western slope of Buckeye Ridge.
19.0 Trail passes through fence line onto open meadows of Max Patch.
19.4 Trail crosses open summit of Max Patch (4,629 feet).
20.2 Trail reaches end of section at Max Patch Road (NC 1182).
Max Patch Road (NC 1182) to Davenport Gap (TN 32/NC 284), 15.2 Miles
[Fig. 50(15)] 0.0 From Max Patch Road about 0.5 mile southwest of summit, follow AT west through woods along ridge.
2.7 Reach Browns Gap (3,500 feet). To right, in Tennessee, occasional spring is 100 yards down dirt road.
5.6 In Deep Gap, also known as Groundhog Creek Gap (about 2,900 feet), trail to left down old dirt road in North Carolina leads to Groundhog Creek Shelter. Beyond shelter, trail leads 100 yards to stream.
6.9 Reach Turkey Gap, bear left and ascend eastern peak of Snowbird Mountain, also called Wildcat Top (4,201 feet).
8.1 Trail passes side trail to white FAA building on western peak of Snowbird Mountain (4,623 feet).
10.5 Cross small creek. Blue-blazed trail to left crosses Painter Creek and leads to excellent campsite and good spring.
13.3 Descend steps in rock cut, and turn right on Waterville School Road to pass under I-40 to Pigeon River. Cross concrete bridge over river.
14.5 Pass under powerline in cleared strip.
15.2 End of section at Davenport Gap on NC 284, which becomes TN 32 at the state line just to the north.