The Cradle of Forestry in America
"Here was my chance. Biltmore could be made to prove what America did not yet understand, that trees could be cut and the forest preserved at one and the same time." —Gifford Pinchot
[Fig. 26(2)] Western North Carolina history and culture cannot be separated from its forests. These woodlands have shaped, and have been shaped by, the inhabitants of the area since prehistoric times, and their history is interwoven with fascinating stories.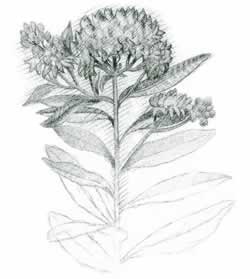 Native Americans first made an impact upon the forests with their mica and soapstone mining activities and their use of forest fires set intentionally to flush game out to waiting hunters. Later, European settlers brought changes through mining, clearing, and agricultural practices. But these activities had little effect on the overall ecology of the region. The rugged mountainous terrain that discouraged settlement also protected the region, for a time, from large-scale commercial exploitation. The transportation of products derived from the area's natural resources to Piedmont and Coastal markets was just too difficult and uneconomical.
It wasn't until the late nineteenth century that man's activities, precipitated by two factors, profoundly changed these mountains and their inhabitants. First, a growing population and a corresponding increase in consumer demand for forest products was depleting the great forests of the northern Appalachians and the Midwest. Second, the railroad finally forged its way into the mountains of North Carolina.
Faced with a supply shortage, northern timber and paper pulp interests turned to the southern Appalachians, buying up thousands of acres of old-growth forests. For the first time, these mountains and their forests were viewed by outside interests as a commodity. The untapped forests were a valuable resource, and the timber companies had the technology to harvest this resource and transport it to the market.
A new, powerful "geared locomotive," designed for narrow-gauge railroad tracks, could easily pull seven cars loaded with logs up and down slopes and around tight, switchback curves. As many as 600 company logging towns were established throughout Western North Carolina and other mountain states, luring much of the local population away from their subsistence lifestyles. In a few short years, these people were transformed from self-sufficient farmers into employees who were wholly dependent upon large private corporations. The reward was better pay and steady work, while the distant urban public enjoyed a variety of quality forest products.
But these rewards came at a high price. By the late 1880s, uncontrolled logging began taking its toll on the area. Forests were cut but not replanted, resulting in topsoil erosion, washed-out gullies, and silting of streams. By 1920, the forest slopes of North Carolina were depleted of most of their quality lumber, and many of the large companies went out of business or moved to the virgin forests of the Pacific Northwest. The local mountain ecology and economy were devastated, and much of the population found itself suddenly unemployed and impoverished.
Even as the logging boom began gaining momentum, though, the solution to its disastrous effects was being developed in the mountains southeast of Asheville. In 1889, George Vanderbilt, the wealthy grandson of railway promoter and financier Cornelius Vanderbilt, began purchasing large tracts of land on which to build his 250-room French chateau, the Biltmore House. During his European travels, Vanderbilt had been impressed with the forests overseas. As in America, those forests once had been depleted by the logging practices of earlier generations, but since then they had been reclaimed through careful management.
Vanderbilt hired a young American named Gifford Pinchot, who had studied forestry in Europe, to develop a sound management plan for the Biltmore property which at the time totaled about 8,000 acres. On Pinchot's advice, Vanderbilt continued buying surrounding mountainous terrain until his estate eventually included 125,000 acres of woodlands known as the Pisgah Forest. The area drew its name from Mount Pisgah (also purchased by Vanderbilt), the highest peak for many miles around. Soon after beginning his work at the estate, however, Pinchot became more interested in formulating a national forestry policy and left Biltmore to enter the political arena.
On the recommendation of influential contacts, Vanderbilt hired a German forester, Dr. Carl Schenck, to replace Pinchot. Schenck began the seemingly insurmountable task of rejuvenating the devastated forests and soils and, in the process, laid the foundation for modern forestry in the United States. Simultaneously, Schenck created the first school of forestry in the nation. The Biltmore Forest School, as it was called, exposed its students not only to classroom lectures but also practical work experience in the wonderful outdoor laboratory of the Pisgah Forest. These students became indispensable in the great forestry experiments Schenck was conducting, and many went on to become prominent foresters in their own right.
Schenck's pioneer forestry methods were centered below Mount Pisgah in a lush area of cove forests and streams that form the headwaters of the Mills River. Known as the Pink Beds [Fig. 26(1)], the area was once a sparsely populated mountain farm community.
An old community schoolhouse which Schenck converted into his forestry classroom still stands today along with the community church where he delivered Sunday sermons to the local inhabitants who worked on the Biltmore property. In addition to these structures, there is an old store, several cabins that housed the students, and a beautiful cabin constructed by Schenck. He named it the Black Forest Lodge after Germany's famous Black Forest where Schenck had once studied forestry. Several of these lodges were eventually constructed throughout Pisgah Forest to house wardens who guarded the Biltmore property against poachers, arsonists, and other intruders.
The Biltmore Forest School operated in Pisgah Forest for 11 years. In 1909, Schenck was dismissed by Vanderbilt, and the school might have ended. Schenck, however, expanded the school's role by holding classes in such locations as Germany, Switzerland, France, and in the forests of New York, Michigan, North Carolina, and the Pacific Northwest. Finally, in late 1913, Schenck closed the Biltmore School. There was not enough demand for practical forestry education to fund its continued operation.
But the story does not end there. Gifford Pinchot, Schenck's predecessor at the Biltmore Estate, went on to serve as chief of the U.S. Forest Service under President Theodore Roosevelt. Thanks to his efforts and those of other citizens and conservation organizations, in 1916 Congress established the first forest reserve in the eastern United States. Named Pisgah National Forest, the reserve received a big boost when, following George Vanderbilt's untimely death, his widow, Edith, made available for purchase 87,000 acres of the Vanderbilt property. Eventually, Congress purchased more than 250,000 acres of the Appalachian Mountains in Western North Carolina.
In 1968, Congress set aside 6,500 acres of Pisgah National Forest land, including the Pink Beds campus area, to commemorate Schenck's Biltmore Forest School. The Cradle of Forestry in America, as the area is now called, is a National Historic Site open to the public from spring through fall.
The history of forestry is interpreted at the Cradle of Forestry through films, interactive exhibits, and two short trails. The Biltmore Campus Trail winds its way among the historic buildings and grounds of the forestry school where periodically craft makers demonstrate weaving, natural dying, quilting, and toy making. On the Forest Festival Trail, visitors climb aboard the 1915 "Climas" narrow-gauge locomotive as they hear Preacher Rose, an eightysomething logging train historian and former lumberman, tell childhood stories of the logging days. At the Cantrell Creek Lodge near the parking area, woodcarvers and basket makers demonstrate their skills throughout the season.
Inside the visitor center, a new $900,000 exhibition gallery treats kids and adults to state-of-the-art displays and interactive stations on habitats, natural cycles, wilderness camping, and environmental issues. A carpeted tunnel burrows under a remarkably lifelike great white oak to reveal habitats of the red fox (Vulpes fulva), star-nosed mole (Condylura cristata), groundhog (Marmota monax), and eastern cottontail rabbit (Sylvilagus floridanus). A retired Huey helicopter simulates flying over an actual forest fire, and Discovery Theater features a wide selection of nature films.
The legacy of the efforts of Pinchot and Schenck, of course, far exceeds the boundaries of the Cradle of Forestry and even Western North Carolina. Their once-revolutionary methods of forest management and replanting have been adopted by the timber and pulpwood industries nationwide. As a result, depleted forests across the country have grown lush. Moreover, a young nation woke up to the fact that its rich resources required thoughtful stewardship to keep them bountiful.
Directions: At Blue Ridge Parkway milepost 412, turn south on US 276. Travel 4 miles to the Cradle of Forestry entrance on left.
Facilities: Interpretive exhibits, history film, guided tours, gift and book shop, cafe, restrooms.
Dates: Open daily, mid-April–mid-Nov.
Fees: A fee is charged for admission; group rates are available.
Closest town: Brevard, 14 miles.
For more information: Cradle of Forestry, 1002 Pisgah Highway, Pisgah Forest, NC 28768. Phone (704) 877-3130.
Pink Beds Area
[Fig. 26(2)] Adjacent to the Cradle of Forestry, the Pink Beds are a network of upland bogs supporting habitats more like those found on the Coastal Plain than the mountains. In the shadow of looming formations such as Looking Glass Rock and Mount Pisgah, the Pink Beds are remarkably level, making them a popular destination for hiking and mountain biking. A network of trails lacing through the area include the Pink Beds Loop Trail, South Mills River Trail, and a segment of the Mountains-to-Sea Trail.
Trails pass through lush stands of rhododendron and mountain laurel. One legend has it that their pink and white blooms give the area its name. Another legend, however, claims this was meadowland filled with all kinds of flowers and that Scots-Irish settlers typically used the word "pink" to describe flowers in general. Above this understory flourishes a mixed canopy of red maple, yellow-poplar, northern red oak, southern red oak (Quercus falcata), Eastern hemlock (Tsuga canadensis), and white pine. At South Fork Mills River's junction with its tributary, Bearwallow Brook, a grove of huge white pines dominates in a beautiful and peaceful setting.
Thick, shiny-leafed stands of dog-hobble (Leucothoe axillaris) droop over the streams as if protecting them from intruders. Nearby numerous mats of ground pine (Lycopodium obtusum) cover areas free of understory, and occasional rosettes of rattlesnake plantain (Goodyera pubescens) can be found as well. There are also a number of shortleaf pines (Pinus echinata) scattered throughout the area closest to the US 276 parking-area trailhead. These trees grow extremely straight and, because they drop their lower limbs under the shaded canopy, are easily harvested for telephone poles.
The Pink Beds Loop Trail was once a 5-mile walk. However, a newly constructed beaver (Castor canadensis) dam has flooded the northeastern end and reduced the hike to 3.2 miles. The Mountains-to-Sea Trail now forms the farthest end of the loop.
Directions: At Blue Ridge Parkway milepost 412, turn south on US 276. Travel approximately 3.5 miles to the Pink Beds parking area on the left.
Activities: Hiking, mountain biking, fishing, camping, picnicking.
Facilities: Wildlife viewing areas, picnic areas, primitive camp sites along FR 476, and backcountry camping permitted.
Dates: Open year-round, though mountain biking on some trails is restricted mid-Oct.–mid-Apr.
Closest town: Brevard, 13 miles.
Pink Beds Loop Trail
Trail distance and configuration: 3.2 miles along South Fork of Mills River.
Elevation: 3,280 feet at US 276 trailhead to 3,200, at Mountains-to-Sea Trail intersection.
Degree of difficulty: Easy.
Surface and blaze: Level stream floodplain, occasional muddy sections; orange blaze. When connecting with the Mountains-to-Sea Trail, white blaze.
---