| | | |
| --- | --- | --- |
| | Wildlife Viewing Guide | |
---
Berry College Wildlife Management Area
Description: A 30,000-acre mosaic of rural college campus, wildlife refuge, public hunting lands, and public fishing areas, the unique Berry College WMA contains virtually all of the habitats that occur in northwest Georgia - wide creek flood plains, open grassland, steep mountain slopes, reservoirs, old fields, wetlands, and mountaintop ridges. This diversity of habitats provides equally diverse opportunities for wildlife viewing. Elevation ranges from 600 feet at Victory Lake to almost 1500 feet along the ridge line of Lavender Mountain. Within this area is the Rocky Mountain PFA, 600 acres of impoundments managed for public fishing and wildlife viewing. Wildlife openings, scenic overlooks,nature trails, and boat ramps make this an area with diverse recreation opportunities.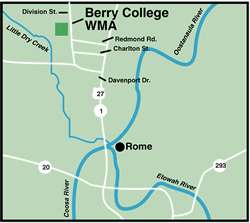 Viewing Information: The campus grounds and adjacent 5,000-acre wildlife refuge offer some of the best opportunities in the State for viewing wild turkeys and white-tailed deer. Turkeys and white-tailed deer venture into open fields at dusk and dawn with little concern for nearby humans. Fall and winter is the time to see these animals. The reservoirs attract wintering waterfowl and provide good viewing opportunities in a very scenic area. The forested mountain ridges are the southernmost mountain stop for many migrating songbirds. Excellent bird watching is available in fall and spring for warblers, vireos, hawks, and other migrating birds. A rare winter visitor to Georgia, the evening grosbeak was first seen in Georgia in this area in 1955. Look for small flocks of these striking birds feeding in winter on box elder, privet, and yellow poplar. They are easy to view while they are preoccupied with their feeding frenzy.
Directions: From Rome take US Hwy. 27 north to junction at Old Summerville Rd. Turn left on Old Summerville Rd. and go 1.5 miles to junction with CCC Road at check station.
Management: Georgia DNR, Wildlife Resources Division, 706-295-6041
Closest Town: Rome, GA




---
Read and add comments about this page
---
Reader-Contributed Links to the Georgia Wildlife Viewing Guide Book: