| | | |
| --- | --- | --- |
| | Wildlife Viewing Guide | |
---
Fort Mountain State Park
Description: Unique archeology, unexplained historic events, and a well-developed wildlife viewing area make this a rewarding adventure for the visitor with varied interests. The 3,200-acre park derives its name from an 855-foot-long stone wall on the top of the mountain. Why or by whom the wall was built remains unknown but theories abound. Expansive views to the east and west are magnificent from atop the 38-foot stone observation tower. One vista is of the Cohutta Wilderness Area. Visitors will enjoy the quiet beauty of 17- acre Fort Mountain Lake; the small stream leaving the lake cascades 400 feet down cliff faces, creating a sight and sound to behold. The .75-mile Big Rock Nature Trail showcases the rugged and diverse habitats found in the park. At the end of this trail is a wildlife viewing and demonstration area - both beautiful and educational. Over 14 miles of trails are incorporated into the park.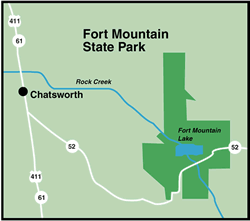 Viewing Information: This alluring park provides many wildlife viewing opportunities. Reptiles and amphibians are numerous around the lake edge, which is easily accessible by Lake Loop Trail. Beavers are a common sight for the quiet lake watcher. Bluebird boxes, bat boxes, seed feeders, hummingbird feeders, and special plantings make this area attractive to numerous species of wildlife. With the variety of offerings available, visitors may use binoculars to watch birds feed on seeds, or in the summer, hummingbirds at nectar feeders or cardinal flower, a native plant that thrives along moist stream banks. White-tailed deer, chipmunks, squirrels, black bears, bats, rabbits, and many other species inhabit and frequent the viewing area. A special caution: do not feed the bears. They are wild animals and should not be approached. Other interesting viewing opportunities include beavers, opossums, foxes, raccoons, and bobcats which roam through very early in the morning or late in the evening. Adding to the enjoyment of this wildlife viewing are interpretive signs that explain the simple requirements for developing a wildlife habitat in your own backyard.
Directions: Fort Mountain State Park is located 8 miles east of Chatsworth, GA on GA Hwy. 52.
Management: Georgia DNR, Parks and Historic Sites Division, 706-695-2621
Closest Town: Chatsworth, GA
Site Notes: interpretive programs, observation platforms, cottages
Additional Information: Visitors may stop at the park office for a free trail map and instructions for finding the wildlife viewing area.








---
Read and add comments about this page
---
Reader-Contributed Links to the Georgia Wildlife Viewing Guide Book: