| | | |
| --- | --- | --- |
| | Wildlife Viewing Guide | |
---
Lake Burton Fish Hatchery
Description: Lake Burton Fish Hatchery is located in a rural, mountainous area of Rabun County in extreme northeast Georgia. Elevation of the hatchery is approximately 1,920 feet above sea level. Lake Burton, a 2,700-acre Georgia Power Company lake, borders the facility on its eastern side, with the Chattahoochee National Forest forming the northern and western boundaries. Forest types include stands of oak, pine, hemlock, mountain laurel, and many other native mountain plants. The Appalachian Trail, snaking its way south to its beginning point at Springer Mountain and north toward North Carolina, follows the ridge line above the headwaters of Moccasin Creek, the water source for Lake Burton Hatchery.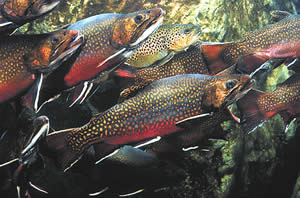 Viewing Information: Lake Burton Fish Hatchery features a unique opportunity to view both birds and mammals and explore the habitat of animals that live in both cold and warm water. Several species of migrating ducks, including mallards and buffleheads, mergansers and loons can be seen during the fall and winter on Lake Burton and resting on the hatchery ponds. As winter gives way to spring, songbirds in their mating colors can be seen nesting in the surrounding forested areas. It is also possible to view hummingbirds feeding on colorful plants near the water and forest edges. An occasional osprey or bald eagle may be seen soaring over Lake Burton at any time. Kingfishers and both great blue and green herons stalk the shallow lake edge. While walking the nature trail from the hatchery or traveling Hemlock Trail up Moccasin Creek, you may encounter turkeys or white-tailed deer and small mammals such as squirrels, chipmunks, raccoons, and rabbits. If you are extremely lucky, you may encounter a black bear or at least view a bear track on a sand bar near the creek. During trout fishing season, you can fish Moccasin Creek for rainbow, brown, and brook trout. Brook trout are the only trout native to Georgia. Fishing piers along the edge of the lake offer an opportunity to view warm water fish such as bluegill, redbreast sunfish, largemouth bass, and yellow perch in their natural habitat. This geographical area is also a favorite stopover for the monarch butterfly during its annual migration in the spring and summer months.
You may also tour Lake Burton Hatchery to see rainbow and brown trout being raised for stocking into mountain streams in North Georgia. The hatchery is open daily from 8 a.m. until 4 p.m. for visitors to learn about trout, trout habitat, and aquatic life in cold and warm water habitats. Guided tours are also available year-round for organized groups. Reservations are required.
Directions: From Clarkesville, GA, take GA Hwy. 197 north for 20 miles. Entrance can be seen from the road.
Management: Georgia DNR, Wildlife Resources Division, 706-947-3112
Closest Town: Clarkesville, GA
Site Notes: tours, interpretive programs
Additional Information: The adjacent Moccasin Creek State Park offers numerous camping, recreation, and natural history interpretation opportunities. If you plan to hike the trails during the spring, be prepared for frequent rain showers. If you plan to camp during the winter, be prepared for temperatures which routinely fall below freezing.









---
Read and add comments about this page
---
Reader-Contributed Links to the Georgia Wildlife Viewing Guide Book: