| | | |
| --- | --- | --- |
| | Wildlife Viewing Guide | |
---
Raven Cliffs Wilderness Area
Description: Raven Cliffs Wilderness Area is in the Blue Ridge physiographic region. This 9,600-acre area is forested with a mature hardwood, white pine, and hemlock overstory on the slopes and ridges. The understory consists mostly of a Southern Appalachian evergreen community with mountain laurel, rhododendron, dog hobble, and galax. A beautiful mountain trail, Raven Cliffs Trail winds 2.5 miles up Dodd Creek to the base of 100-foot sheer cliffs. The trail generally follows the stream, and although it moves away from the streamside several times, you are never out of hearing of the tumbling whitewater. In late June, the luxuriant growths of laurel turn the stream borders into narrow swaths of white. The trail forks near the falls, and the right fork of the trail continues to the top of the cliffs. There is spectacular scenery from this pinnacle.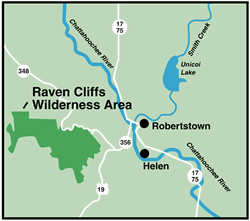 Viewing Information: Within the Raven Cliffs Wilderness Area and particularly along Raven Cliffs Trail are many good wildlife viewing opportunities. Listen for the guttural croaking of the common raven for which this area was named. This is one of the few areas in the State in which this bird can be found. Other high-elevation breeding birds that can be seen include the veery, solitary vireo, black-throated blue warbler, and rose-breasted grosbeak. The lucky visitor might glimpse the red squirrel or the New England cottontail rabbit, both rare in Georgia. White-tailed deer, ruffed grouse, wild turkeys and many migratory songbirds can be seen year-round.
Directions: Take GA Hwy. 75 north from Helen for 1.5 miles. Turn left on GA Hwy. 356/Alternate 75, and go 2.3 miles. Turn right on Richard Russell Scenic Hwy. and travel 2.8 miles to the trailhead and parking area.
Management: U.S. Forest Service, 706-754-6221
Closest Town: Helen, GA





---
Read and add comments about this page
---
Reader-Contributed Links to the Georgia Wildlife Viewing Guide Book: