| | | |
| --- | --- | --- |
| | Wildlife Viewing Guide | |
---
Amicalola Falls State Park/Dawson Forest Wildlife Management Area
Description: One of the "seven wonders" of Georgia, the park's breathtaking falls plunge 729 feet in seven cascades. Amicalola is the highest waterfall east of the Mississippi River. This stream flows through the park, offering visitors a chance to fish for trout. Consisting of more than 1,500 acres of beautiful mountainous habitat, the park is adjacent to the 741,000-acre Chattahoochee National Forest. The forest on the park is composed primarily of hardwoods, including southern red oak, white oak, chestnut oak, sweetgum, sourwood, sycamore, maple, hickory, and yellow poplar, which are mixed with loblolly pine and Virginia pine. All seasons are beautiful at Amicalola, with an abundance of wildflowers in the spring and summer, such as dogwood, mountain laurel, and rhododendron. The fall season offers brilliant colors in the autumn forest. Winter months hold a special magic as white-tailed deer and other wildlife seek refuge within the park. Some visitors are fortunate to experience an occasional winter snow with accumulations of 2-10 inches which may not melt for up to a week. The park also offers many recreational opportunities including hiking, fishing, camping, and wildlife viewing. Amicalola offers an 8-mile approach trail to Springer Mountain, the southern terminus of the Appalachian Trail, and access to a mountain bike trail.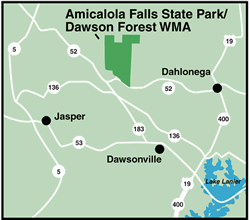 Viewing Information: Within the park, the forest offers nesting habitat for many species of warblers, vireos, and wrens. This beautiful river park is also home to squirrels, white-tailed deer, rabbits, raccoons, and bears. Wildlife can be viewed year-round and from most areas in the park. The higher elevations offer better viewing of raptors, vultures and, if you are lucky, an occasional osprey. Bluebirds, goldfinches, swallows, and sparrows are common park visitors in the winter and spring.
Directions: From Dawsonville follow GA Hwy. 53 west for 3 miles, turn right on GA Hwy. 183 and travel apx. 12 miles. Veer right onto GA Hwy. 52 and travel 2 miles. Amicalola Falls State Park entrance will be on the left.
Management: Georgia DNR, Wildlife Resources Division, 770-535-5700 (Dawson Forest), Georgia DNR, Parks and Historic Sites Division, 706-265-8888 (Amicalola Falls)
Closest Town: Dawsonville, GA
Site Notes: observation platforms, hotel, interpretive programs, 57-room lodge, 14 cottages, 17 campsites, comfort station, hiker shelter, visitors center (includes exhibits), gift shop, conference facilities, pioneer camping.
Additional Information: The visitors center contains several exhibits, one of which shows park guests how to attract wildlife to their backyards. The exhibit contains images of various mammals and birds native to this area. This exhibit continues to the exterior of the visitors center in a living exhibit.
Amicalola Creek flows through the beautiful Dawson Forest Wildlife Management Area just south of the park. Here a mosaic of diverse wildlife habitats offers additional wildlife viewing opportunities. The Amicalola Wildlife Interpretive Trail winds 3.5 miles along beautiful Amicalola Creek and is highlighted by a scenic view of the "Edge of the World" rapids, given a Class IV canoe rating.
Visitors should be cautious in winter months as snow and ice in this area of the State often make driving dangerous.










---
Read and add comments about this page
---
Reader-Contributed Links to the Georgia Wildlife Viewing Guide Book: