| | | |
| --- | --- | --- |
| | Wildlife Viewing Guide | |
---
Beaverdam Wildlife Management Area
(Laurens Tract)
Description: The Beaverdam WMA consists of 12,000 acres in Wilkinson and Laurens counties. The Laurens County tract, which lies at the Fall Line along the northern edge of the Coastal Plain, offers the opportunity to experience one of the best stands of mature bottomland hardwood on the entire Oconee River. This area has been referred to as the Great Oconee Swamp. The swamp occurs at the point below the flow of the river across the Fall Line. The forest overstory is dominated by oak species, including water, willow, cherrybark, swamp chestnut, and overcup. Other prominent canopy trees are beech, sweetgum, sycamore, baldcypress, and tupelo gum. The understory is characterized by switch cane and palmetto. Big Sandy Creek runs along the northern end of the tract. A small oxbow lake called York's Dead River lies toward the southern end of the property.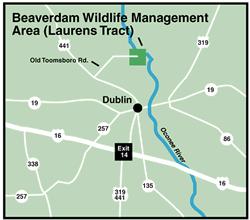 Viewing Information: Look for wildlife common to forest and edge habitats. White-tailed deer, wild turkeys, gray squirrels, bobcats, and pileated, downy, and hairy woodpeckers. River otters and beavers are common near the water but both are very wary, so stealth is required to get a good look. Also near the water, blue herons, green herons, and kingfishers can be seen. Spring migrating songbirds such as red-eyed vireos, white-eyed vireos, American redstarts, and scarlet tanagers forage in the tree tops 40-70 feet above the ground. The greatest variety are present in April and May, but these birds may be seen throughout the summer. An American alligator is a rare sight. Cottonmouths, canebrake rattlesnakes, non-venomous snakes, and other reptiles are relatively common. Feral pigs and the non-native coyotes are also common.
Directions: Travel north from Dublin on US Hwy. 441 apx. 4.5 miles. Turn right on Old Toomsboro Road and go apx. 5 miles to Evergreen Church. Turn right and go apx. 3 miles and turn right at boat ramp sign. Follow road to Oconee River. Park at the boat ramp and walk along the road southward by the river.
Management: Georgia DNR, Wildlife Resources Division, 912-825-6354
Closest Town: Dublin, GA




---
Read and add comments about this page
---
Reader-Contributed Links to the Georgia Wildlife Viewing Guide Book: