| | | |
| --- | --- | --- |
| | Wildlife Viewing Guide | |
---
Okefenokee Swamp Park
Description: Known as the northern entrance to the Okefenokee National Wildlife Refuge, Okefenokee Swamp Park could also be called the "fast track" or perhaps the "tenderfoot" visit to the great swamp. Excellent wildlife viewing opportunities are found here, although some observations may be made from the comfort of air-conditioned rooms! The principal habitats surrounding the park are cypress, tupelo, and pine flatland. Notwithstanding the added human creature comforts, the world-famous special features of the swamp can be seen here, including tannic "black" waters, large American alligators and other wildlife, as well as the floating peat masses which give the Okefenokee its name, "Land of the Trembling Earth".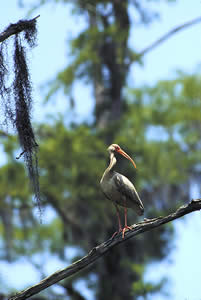 Viewing Information: Winter is a great time to watch the wildlife here. There are fewer people on site and many migratory species of wildlife. Fewer American alligators are seen, but a proportionately larger number of otters will be seen fishing and playing along the open water canals. In the spring, wildlife viewing is the best. Wading bird rookeries can be seen from the roads and trails. The continuous feeding causes the young birds to be noisy during all the daylight hours. Good binoculars and telescope are great aids to watching the rookery activity. The available guided boat tour is a good way to see most of the wildlife here. See Okefenokee NWR for more potential wildlife encounters.
Directions: From Waycross, travel US Hwy. 1 south and follow the signs 8 miles to the park entrance.
Management: A private non-profit company leases from the USFWS, 912-283-0583
Closest Town: Waycross
Site Notes: boat tours, boardwalks, observation tower, boat rental, driving trail, fishing
Additional Information: See also the following viewing sites: Stephen C. Foster State Park, Suwannee Canal Recreation Area, and Okefenokee National Wildlife Refuge.







---
Read and add comments about this page
---
Reader-Contributed Links to the Georgia Wildlife Viewing Guide Book: