| | | |
| --- | --- | --- |
| | Wildlife Viewing Guide | |
---
Gould's Inlet, St. Simons Island
Description: Gould's Inlet is the opening between St. Simons East Beach and the south tip of Sea Island. The inlet is the mouth of Postell Creek. A sandbar extends off the south end of the Sea Island beach out into the inlet, forming its north boundary. This bar, as well as the inlet itself, is a good example of Georgia's barrier island-estuarine interface. The bar changes shape frequently as wind and water energy move the sand. Because of this constant shifting, vegetation cannot grow here permanently, so the bar remains open. The open sand creates a resting place for many species of birds and a feeding site for others.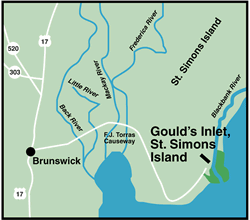 Viewing Information: This site offers an almost continual coastal bird viewing opportunity. Observation platforms are convenient for wildlife viewing. Migrants and resident species of birds can be seen here. High or incoming tides are best for birding at this site, but something will be there all the time. Binoculars or a spotting scope will give an advantage to the viewer. Resident birds that can be seen every day of the year include brown pelicans, black skimmers, royal terns, laughing gulls, willets, American oystercatchers, and herring gulls. Among the warm-weather visitors, including fall and spring migrants, are black terns, sandwich terns, gull-billed terns, common terns, Caspian terns, reddish egrets, marbled godwits, whimbrels, black-bellied plovers, semi-palmated plovers, Wilson's plovers, western sandpipers, ruddy turnstones, sanderlings, and red knots. Cold-weather birds include cormorants, black-backed gulls, ring-billed gulls, laughing gulls, red-breasted mergansers, Caspian terns, Forster's terns, red-backed dunlins, black-bellied plovers, and piping plovers.
Directions: From Brunswick, travel US Hwy. 17 south. Turn left at and cross the St. Simons Island Causeway. Once on the island, at the large Welcome sign, begin recording mileage. Travel Demere Road through two traffic lights (2.5 miles). Turn left onto East Beach Causeway and continue .5 miles, and turn left on Bruce Drive and travel .7 miles to the end of Bruce Drive and Gould's Inlet.
Management: GA DNR Wildlife Resources Division, 912-264-7218
Closest Town: Brunswick, GA


---
Read and add comments about this page
---
Reader-Contributed Links to the Georgia Wildlife Viewing Guide Book: