| | | |
| --- | --- | --- |
| | Wildlife Viewing Guide | |
---
Sapelo Island
Description: Sapelo Island, the fourth largest of Georgia's barrier islands, is defined by four dominant habitats: tidal salt marshes (estuaries), upland maritime forests, beach and dune systems and the near-shore waters of the Atlantic Ocean. Dominant flora and fauna characterize each of these habitats and contribute to the total spectrum of wildlife found on Sapelo. The salt marshes are subject to the constant force of 6- to 8-foot tides twice daily. The estuaries of Sapelo, about half the salinity of ocean water, are home to an abundance of resident and migratory species of birds, fish, and mammals. The maritime forests are dominated by live oak hammocks, pure stands of slash, loblolly, longleaf and pond pine, and transitional areas that are integrated with pines and oaks. Dense understory species, including palmetto, bay, magnolia, holly, and redcedar create favorable conditions for many forms of native wildlife. Freshwater sloughs are scattered about the island and contain some bottomland hardwoods like maple and sweetgum. Wax myrtle thickets and grasses offer shelter to small mammals and many songbirds.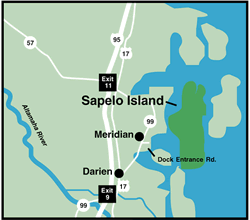 Viewing Information: Visitors will have opportunities to see wildlife ranging from coastal wading birds to American alligators to white-tailed deer and the occasional wild turkey. The true wildlife gem on Sapelo is the abundance of birds. Neotropical migrants, marsh birds, shorebirds, raptors, game birds, and even off-shore species like the spectacular gannet can be seen while visiting the island. Access to Sapelo Island is limited by the schedule of the island ferry system. Year-round wildlife tours of Sapelo are conducted by the Sapelo Island National Estuarine Research Reserve (SINERR). For the serious wildlife observer, special wildlife viewing tours may be scheduled. In June through September, an additional tour is offered on Fridays to accommodate the peak visitation season.
Directions: From Brunswick, travel I-95 north to exit 9. Turn east on GA Hwy. 99 and travel through Darien 8 miles to Meridian, GA. Follow the signs to the dock entrance road clearly marked on the right.
Management: Georgia DNR, Wildlife Resources Division, 912-485-2251 (SINERR) or 912-437-3224 (Darien Welcome Center)
Closest Town: Darien, GA
Site Notes: tours, observation platforms, interpretive programs, tour fee, ferry fee.
Additional Information: Call the numbers above for detailed information regarding public and group tours.




---
Read and add comments about this page
---
Reader-Contributed Links to the Georgia Wildlife Viewing Guide Book: