| | | |
| --- | --- | --- |
| | Wildlife Viewing Guide | |
---
Cordele Fish Hatchery/Williams Wetlands
Description: This is a 160-acre fish hatchery, with an associated wetland viewing area. Located in the Upper Coastal Plain, these two adjacent facilities contain 27 hatchery ponds that encompass 20 acres of water and a 40-acre wetland area that is partially flooded to benefit waterfowl. The 27 hatchery ponds are intensively managed to produce a variety of species of fish, including channel catfish, hybrid bass, shoal bass, and golden shiners. These ponds range from .2 to 2.5 acres in size. Below the hatchery and along the Gum Creek flood plain, visitors can view a mature bottomland plant community that contains oak, gum, and baldcypress. In this wetland area, visitors can view ecological succession in progress, including a young community of gum, cypress, and willow trees along with cattails, American alligator weed, and duckweed. Pine trees, both loblolly and longleaf, grow in the uplands. There is also a spring on the hatchery grounds that delivers approximately 200 gallons of water per minute every day.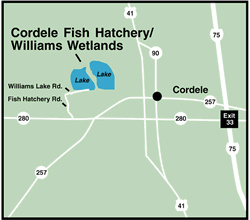 Viewing Information: The principal function of the hatchery is to culture fish, and the best seasons for viewing these operations are during the spring spawning and fall harvest activities. Visitors can witness brood fish pairing, egg collection and incubation, fry feeding and rearing, and stocking. Heavy summer plankton blooms limit the visibility of fish in ponds, but morning feeding and water quality monitoring are common activities during this time of year. Due to the narrow dikes with sharp turns, access to the hatchery ponds is by foot travel only. Observation of fish harvesting is allowed from a safe distance. Fall offers the best opportunity to view fish harvest techniques. Around the periphery of the hatchery, watchers will see songbirds, woodpeckers, hawks, ospreys, and cormorants. Small mammals such as rabbits, raccoons, and opossums can also be seen. Winter visitors can see a variety of waterfowl and wading birds. Great blue herons, cormorants; snowy, cattle, and common egrets; wood ducks, blue- and green-winged teal, coots, anhingas, and Canada geese frequent the area. Sightings of red-tailed and red-shouldered hawks are a reasonable expectation. During the summer, wood storks, American alligators, both poisonous and non-poisonous snakes, and amphibians can be seen. The woody growth around the periphery of the wetland attracts non-migratory species of songbirds, sparrows, brown thrashers, and cardinals year-round. Many small mammals such as rabbits, raccoons, opossums, bobcats, and both red and gray foxes are more likely to be seen in the spring. White-tailed deer may also be seen. This facility is open Monday through Friday from 8 a.m. to 4:30 p.m., except for legal state holidays.
Directions: To reach the hatchery and adjacent Williams Wetland areas, travel west from Cordele on US Hwy. 280 apx. .5 miles to Fish Hatchery Road on the right. Go apx. 2 miles on Fish Hatchery Road to hatchery sign on right. Turn right on Williams Lake Road to enter hatchery. Do not turn into hatchery, but proceed farther down Williams Lake Road for 1 mile to dead end at Williams Wetland viewing area.
Management: Georgia DNR, Wildlife Resources Division, 912-276-2362
Closest Town: Cordele, GA
Site Notes: Hatchery: parking, rest rooms. Williams Wetland: parking, rest rooms, picnic facility, a small building that accommodates up to 20 students for classroom instruction.
Additional Information: A slide presentation on hatchery operations is available for group tours with prior arrangements. Call the phone number above to schedule group tours to Williams Wetland.




---
Read and add comments about this page
---
Reader-Contributed Links to the Georgia Wildlife Viewing Guide Book: