| | | |
| --- | --- | --- |
| | Wildlife Viewing Guide | |
---
Warm Springs Regional Fisheries Center
Description: This unique site is a combined national fish hatchery, fish health laboratory, and environmental education center. Here you can see how warm-water fish are reared for release to enhance native fish populations. In the education center, learn about the fish and wildlife found in the region. An aquarium displays fish reared at the site or native to the nearby waters.
Viewing Information: Fish reared here, which are vital to the fishery resource of thesoutheastern U.S., include striped bass, sturgeon and paddlefish. On display in the aquarium are gar, largemouth bass, crappie, catfish, bluefish and redear sunfish as well as a stunning display of thousands of brightly-colored goldfish. On the grounds of the center you might see squirrels, rabbits, white-tailed deer, wild turkeys, turtles, frogs, and many species of songbirds. Hawks are commonly seen perched in the trees around the ponds scanning the fields and wetlands for mice, voles, and frogs.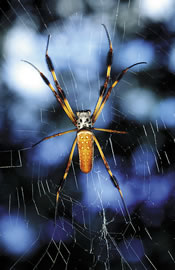 Directions: From Warm Springs, travel GA Hwy. 41 east 1 mile to the Center.
Management: US Fish and Wildlife Service, 706-655-3382
Closest Town: Warm Springs, GA
Additional Information: Aquarium Hours are 7:30 a.m. to 4 p.m. daily; the facility is closed on federal holidays. Tours are available. Little White House is nearby. Special group tours of the hatchery can be arranged in advance with the hatchery manager, Warm Springs National Fish Hatchery, Route 1, Box 515, Warm Springs, GA 31830-9712.




---
Read and add comments about this page
---
Reader-Contributed Links to the Georgia Wildlife Viewing Guide Book: