| | | |
| --- | --- | --- |
| | Wildlife Viewing Guide | |
---
Hard Labor Creek State Park
Description: A mosaic of upland pine and hardwood forest, steep-walled creek bottoms, granite outcrops, old fields, broad floodplain forest, and man-made lakes make this 5,800-acre park one of the best wildlife viewing sites in North Georgia. A network of 24 miles of trails provides plenty of opportunity to view wildlife in quiet solitude. Floodplain forests consist of river birch, sycamore, green ash, sweetgum, water oak and willow oak. Upland forests include southern red oak, red maple, sweetgum, hickory, sourwood, loblolly pine, and flowering dogwood. This very hilly portion of the Piedmont is particularly breathtaking when the leaves change color in fall.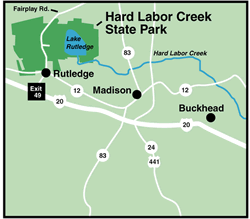 Viewing Information: Wildlife is abundant throughout the park. The diversity of habitats supports a wide range of species. Songbirds, white-tailed deer and wild turkeys are abundant in the upland forests. Beaver ponds, streams, and man-made ponds provide the best viewing opportunities. At these sites look for river otters, beavers, raccoons, muskrats, red-winged blackbirds, yellow-rumped warblers, and red-billed woodpeckers. Listen for the pileated woodpecker and barred owl. Reptiles and amphibians of the wet areas include bullfrogs, green frogs, box turtles, brown water snakes, and two-lined salamanders. Easy access to the two lakes on the park and the presence of numerous ducks and geese make these spots common stops for wildlife viewers.
Directions: From Atlanta, travel east 50 miles on I-20 to exit 49. Follow signs to park.
Management: Georgia DNR, Parks and Historic Sites Division, 706-557-3001 (Park Office)
Closest Town: Rutledge, GA
Site Notes: 18-hole golf course, cottages, group shelters, group camps, boat and canoe rental, fishing











---
Read and add comments about this page
---
Reader-Contributed Links to the Georgia Wildlife Viewing Guide Book: