| | | |
| --- | --- | --- |
| | Wildlife Viewing Guide | |
---
Rum Creek M.A.R.S.H. Project
Description: This M.A.R.S.H. (Matching Aid to Restore State Habitat) project is one of 18 similar public-private partnerships across the State sponsored by Ducks Unlimited. It is one of the best locations in the State to see a wide variety of waterfowl. Managed specifically for waterfowl, this 32-acre complex includes a green tree reservoir, winter-flooded row crops, scrub/shrub wetlands, and open water. Thousands of ducks and geese call this refuge home for the winter. The adjacent 6,000-acre Rum Creek Wildlife Management Area and 3,600-acre Lake Juliette offer additional excellent wildlife viewing opportunities.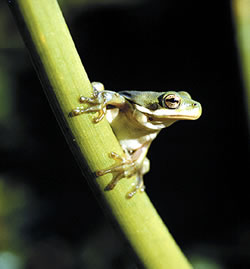 Viewing Information: In winter months, thousands of migratory birds descend on this waterfowl heaven. Mallards, wood ducks, gadwalls, shovelers, ring-necked ducks, green-winged teal and blue-winged teal are regular visitors. Early mornings and late afternoons is when you will see the most waterfowl. Wading birds, marsh and shorebirds such as herons, egrets, woodcocks, snipes, and killdeer are also common. Overhead soar numerous species of hawks and, occasionally, bald eagles. The shallow water and intermittent wetland areas are excellent sites to search for bull frogs, green tree frogs, salamanders, water snakes, and snapping turtles on warm summer days.
Directions: From Forsyth, travel Juliette Road (exit 61 on I-75) east for 3.6 miles to the Rum Creek M.A.R.S.H. Project sign on the left. Proceed to the next gated road on the left. Park at the gate and walk down the road to the dike of the impoundment.
Management: Georgia DNR, Wildlife Resources Division, 912-825-6354
Closest Town: Forsyth, GA
Additional Information: Maps of Rum Creek Wildlife Management Area and a detailed map of the M.A.R.S.H. Project are available from Georgia DNR (912-994-2439).







---
Read and add comments about this page
---
Reader-Contributed Links to the Georgia Wildlife Viewing Guide Book: