| | | |
| --- | --- | --- |
| | The Natural Georgia Series: The Okefenokee Swamp | |
---
Gator Hunter: Cecil Carter
By Pamela P. Holliday.
Born three miles west of Mattox, in an area known as Racepond, Cecil Carter and his family have been swampers for generations. Carter now lives in Folkston, but this sportsman has enjoyed hunting and fishing in every part of the Okefenokee.

"It's hard to explain. I just inherited a liking of this area," Carter says. "Some people like it and some people don't. Some people wouldn't give you a dime for the whole thing."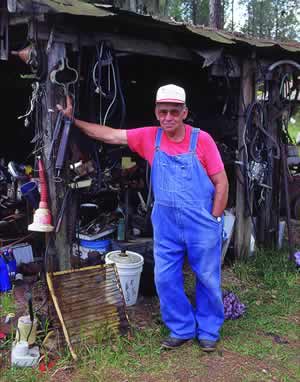 At the age of 67, Carter has a lifetime's worth of Okefenokee souvenirs. In a work shirt and camouflage cap, he toured me through the shed which houses his boats and canoes. After introducing me to his rusty air boat, he showed me the rusty points of the spears he used for frog gigging and what is left of the cowboy hat he attached a light to for night hunting. In his thick accent, swamp is pronounced swaump.

In the days of alligator hunting, Carter worked all day and hunted at night "for fun and sport and for an excuse to make a trip into the swamp," he says. "If you worked half as hard at your job as you did gator hunting, you'd be better off. You'd spend a day or two going in, a day or two coming out. You were tired when you got home."

But you wouldn't be better off financially. During hard times, Carter says people could make more money selling alligator hides than working some jobs. "There was nothing wrong with that money. It worked just as good at the drug store, gas station, and grocery store. For some people, alligator hunting was a way to survive," Carter says.

On his alligator expeditions, Carter used a .22 rifle, shooting gators in the soft spot behind their eyes. He didn't bring the meat out of the swamp, unless it was a really nice piece, because the weather was hot and he didn't take ice in the boat. He killed and skinned gators on the spot, taking home only the valuable hide.

"The government used to talk about an army of hunters getting rich down here, but everyone I knew drove old Chevys," Carter says. "You could make a lot of trips into the swamp, and kill nothing."

From 1965 to 1967, Carter conducted air boat tours of the Okefenokee in the Waycross area. Hotels along Hwy. 1 and 301 directed interested tourists his way, and Carter introduced them to the swamp he loves. It was his primary job, but Carter says there wasn't enough money in it at the time to "make a good living."

When he goes into the swamp, Carter prefers poling to paddling. He and his friends have even designed a curved-bottomed boat, better suited to poling than a flat-bottomed canoe. The curved-bottomed boat is perfect for maneuvering in tight water - like alligator trails.

"The older I get, the prouder I am to be from the swamp," Carter says. Today one of Carter's daughters still loves to visit the Okefenokee, and he enjoys introducing his grandson to the swamp. But Carter says he misses the days of frog gigging and alligator hunting. It's not that he thinks the government is doing a bad job managing the Okefenokee, it's just difficult to canoe past his old hunting spots and think about the days when he camped there with his buddies.

"I believe that's what the good Lord intended - for people to eat duck rice at night and fried fish. He meant for us to enjoy the swamp hunting and fishing," Carter says. "Now I got enough sense to know that hunting and fishing has to be controlled, but that's what I miss. Canoe trips are okay, but hunting and fishing are better. Most people don't know how to enjoy the swamp."
---
Read and add comments about this page
---
Go back to previous page. Go to Okefenokee Swamp contents page. Go to Sherpa Guides home.
---
[ Previous Topic | Next Topic ]