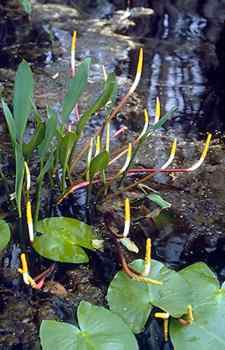 Fargo Area: Stephen C. Foster State Park
[Fig. 23(7)] On the western side of the swamp is an 80-acre state park that provides access to the heart of the Okefenokee. Named for the songwriter who penned Swanee River, Stephen C. Foster offers wilderness adventures to the headwaters of the Suwannee, or an excursion to Billys Island, site of an Indian village (500 a.d.), the Lee Homestead (1853), and a town that supported Hebard Cypress Company's logging efforts (1908-27).
The state park is one of the few in the country located inside a national wildlife refuge. From Fargo, visitors drive 17 miles along the Suwannee River then out a curving, upland peninsula known as The Pocket, which ends at Jones Island. Inside the park, there is a pioneer camping area, a tent and trailer area, cottages, an interpretive center, picnic facilities and shelters, and a boat basin. Boat tours leave from here with entertaining programs covering the swamp's natural and human history. Or you can rent a canoe or motor boat, grab a map, and head out on your own adventure. A store offers food and beverages, fishing supplies, and information about the swamp. This is the only park that offers drive-up camping inside the refuge. Wilderness canoeing and camping expeditions begin and end here as well.
An interesting mix of habitats is encountered in this part of the swamp, including blackwater lakes, blackgum, bald and pond cypress swamps, bay islands, and lily and golden club prairies. Baldcypress (Taxodium distichum) prefer wet areas with moving waters, such as streams and rivers, and are recognized by shallow, furrowed bark that peels off in thin, flaky strips, and needles borne singly in 2 rows on slender green twigs. Pond cypresses (Taxodium ascendens) prefer lakes and ponds and are recognized by their thick, deeply furrowed bark and shorter, scalelike leaves.
The western portion of the swamp is popular with fishermen. A river sill built in 1957 and a natural sand ridge keep the waters unnaturally high around the river. The most common catches are bluegill, warmouth, catfish, bowfin, and pickerel. No live fish may be used as bait, and boats are limited to 10 horsepower engines. The Trembling Earth Nature Trail begins and ends near the boat basin, forming a 1.5-mile loop of trail and boardwalk through pinelands and swamp. Interpretive brochures are available in the office. A museum offers interpretive displays on the swamp's ecosystem and wildlife.
Trails: 1.5-mile Trembling Earth Nature Trail.
Directions: From I-95 take Exit 6/29, and go west on US 82 to Waycross. Continue west on US 84 to Homerville. Turn left on US 441 and proceed south to Fargo. Turn left at GA 177 and proceed to park entrance.
Activities: Canoeing, boating, fishing, camping, hiking, biking, picnicking, boat tours, interpretive programs, special events.
Facilities: Boat and canoe rentals, gift shop, snack bar, museum (open 8 a.m. to 5 p.m.), 3 group picnic shelters, marked canoeing and walking trails, restrooms, children's playground. Camping: 9, 2-bedroom cottages with heat and air conditioning, kitchen, utensils, and linens. Reservations can be made up to 11 months in advance by calling (912) 637-5274. Two camping areas have a total of 66 tent and trailer sites with water and electrical hookups. Each campsite has a picnic table and grill, and each camping area has a comfort station with hot showers, toilets, and washer-dryers. Primitive camping is available to organized groups. Be sure to purchase groceries before arriving at the campsite. The brown, red, green, and orange canoeing-camping trails begin and end here.
Dates: Open 7 days a week, with seasonal hour changes.
Fees: An admission fee is charged. Separate charges for boat rental and tours.
Closest town: Fargo.
For more information: Stephen C. Foster State Park, Georgia Department of Natural Resources, Route 1, Fargo, GA 31631. Phone (912) 637-5274.
Wilderness Canoeing-Camping in the Okefenokee Swamp
An excellent way to experience the Okefenokee is to go on a canoe-camping trip. Trips range in length from two to five days, and paddlers leave from Suwannee Canal Recreation Area, Stephen C. Foster State Park, or Kingfisher Landing and follow marked trails to platforms or island campsites. This is a popular activity, especially during the cooler months, and reservations may be hard to get. Trips may be reserved no earlier than two months in advance, so call refuge headquarters ((912) 496-3331) when it opens at 7 a.m. exactly two months in advance of the desired reservation date. With little current flow and obstructions in the form of peat blowups, canoeists must paddle the entire way, which can get strenuous with hot sun and the wind blowing in your face. Mosquitoes are generally not a problem except after dark from April to October.
For more information: Suwannee Canal Recreation Area, U.S. Fish and Wildlife Service, Okefenokee National Wildlife Refuge, Route 2, Box 3330, Folkston, GA 31537. Phone (912) 496-3331 for canoe reservations or (912) 496-7836 for other information.
Lodging and Camping Near the Okefenokee Swamp
One of the best options is to use cabins or campsites that are available inside the refuge at Stephen C. Foster State Park. Laura S. Walker State Park also offers campsites. Those looking for more predictable chain motels can stay near the northern end of the swamp in Waycross. Phone (912) 283-3742 for list of options. Those looking to stay closer to Stephen Foster State Park but outside the park may want to consider The Gator Motel in Fargo, which is short on luxury but remains an inexpensive and dog-eared classic. (912) 637-5445.
Folkston has reliable chain lodging, which puts visitors near the Suwannee Canal Recreation Area. Phone (912) 496-2536 for list of options. A more charming choice is The Inn at Folkston Bed and Breakfast at 509 West Main Street, Folkston. Genna and Roger Wangsness run a warm and comforting B&B in a recently restored and decorated 1920s bungalow. They offer Okefenokee Swamp tour packages and can help guests find nature-oriented activities. Campgrounds on the eastern side include Traders Hill Park, and Okefenokee Pastimes, phone (912) 496-4472. The latter also rents bikes and kayaks.
Restaurants near the Okefenokee Swamp
Okefenokee Restaurant. US 1, Folkston. Rub elbows with locals in this popular small restaurant that is a fixture in the area. Open for breakfast, lunch and dinner. Closed Sunday. Moderate. (912) 496-3263.
---
Read and add comments about this page
---
Reader-Contributed Links to the Georgia Coast and Okefenokee Book: