Cumberland Island National Seashore
Travelers looking for an experience of a lifetime should put beloved Cumberland Island at the top of their list. A national treasure, Cumberland Island is the most accessible of Georgia's "wild" barrier islands, and offers an unforgettable adventure for anyone who makes the journey. Reached by ferry from St. Marys, the island has much to explore, including deserted beaches, sun-dappled maritime forests, shimmering freshwater lakes, golden marshes, and grand historic ruins. With visitation limited to 300 people a day, hikers can experience the tranquility and solitude that is the hallmark of a visit to Cumberland.
Established as a national seashore in 1972, the island's scenic, historic, and natural qualities are protected and managed by the National Park Service from the northern tip of Little Cumberland Island to Pelican Banks on the southern end. Adding to the island's protection was the designation of a large, central tract of forest and beach as a national wilderness in 1982. Small parts of the island still remain in private hands, and political struggles continue over the management and development of the island as a whole. While debates continue into the new millennium concerning historic preservation of crumbling properties, the use of motor vehicles, and other issues great and small, it appears that nothing can seriously threaten the beauty of Cumberland.
Cumberland is frequently described as the largest barrier island on the Georgia coast, an assertion that is both true and false. It certainly has the longest beach, with 17.5 miles, and the most upland acreage with 15,100, but it is third in acreage when marshlands are included in the total, with 23,000 acres on Cumberland, 25,000 acres on Ossabaw, and 27,630 acres on St. Simons. Roughly 90 percent of Cumberland is of Pleistocene age—approximately 35,000 years old. As an older island, Cumberland has richer soils and more diverse flora. The 10 percent of the island that is Holocene, or 5,000 years old, ranges from the eastern beach and dunes to the southern knob of the island. The island fronts the shoreline of Camden County, and off the northern end are St. Andrew and Jekyll sounds, fed by the Satilla River, and Jekyll Island. At its southern end are Cumberland Sound, fed by the St. Marys River, and Amelia Island.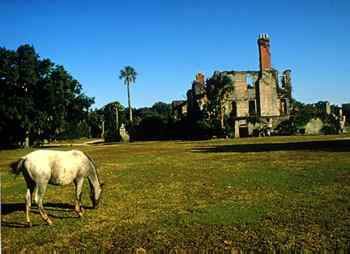 Cumberland Island is larger than Manhattan Island, so there is much to explore. The island has two docks (each with a visitor center), a developed campground, and four primitive campgrounds. Roads traverse the island and are used as hiking trails. The ruins of Dungeness at the southern end are the most popular and easily accessed, but other historic structures are interesting to view, including Plum Orchard, which is open on Sundays, and First African Baptist Church at the northern end. Those looking for creature comforts in their lodging have one choice: Greyfield Inn.
Cumberland Island's Natural Features
Cumberland Island is not pristine, untouched wilderness. Its Live Oaks were cut for ship timbers, and land was cleared to grow sea island cotton and southern yellow pine. But the island has regenerated from many of these activities. Three major natural communities dominate the island with distinctly different assemblages of plants and animals: The western salt marsh, mid-island maritime forest, and eastern beach each have natural features that are fascinating to investigate.
The rich salt marsh is the first natural community visitors will encounter on their way to the island. Scientists believe marshlands are the most productive land acres on earth, and play a vital role in the nutrient cycle of the estuary. Not only do they decay and add nutrients to the food cycle of the marsh, but also trap river sediments and detritus flushed through the marsh by a combination of river currents and tides and act as a protective nursery for a wide variety of marine creatures. While the marsh appears to be a one-dimensional hedge that some giant has neatly pruned flat, it actually is teeming with creatures small and large. With their wealth of nutrients, marshlands support large populations of shellfish, fish, plants, and bird life. Raccoons, birds, and other animals come down from uplands to feed on crabs and shellfish, fiddler crabs scurry across mud flats, eating decaying vegetation, and wading birds are seen stalking fish and marsh creatures. Atlantic bottlenosed dolphins swim in the tidal rivers.
From the dock, the visitor can hike into an upland forest of oaks, pines, cedar, and saw palmetto. Most beautiful are the maritime forests of salt-pruned live oaks, draped in Spanish moss and muscadine vines, which form an unbroken green canopy that protects the visitor from the harsh rays of the sun. Raccoons can be observed resting on a soft garden of resurrection and shoelace ferns, mosses, and lichens that grow on the bent, trunk-sized limbs. Songbirds such as prothonotary warblers, cardinals, and yellow-throated and northern parula warblers flit from branch to branch in the denser foliage. Palmettos, with their fan-shaped leaves, add to the exotic, tropical feeling of the forest. Other trees making up the island's forests include willow oak, laurel oak, magnolia, red bay, cabbage palm, American holly, and several kinds of pines: slash, loblolly, pond, and longleaf. Deer, turkeys, squirrels, and armadillos are frequently seen crossing the sandy roads on the island. The quiet observer may catch a glimpse of the recently reintroduced bobcat.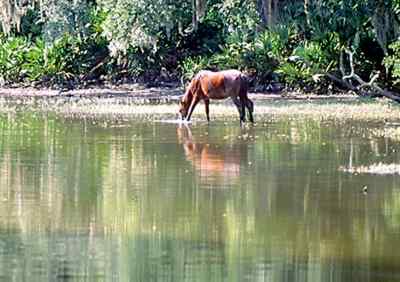 In the lower areas between the older dune ridges are freshwater and brackish ponds where alligators, frogs, snakes, turtles, minks, and otters spend a large part of their lives. Cottonmouth snakes are common. The ponds serve as an important oasis for a wide variety of bird, mammal, and amphibian species that travel to the source of fresh water. The shallow, 83-acre Whitney Lake is one of the largest freshwater lakes on Georgia's barrier islands.
As one breaks out of the green dome of the forest onto the dunes and beach, it takes a moment to adjust to the blinding light reflected off the white sands of the dunes. Only the toughest plants, such as Russian thistle, sea oats, beach elder, and orach, have adapted to survive the shifting sands, salt spray, fierce winds, and desiccating sun of the dune and beach. One thing they can't survive is grazing by Cumberland's popular feral horses, which destroys the stability of the dunes and causes erosion. Dunes on Cumberland can be spectacular, with some as high as 40 feet. At the wrack line, ghost crabs pick over marsh reeds and other detritus that has floated in at high tide. Closer to the wash line, small creatures such as worms, mole crabs, and ghost shrimp live in burrows in the sand. Thousands of sandpipers, sanderlings and other shorebirds dodge waves as they probe for these tasty tidbits. During raptor migration in October, bird watchers may see a variety of hawks and peregrine falcons. Soaring above the beach and dunes may be vultures, hawks, and bald eagles. The entire island is on the Colonial Coast Birding Trail, as more than 277 species of birds have been identified on Cumberland Island. The island's long, deserted beaches are the most attractive on the Georgia coast to loggerhead turtles, which have averaged 198 nests a year in the last 10 years.
Cumberland Island's Human History
Archeologists believe Indians used Cumberland as a hunting and fishing ground as far back as 4,000 years ago. During the time of European colonization, at least seven Mocama Indian villages were located on the island, and 11 were located on the mainland opposite the island. When the Spanish arrived in 1566, they named the island San Pedro and constructed a garrison and mission at the southern end of the named San Pedro de Mocama, which remained in operation from 1587 to 1660. Another Spanish mission on Cumberland was Puturiba, which operated from 1595–1597. An additional mission was relocated from the North Newport River to the northern end of Cumberland from 1670–1684 named San Phelipe.
The Indians they met called the island Missoe, their word for sassafras. This name didn't last long after English Gen. James Oglethorpe arrived at the Georgia coast. Turning the custom upside down, the island was named by an Indian for an Englishman. Toonahowi, the young nephew of Chief Tomochichi who visited England with Oglethorpe, suggested the island be named for William Augustus, the 13-year old Duke of Cumberland. An additional honor was a fort erected at the southern point of the island called Fort William, of which no trace remains today. Here Oglethorpe also established a hunting lodge he called Dungeness. At the northern end of the island, Oglethorpe built Fort St. Andrews, and for a decade a small village named Berrimacke existed near the fort. The forts were built to defend English settlements to the north from the Spanish in Florida. After defeating the Spanish in Battle of Bloody Marsh in 1742, the need for the forts evaporated, and the forts were abandoned and the village disappeared. The sea claimed Fort William, and most signs of Fort St. Andrews have been obliterated by time. In the 1760s, the island was divided into royal grants but saw little activity. When naturalist William Bartram visited the island in 1774, the island was mostly uninhabited.
Development of the island started in earnest after the American Revolution. Plantation owners cut and sold live oak and pine timber; grew corn, cotton, rice, and indigo on the rich soils; and raised cattle, hogs, and horses that ranged freely across the island. Perhaps the largest and most productive plantation in the region was Stafford Plantation, an 8,000-acre tract that remains in private hands today.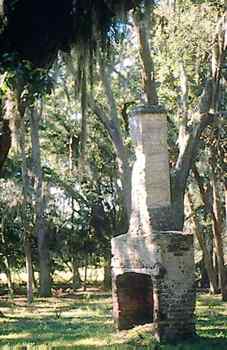 One of the most famous estates on the Georgia coast was Dungeness, owned by Revolutionary War hero Gen. Nathanael Greene, who commanded the Southern Department of the war. While he owned Mulberry Grove Plantation near Savannah, he also planned to build a huge mansion on Cumberland Island near the site of Oglethorpe's Dungeness hunting lodge. He died in 1(912) 786 before he was able to complete his plans. His wife, Catherine, remarried 10 years later to Phineas Miller, and they followed through on Greene's designs, building a huge, four-story tabby mansion on top of an Indian shell mound. The mansion, with 6-foot thick walls at the base, featured four chimneys and 16 fireplaces, and was surround by 12 acres of gardens. Catherine Miller's charm and beauty were legendary, and she was a favorite ballroom partner of George Washington and "Mad" Anthony Wayne. She is credited with inspiring inventor Eli Whitney with the idea of the cotton gin when she flicked lint from his machine with her handkerchief and remarked that it needed a brush. Dungeness was the scene of many special social galas where statesmen and military leaders enjoyed the Millers' hospitality. When the island was briefly occupied during the War of 1812, the British used Dungeness as their headquarters. Here a British captain named John Fraser met and eventually married a southern belle named Ann Couper, who was a member of the family that owned Cannon's Point plantation on St. Simons.
In 1818, Gen. "Lighthorse" Harry Lee, Revolutionary War hero and old friend of Nathanael Greene, came ashore at Cumberland Island. He was in failing health and was returning from the West Indies when he asked to be taken to his old friend's estate of Dungeness. After a month of illness, he died on March 25 and was buried on the island. His son, Confederate Gen. Robert E. Lee, had a tombstone placed over the grave and visited his father's final resting place several times. In 1913, Harry Lee was moved to Lexington, Virginia, to lie beside his famous son, but the gravestone was left on Cumberland Island.
From 1820 to 1838, a lighthouse operated on the southern end of Cumberland. The year a new one was established on Little Cumberland, the lighthouse on Big Cumberland was moved to Amelia Island, where it stands today.
The plantation economy was dealt a deathblow with the Civil War, and Dungeness deteriorated and the family moved away. Slaves were rounded up by the Union Army and moved to Amelia Island, but some returned to Halfmoon Bluff on the northern end in an area known as The Settlement. Freed slaves may have been the cause of the fire of 1866 that destroyed the historic mansion, and another legend tells the story of Cumberland plantation owner Robert Stafford burning the quarters of his former slaves after they refused to work for him after gaining their freedom.
The island remained abandoned until the 1880s, when Pittsburgh millionaire Thomas Carnegie, brother of Andrew, acquired the Dungeness property for use as a winter retreat. On the foundations of the Greene-Miller-Shaw Dungeness, the Carnegies built an even grander mansion in 1884. The third Dungeness, at its peak, was a 59-room turreted Scottish castle, with a pool house, squash court, and golf course, and 40 other buildings that accommodated a staff of 200. Thomas died around the time the mansion was finished, but his widow, Lucy, and their nine children continued to develop Cumberland. Lucy purchased 90 percent of the island and she and her heirs built Cumberland's most famous buildings, including Greyfield, Stafford, and Plum Orchard. Dungeness remained occupied off and on until 1959, when it tragically burned. Greyfield is a private inn and Plum Orchard, an 1898 Georgian-revival mansion, is administered by the National Park Service.
As the island passed down to successive generations of Carnegies, the heirs were confronted with what to do with their isolated property. In 1955, the National Park Service identified Cumberland Island and Cape Cod as the two most significant natural areas on the Atlantic and Gulf coasts. This increased awareness of the island, but little action was taken. In 1969, Hilton Head developer Charles Fraser, who wanted to create a similar development on Cumberland Island, purchased one-fifth of the island. When he started to bulldoze a 5,000-foot airport runway on the northern end, alarms were set off in the environmental community, which knew it was now or never to save the island. The Georgia Conservancy played a historic role in helping to push through a bill introduced by Congressmen Bill Stuckey and Bo Ginn that established Cumberland Island as a national seashore, signed by President Nixon in 1972. Most of the Carnegie heirs decided the island should remain a wilderness and worked toward that goal by selling to the federal government. The Mellon Foundation donated $7.5 million to buy up property on the island, including Fraser's tract, which then was deeded to the federal government, and most of the island became part of the park system.
Subsequently, heated debate has taken place for more than 25 years on how the National Park Service should manage the island, with residents, conservationists, and developers taking a variety of positions. How many people should be allowed on the island? What amenities should be built to accommodate tourists? Should a causeway be built to allow heavy visitation? The Georgia Conservancy also weighed in heavily on the anti-development side, which has preserved the island's natural qualities. Today, the general management plan has settled many of these issues, with limits on the number of tourists and vehicle use by residents.
A new burst of publicity occurred for Cumberland Island when John F. Kennedy Jr. married Carolyn Bessette at the First African Baptist Church on the northern end of the island in September, 1996. Maintained by the National Park Service, this simple one-room frame structure, with 11 handmade pews, and three windows on each side, was built in 1937 to replace a cruder 1893 structure. The wedding party stayed at the Greyfield Inn, which was built in 1900.
Visiting Cumberland Island
Most visitors ride the ferry from the waterfront docks at Cumberland Island National Seashore Visitor Center located in St. Marys. The 45-minute trip down the St. Marys River and across Cumberland Sound is part of the Cumberland experience. No supplies are available on the island so visitors must bring all supplies with them. Drinking water is available at the visitor center, the ranger station, the museum, and Sea Camp Beach Campground. Campers who come for multiple-day visits cannot use the ferry for resupply. All trash must be packed off the island. Visitors will want to bring food, drinks, insect repellant, comfortable walking shoes, and rain gear. The island can get hot, so sunglasses, suntan lotion, and a hat are recommended. A camera preserves memories of your visit.
Snacks, beverages, and souvenirs are available on the Cumberland Queen ferry, which leaves the island at 10:15 a.m. and 4:45 p.m. CAUTION: If you miss the last ferry, you are stuck on the island or must arrange a charter for your return trip.
The ferry stops first at Dungeness Dock [Fig. 22(4)] at the southern end and then heads north to the Sea Camp Dock [Fig. 22(3)] located less than 1 mile away. At either site, a park ranger gives an orientation to the island and tells visitors about scheduled history and nature walks and beach seinings. Dungeness Dock is located close to the Carnegie ruins and 1 mile from the beach. Sea Camp Dock is located 0.5 mile from Sea Camp Beach Campground. Hand-drawn carts are available to transport equipment to the campgrounds. Campers who want to use one of the four other primitive campsites have to make reservations, receive their campground assignment at Sea Camp Beach Campground, then hike to their assigned campground, which can be up to 10.6 miles from Sea Camp Dock. On the first Sunday of each month, the ferry also travels to Plum Orchard for an additional fee.
Group charters are available for 46 to 120 people, with a sliding rate scale for larger groups. Trips to Plum Orchard are available to groups for an additional charge.
Hiking on Cumberland Island
If you want to enjoy the island, hiking is not only the best option but also the only option. Most of the hiking trails are narrow, sandy roads that pass by many natural and historic features. Maps are essential and should be picked up from the National Park Service at the St. Marys visitor center. While most of the island is national park, some private estates still remain on the island, and the hiker should know where they are at all times and respect private property. Trespassing on private property is strictly prohibited. Hikers are allowed to cross private property on major trails.
The most popular day hike on the island is a 3.5-mile loop that starts at Dungeness Dock, goes southeast to the Dungeness Ruins, then crosses to the beach. From here hikers walk up the beach to Sea Camp Beach Campground, then cross over to Sea Camp Dock, where they catch a ride back to the mainland or walk the River Trail to Dungeness Dock, making a circle. For first-time visitors, this is a predictable but rewarding hike.
The impressive ruins of Dungeness speak to the glory of the 1890s. A small tabby house west of Dungeness is all that remains of the Greene-Miller-Shaw estate. Built around 1800, it is believed to be the oldest structure on Cumberland. Used originally as the gardener's cottage, it was later remodeled by the Carnegies and used as a business office. Other attractions include the recreation house, the carriage house, and the Greene-Miller cemetery, which includes the graves of Catherine Green Miller, her daughter Louisa Shaw, and her husband James. Lighthorse Harry Lee once was buried here. The South Point Trail leads to freshwater ponds that may feature wading birds or waterfowl such as green-winged teal and American black ducks. The mud flats are excellent sites for observing sandpipers, plovers, and whimbrels.
The Main Road, also known as Grand Avenue, links the south end with the north end and passes by maritime forest thick with saw palmetto and stands of loblolly, slash, and longleaf pine. Many hikers use the quieter Parallel Trail, unused by vehicles, to reach Stafford Beach. Hikers pushing farther north use the Main Road or the beach. Trails leading off the Main Road lead to the beach and historic buildings such as Plum Orchard, a 20-room mansion built in 1900 with an indoor swimming pool and squash court. The home is being renovated and is open to tours on Sundays. The Duckhouse Trail leads from Plum Orchard past Yankee Paradise Campground to the beach, where migrating sands are burying the Carnegies' hunting lodge. This trail crosses part of the Sweetwater Lake complex, where a pond cypress, rare on the island, grows among sawgrass marsh species found in the Everglades. Duckweed grows in mats in sloughs, and red maples, willow, and blackgum are common tree species. Many wading birds nest in this series of small lakes.
Heading north, the Lost Trail connects to the Roller Coaster Trail, which follows old dune ridges to Lake Whitney. Sloughs support cordgrass, sawgrass, water willow, and marsh mallow. Otter and mink are seen in this area. At the northern end on the western side are ruins of the Cumberland Wharf, used by steamboats that carried vacationers from Brunswick and St. Simons to the Cumberland Island Hotel, which hosted guests from 1870 to 1920. Continuing around the north end from the wharf, hikers will find the First African Baptist Church.
Trails: More than 50 miles of backcountry trails.
Camping on Cumberland Island
All camping is limited to seven days. The developed campground at Sea Camp Beach has restrooms, cold showers, and drinking water. The beach is located nearby. Campfires are permitted at Sea Camp, but only dead and downed wood may be used. Trash must be packed out. Quiet hours are enforced between 10 p.m.–6 a.m. None of the backcountry sites—Brickhill Bluff, Yankee Paradise, Hickory Hill, or Stafford Beach—have any facilities. Stafford Beach is a nonwilderness campsite located 3.5 miles from Sea Camp, and is suggested for novice backpackers and those wanting easy access to the beach. Wilderness camping is located at Hickory Hill (5.5 miles away), Yankee Paradise (7.4 miles), and Brickhill Bluff (10.6 miles). Backcountry campsites have wells nearby; the water should be treated. There are no restrooms, so bury waste in the top 6 inches of soil, but never within 50 yards of a water source. Campfires are not permitted in the backcountry, but portable stoves are allowed. If you plan to camp, you must have both a camping reservation and permit. Obtain permits from the Sea Camp Visitor Center. Camping reservations are made by calling (912) 882-4335 Monday through Friday, 10 a.m. to 4 p.m. All campers should load their equipment on the ferry before other tour passengers board and unload it at the island after day visitors have disembarked. If you do not appear for the boat as scheduled and do not call, your boat and camping reservations will be cancelled 15 minutes before your scheduled departure time.
Fishing on Cumberland island
Fishing is allowed on the island, and Georgia fishing laws apply. Many anglers try surf casting or fish in one of the freshwater lakes of the island. Lake Whitney is known for good fishing.
Lodging on Cumberland Island
Greyfield Inn. Box 900 Fernandina Beach, Florida 32035. This 1900 Carnegie home, with 13 rooms, offers the only accommodations on the island. Filled with antiques and island grandeur, it was turned into an inn in 1968. Price includes meals, transportation, naturalist tours, and bike rentals. Expensive. (904) (912) 261-6408.
Access and Ferry Information
Most visitors to Cumberland Island arrive by ferry from the waterfront docks at the Cumberland Island National Seashore Visitor Center located in St. Marys. The mainland visitor center is where you can make reservations for the ferry or campsites at Sea Camp Beach Campground. Backcountry camping assignments are issued at Sea Camp Visitor Center. The St. Marys visitor center has maps and guidebooks to aid the traveler. The ferry is daily, except from October 1 to February 28, when the ferry does not operate on Tuesdays and Wednesdays. The ferry does not transport cars, bicycles, or pets. Mainland departure times are 9:00 and 11:45 a.m.; the island departures are 10:15 a.m. and 4:45 p.m. You can make ferry reservations up to six months in advance by calling (912) 882-4335 between 10 a.m. and 4 p.m., Monday through Friday. Fully paid reservations are refundable if cancelled 14 days prior to departure, with a cancellation fee of 16 percent per ticket. No refunds are made within 13 days of sailing. Full refunds will be made if the ferry is cancelled at the captain's discretion due to mechanical problems or severe weather. Rain and cloudy conditions will not cancel sailings and no refunds will be made. If you miss the last ferry from the island, you must charter a boat for the return trip.
Directions: From Interstate 95, take Exit 2/3, and travel 10 miles east on GA 40 to visitor center. Parking is allowed nearby.
Activities: Hiking on 50 miles of backcountry trails, fishing, camping (primitive, intermediate), bird-watching, picnicking, swimming, nature study, historical touring, guided tours by prior arrangement.
Facilities: 1 developed campground, Sea Camp Beach, has 16 sites and accommodates 60 people. Restrooms, drinking water, and cold showers available here. 4 backcountry sites, with well water, are available elsewhere on the island. Bathrooms are available at the Ice House Museum at Dungeness Dock, Sea Camp Visitor Center at Sea Camp Dock, and at Dungeness ruins.
Dates: Seashore is open 7 days a week.
Fees: Separate fees for ferry and campsites. Call for fees and reservations. Camping reservations can be made six months in advance, but 60 days recommended.
Closest town: St. Marys.
For more information: Ferry and camping reservations are made by calling (888) 817-3421 Monday through Friday, 10 a.m. to 4 p.m. or write Superintendent, Cumberland Island National Seashore, PO Box 806, St. Marys, GA 31558.
---
Read and add comments about this page
---
Reader-Contributed Links to the Georgia Coast and Okefenokee Book: